A tangled trail of humanity in Bence Fliegauf's dark follow-up to a film he made almost two decades ago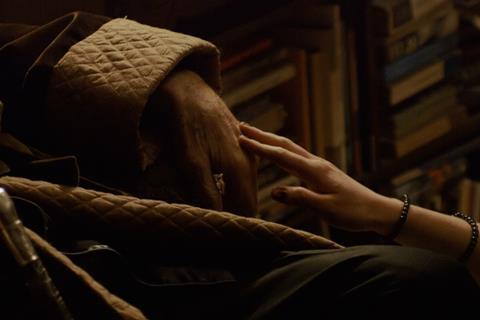 Dir/scr. Bence Fliegauf. Hungary. 2021. 114 mins.
Forest – I See You Everywhere is the type of ensemble drama that tells you "all human life is here" - here, but in this case, shrouded in darkness, and not necessarily pleasant to encounter. This bleak portmanteau from Hungarian director Bence (formerly known as Benedek) Fliegauf (Just The Wind, Lily Lane) is a companion piece to his reputation-making 2003 debut Forest, a micro-budget drama that featured non-professional actors in a series of vignettes. Here, Fliegauf reworks the structure and the claustrophobic psychodrama style with new characters, this time mixing in known actors. The resulting drama is icy, unforgiving and claustrophobic, and despite a glimmer of hope at the end, this film is an unremittingly bleak place to visit, and arguably a touch overextended. But both Fliegauf and his superb cast hold their nerve fearlessly, and viewers accustomed to art-house chill may find this new Forest a congenial place to visit.
An unremittingly bleak place to visit
Bookended by a piece about a young woman (Laura Pavlovics) and her (possibly dead) grandfather, the film collates a series of dialogues, all taking place indoors apparently on the same night, and with no obvious connection between them – although there are a couple of teasing references to an 'invisible spiderweb' that connects people in life. The scenes, scripted by Fliegauf with brutal psychological rigour, offer sharp glimpses of the way people damage each other, or are driven by everyday rage and resentment.
The first dialogue, running to nearly 20 minutes, is a brutally confrontational piece in which a teenage girl (Lilla Kizlinger) practices a school presentation on a scowling older man, who turns out to be her dad – and the presentation proves to be her furious indictment of his part in her mother's death and a young woman's injury in a road accident. The sequence turns more harrowing still when he puts his own case, showing a decidedly cruel streak.
The second sequence features Juli Jakab as a young woman who wants to know why her shady boyfriend has lent his camera to a certain Anna – triggering diverse revelations about his and Anna's chaotic lives. The emotional disorder rises further to the surface later on as we meet an elderly man (Mihály Vig), his partner (Agi Gubik) and his son (Peter Fancsikai); the older man is a former heroin addict on the eve of a dangerous operation, while the other two turn out to be much more intimate than we expect.
There's also an eerie, unsettling story about a couple, their dissatisfaction with their life, and something surprising that they keep in a cupboard, and a grim scene in which a young man rages about the phoney healer who has destroyed his ill girlfriend's life – the listener being a mysterious man who is in a position to do something about it.
Perhaps the most conventional scene, in terms of its subject matter, is nevertheless the most direct and forceful, and comes as a welcome breather amid the unrelenting sombreness. A woman (Eszter Balla) hectors her early adolescent son (the director's own son Janos Fliegauf, terrific) about the unsuitability of the role-playing games he enjoys – standard sword-and-sorcery stuff, but then she's an intolerant religious zealot who fears for his soul. The kid, far more intelligent and with an uncrushable rebellious streak, retorts with a coolly acute demolition of her beliefs. We're in very familiar territory here – she blames it all on Harry Potter – but when the boy protests, "It's not as if we're sacrificing goats", you breathe a sigh of relief at Fliegauf's very first sign of levity.
Shot by Mátyás Gyuricza and Ákos Nyoszoli, the film echoes the original Forest in favouring long takes and close-ups, sometimes punctuated by whip pans. Night-time exteriors establish the scenes, but also cleverly confound us about time. What seem to be a preface to scenes actually turns out to show their aftermaths.
The performances are exceptionally good all round, which makes it all the more frustrating – no doubt for the actors too – that the credits refuse to give character names. But among the faces, many may recognise Jakab as the gimlet-eyed lead of Lászlo Nemes's Sunset, and Mihály Vig, Bela Tarr's regular composer and actor in his Satantango. Punctuating the scenes is a querulous tremor of ambient score by Fliegauf, Támas Beke and cast member Peter Fancsikai, making this Forest just that touch more glacial.
Production companies: Fraktál Film, M&M Film
International sales: Films Boutique, contact@filmsboutique.com
Producers: Ernő Mesterházy, Bence Fliegauf, Mónika Mécs
Screenplay: Bence Fliegauf
Cinematography: Mátyás Gyuricza, Ákos Nyoszoli
Editor: Terence Gábor Gelencsér
Production design: Bence Fliegauf
Music: Bence Fliegauf, Tamás Beke, Peter Fancsikai
Main cast: Juli Jakab, Lázló Cziffer, Lilla Kizlinger, Zsolt Végh