Reframing trans history as a community conversation via 'chat show' device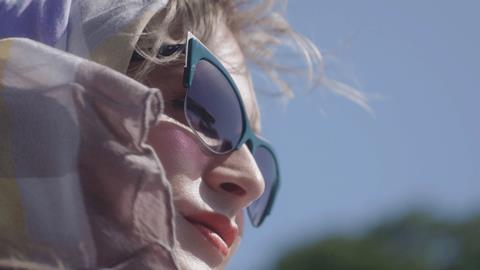 Dir: Chase Joynt. Canada/US. 2021. 75 mins
The solo feature directing debut from Chase Joynt, Framing Agnes is a formally agile portrait of 'Agnes', a pseudonymous trans woman who participated in Harold Garfinkel's gender health research at UCLA in the 1960s and is a notable figure in trans history. Joynt, who previously co-directed No Ordinary Man with Aisling Chin-Yee, uses a chat show device to create a dialogue between the trans subjects of Garfinkel's research and members of the current trans community. It's a rewarding and informative hybrid film, which takes an academic gender studies foundation as a launchpad to explore the lived experiences of trans people then and now.
Will be of particular interest to both events with an LGBTQ+ focus and to documentary specialist programs
This is not the first exploration into trans history for Joynt, who is himself trans. No Ordinary Man looked at the life of musician and trans cultural icon Billy Tipton. The film premiered at TIFF 2020 and went on to win prizes at the Cleveland International Film Festival and the Montreal International Documentary Festival. Framing Agnes is a feature-length version of a short film which played in Sundance in 2020, and which employed the same chat show device. The film will likely have a healthy life on the festival circuit, and will be of particular interest to both events with an LGBTQ+ focus and to documentary specialist programs.
Although it is Agnes whose name gives the film its title, Joynt also explores the stories – drawn from archived interviews conducted at around the same time as those with Agnes – of other trans women and men. Each of these characters is played by trans actors, who are then invited to muse on the character that they play and to explore the parallels between their own experiences and that of their character. Joynt appears in the film, both as the host of the chat show which permits the film to interrogate each of the characters, and as himself, engaging with the actors and with academic Jules Gill-Peterson, Associate Professor of Transgender History, Politics, and Culture at John Hopkins University.
Framing Agnes touches on the story of Christine Jorgensen, a transgender woman famous in the 1950s as being the first person to undergo sex reassignment surgery. Jorgensen is mentioned to provide a contextual background to the generation of trans people who came after her, but she's a fascinating character who warrants deeper consideration. While Christine was forced to seek her surgery abroad, in Denmark, Agnes (played by Zackary Drucker) was able to secure reassignment surgery in the US. But to do this, she had to trick a series of medical professionals into believing that she was born intersex rather than transgender. Only after she had had the surgery did she reveal the truth to the doctors.
Truth versus deception is just one of the themes which is explored by the picture, which combines black and white archive-style footage with more eclectic choices of backdrops for the contemporary interviews. These interviews are far-reaching, touching on transgender icons past and present, the intersectional divisions even within this small and marginalised community and the role of documentaries such as this in "shifting the terms of engagement."
Production company/international sales: The Film Collaborative, jeffrey@thefilmcollaborative.org
Producers: Samantha Curley, Shant Joshi, Chase Joynt
Screenplay: Chase Joynt, Morgan M Page
Editing: Brooke Stern Sebold, Cecilio Escobar
Cinematography: Aubree Bernier-Clarke, Ava Benjamin Shorr
Production design: Becca Blackwood
Main cast: Jules Gill-Peterson, Angelica Ross, Jen Richards, Zackary Drucker, Max Wolf Valerio, Silas Howard, Stephen Ira