Documentary looks at the complex, controversial and contradictory car-maker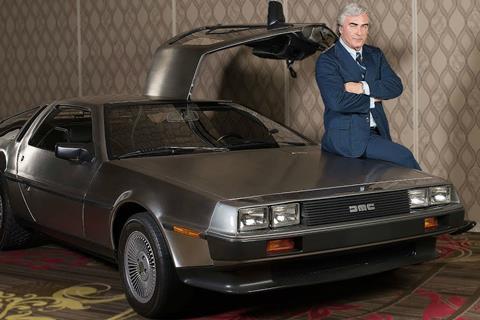 Dirs. Don Argott, Sheena M. Joyce. US. 2018. 109 mins
Was John DeLorean a hero or a villain? A swashbuckling renegade seeking to revolutionise the car industry or a self-serving crook who was the architect of his own spectacular downfall? The answer is all of the above in the long-awaited documentary/drama Framing John De Lorean.
DeLorean is a persuasive advocate of his own greatness, the hero of his own narrative.
Don Argott and Sheena M.Joyce's forensic film tries to get to the heart of a complex, contradictory figure, best remembered as the designer of the iconic car featured in Back To The Future. More than a decade after his death, De Lorean's headline-grabbing notoriety may have faded. His relentless pursuit of the American Dream ensures that his story remains relevant and should attract an older audience still curious to fathom his rise and fall. While Alec Baldwin plays DeLorean in dramatised scenes, these don't add a great deal to the party. Baldwin provides a running commentary on DeLorean's nature and motivations, while we witness Baldwin being fitted with prosthetics and the jet black caterpillar eyebrows that were a DeLorean feature. All very meta but perhaps not entirely essential.
DeLorean was once the American automobile industry's golden boy. His handsome looks might have made a perfect addition to the cast of Dallas, Dynasty or any glossy 1980s American soap. A brilliant engineer, he made his mark at General Motors, transforming the souped-up Pontiac into a best seller. He was widely expected to become the President of General Motors. A risk taker too often at odds with a conservative management, he was fired instead. Setbacks merely fuelled his ambitions to establish his own car manufacturing company and make his dream car.
Framing John De Lorean has a trove of archive footage from chat show interviews to television news reports and black and white FBI footage of the sting that saw De Lorean arrested for drug trafficking. The narcissist in him never seems to have knowingly refused an interview even when his business was failing or he was facing a jail sentence for embezzlement.
DeLorean is a persuasive advocate of his greatness. He never seems to be acting selfishly. Being sacked by General Motors is just the price a daring innovator must pay. When DeLorean Motors hits the rocks in Northern Ireland, it is the job losses and the impact on the Irish economy that are uppermost in his thoughts. He is always the hero of his own narrative.
The film is hugely impressive in the scope of those interviewed. Comment and insight are provided from DeLorean's son Zach and daughter Kathryn, factory workers in Northern Ireland, colleagues cast aside along the way, the late British politician Jim Prior, DeLorean's defence lawyer and undercover DEA agent John Vatestra who conspired in what was considered the entrapment that first brought DeLorean to trial. One notable absentee is DeLorean's wife at the time, one-time model Cristina Ferrare.
The testimony often confirms DeLorean's ruthless streak, ability to sail close to the wind and conviction that his destiny was to build a car that the whole world would buy. The possible consequences for those closest to him never seem to have been a consideration.
The filmmakers are also slightly too preoccupied by the fact that nobody has yet managed to make a feature film about DeLorean despite countless projects (including a Brett Ratner/James Toback biopic) that have been announced and abandoned along the way. The Baldwin scenes may be an attempt to redress that but the DeLorean story, rich archive material and interviews tell a cautionary tale that is fascinating enough in its own right.
Production companies: XYZ Films, 9.14 Pictures, Lobsand Productions Ltd
International distribution: Universal Pictures
Producers: Tamir Ardon, Nick Spicer, Don Argott, Sheena M. Joyce
Cinematography: Matthew J Santo for narrative scenes
Screenplay: Dan Greeney, Alexandra Orton for narrative scenes
Production designer: Maggie Ruder
Editor: Demian Fenton
Music: Brooke Blair, Will Blair
Main cast: Alec Baldwin, Josh Charles, Morena Baccarin, Michael Rispoli