A surprising swerve from formerly austere auteur Bruno Dumont showcases Lea Seydoux as the title character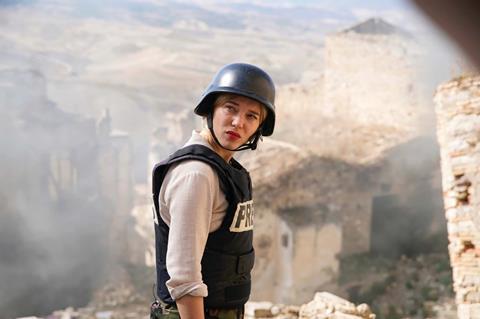 Dir: Bruno Dumont. France/Germany/Italy/Belgium. 2021. 134 mins.
Critics have long been used to saying 'expect the unexpected' when it comes to the latest – more or less annual – creation of mercurial French auteur Bruno Dumont. But even after bizarre shifts into broad comedy with P'tit Quiquin and his recent musical dramas about Joan of Arc, Cannes competition title France represents a really startling shift into new territory – not least because this work by French cinema's most hardcore adept of visual austerity proves to be flamboyantly lavish visually, and dramatically pitched on an epic scale. That said, this satire about media, emotional alienation and – need it be said? – the state of the nation makes its point quickly and forcefully before going on to make it again and again, with different modulations, for over two hours.
What will attract viewers above all that France is a star vehicle for Léa Seydoux, whose acting is these days hitting a new level of richness
It's a shame, because somewhere within this sprawling piece is something audacious and playful. It's hard to imagine how this unwieldy film will play internationally, but a wildly overplayed hand won't harm the film's domestic prospects, thanks to newsworthy subject matter, a very French media focus, and clever capitalising on the star status of Léa Seydoux, in perhaps her most demanding lead yet.
Seydoux plays France de Meurs, an extremely popular and glamorous TV news anchor, whose studio discussions of current affairs and intrepid but highly staged reporting from conflict zones has made her extremely wealthy as well as the nation's sweetheart, and an irresistible magnet for selfie hunters. Her domestic life, however, in a magnificent art-filled apartment that resembles a postmodern-baroque palazzo, is dynsfunctional, with little warmth between France and husband Fred (a hyper-lugubrious Benjamin Biolay), a blasé author of 'essay novels', while their 10-year-old son seems to have little emotional connection with either parent.
When France knocks over a motorbike ridden by a young North African man with learning difficulties, her perfectly sheened exterior cracks, and she starts to assess her priorities. After leaving her prestigious job, she goes to an exclusive Alpine sanatorium for help with her depression where she falls for a man who seems to be a better bet emotionally than Fred, the handsome if studiedly morose young classics professor (Emanuele Arioli). But there's more to him than meets the eye, and before long, a disillusioned France is back in front of the cameras – which is when fate has an even more shattering shock in store. Finally, just when we're feeling there's nothing recognisably Dumontian here, the director takes us to Northern France to contemplate some muddy fields and the irreducibly murky nature of the Real.
Till then, it's a fairly wild ride, and a roundabout one, through some improbably opulent scenery: one never thought to see Dumont making a lifestyle movie, even if he's mounting a take-no-prisoners attack on the digital era 'Society of the Spectacle'. His heroine, from the very first moment, is Spectacle personified: she's first seen cheekily composited into a shot with Emmanuel Macron, hogging the attention at an Elysées Palace press conference and exchanging ever saucier winks of complicity with her assistant Lou (Blanche Gardin). In a more analytical mode, the film shows France in action in the Sahel, reporting on France's support of anti-ISIS fighters, where she directs the shots for maximum (and maximally narcissistic) effect – the film by extension exposing the distorting manipulations of cinema itself.
The best material here could easily have been whittled down to more trenchant effect, while the narrative is too twisty and digressive to sustain itself – a surprise, given the absolutely to-the-point spareness Dumont practised in films like Hadjewich or Hors Satan. What he's attempting here is a new meshing of his broader comic style and the stark moral questioning that has always characterised his dramas – and while the attempt to juggle several registers should be applauded, the result is too irregular to really gel. Most bizarre is an over-extended, visually over-literal, sequence showing a road catastrophe in such painstaking detail that it almost looks as if Dumont is auditioning to direct Fast & Furious 10.
What will attract viewers above all that France is a star vehicle for Léa Seydoux, whose acting is these days hitting a new level of richness, and who ironises and dismantles her glamorous image with bold, knowing aplomb, in a vast array of elaborate eye-catching, and often eye-searing, glam-couture costumes that in themselves represent a running commentary on the notion of visibility.
Seydoux is superb too in France's quietly desperate moments – once the mask of white skin and ruby lips is removed – and in one shot from below, is seen cracking up emotionally while her face is cruelly distorted by the effects of gravity. Blanche Gardin, a comic actress with an increasing big screen presence (Erase History, Cannes title Bloody Oranges) is also entertaining as France's constantly vaping assistant Lou, the ultimate yes woman, with one eye always on social media hits.
Production companies: 3B Productions, Red Balloon Film, Tea Time Film, Ascent Films
International sales: Indie Sales, cchautant@indiesales.eu
Producers: Jean Bréhat, Rachid Bouchareb, Muriel Merlin
Screenplay: Bruno Dumont
Cinematography: David Chambille
Editing: Nicolas Bier
Production design: Markus Diklhuber
Music: Christophe
Main cast: Léa Seydoux, Blanche Gardin, Benjamin Biolay, Emanuele Ariolo