Dir: François Ozon. France/Germany, 2016, 113 mins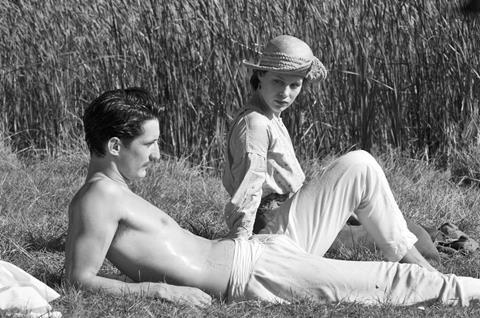 Versatile French writer-director François Ozon is arguably as successful as any contemporary auteur at consistently taking his audience by surprise. But his uncharacteristically sombre drama Frantz represents a distinct departure for a film-maker whose love of mischief has often been his foremost trait. A black-and-white period piece in French and German, Frantz is arguably one of the straightest films Ozon has made – in both the dramatic and the sexual senses – but his complex sensibilities and fine-tuned irony are very evident in a mature work that transcends genre pastiche to be intellectually stimulating and emotionally satisfying.
Beer is magnetic as a woman at once recovering from loss and looking towards the future
Alongside a fine performance by Pierre Niney (Jalil Lespert's Yves Saint-Laurent), the film offers a terrific showcase for German actress Paula Beer, whose profile will receive a deserved boost. With distinct appeal to older viewers, as well as to Ozon's devoted constituency, Frantz should have solid presence on the upmarket international art-house circuit.
Named after a character who remains a haunting absence, the film is inspired by Ernst Lubitsch's 1932 drama Broken Lullaby. Ozon's setting is a small town in Germany after World War One, where young Anna (Beer) is mourning the death of her fiancé Frantz, killed in combat. One day, a young man is spotted laying flowers on Frantz's grave; he is a Frenchman, Adrien (Niney), and he tells Anna that he and Frantz were friends.
Seeing him as a link to her lost love, Anna introduces him to Frantz's parents (Ernst Stötzner, Marie Gruber), who overcome their resistance to entertaining a former enemy and welcome him into their family. Others in town, however, are not so welcoming, and Adrien's presence becomes a bone of contention. But the family does not yet know the whole truth of Adrien's story, and later, when Anna goes to join him in France – in one of the film's most powerfully realised passages – more truths will emerge.
Ozon earlier attempted costume melodrama in the more demonstratively playful English-language Angel (2007), but here he's in an altogether more sombre mood; he takes to period evocation with absolute confidence, although a certain studiousness sometimes makes the drama feel more detached than it might be. The obvious stylistic comparison is with Michael Haneke's black-and-white historical piece The White Ribbon, although Ozon's dramatic intentions are altogether different; it's likely, however, that Ozon's art department, like Haneke's, has studied the work of pioneering photographer August Sander. There are also hints of the historical reconstruction of Edgar Reitz's Heimat series – all of which is by way of saying that Ozon has been extremely successful in evoking both period ambience and a convincingly German dramatic flavour.
Pascal Marti's fine black-and-white photography – with occasional subtle detours into colour – is composed and painterly, and in both German and French-set sequences, the art and costume departments, the latter under Pascaline Chavanne, excel. The discerning Ozon touch especially shows in his casting. Beer is magnetic as a woman at once recovering from loss and looking towards the future: her Anna becomes increasingly strong and complex as the film proceeds, and her subtle playing, often downplayed to the point of being enigmatic, finally achieves the kind of emotional heft that would have befitted the heroines of Max Ophüls (another master whose influence Ozon seems to be channeling).
A special Ozon stroke, however, is the casting of Pierre Niney – a delicate, even feminine actor whose manner is at odds with the more conventional romantic profile another director might have chosen for Adrien. Niney's presence teasingly nudges us into seeking the homoerotic subtexts that are a constant with Ozon, and even if we're misled to some degree, Niney's fascinating, subtly neurotic performance as Adrien certainly adds another layer to the film's richness.
Production companies: Mandarin, X-Filme
International sales: Films Distribution, info@filmsdistribution.com
Producers: Eric Altmayer, Nicolas Altmayer
Screenplay: François Ozon, Philippe Piazzo
Cinematography: Pascal Marti
Production designer: Michel Barthélemy
Editor: Laure Gardette
Music: Philippe Rombi
Main cast: Pierre Niney, Paula Beer, Ernst Stötzner, Marie Gruber, Johann von Bülow