A small cinematic memoir from a little-known Norwegian director delivers moments of charm and insight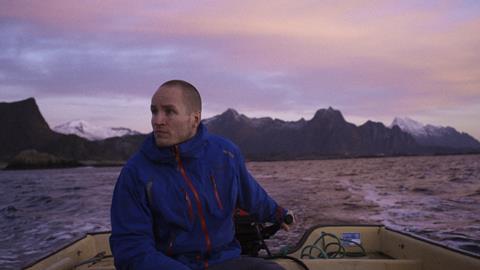 Dir. Ole Giaever, Norway, 2017, 85 mins
From The Balcony is a Norwegian filmmaker's home movie, full of thoughts about his relation to his family and to the cosmos, and to a lot in between. It's a hybrid reverie of introspection and free association, with moments of charm and insight. Ole Giaever's no-budget personal essay also feels like a guilty pleasure. As he says after filming himself singing a nonsense song, in English, in a Stockholm hotel room: "If I could make a living doing something like that, that's what I would be doing, because I like it a lot."
If this documentary is a scrapbook, it's a clever, inventive one
The affable Giaever does not need to tell us that his film is not commercial. Yet it's so gently confident in its seemingly naïve introspection that it could charm programmers at festivals around the world after its Berlin premiere in the Panorama sidebar. Thanks to Nordic co-producers, From the Balcony could also get a longer look in that region, although it still risks competing with thousands of first-person youtube-style essays. To complicate matters, Giaever is almost as unknown in most of the world as those online self-documenters, although he starred in his earlier introspective fictional feature, Mot Naturen (Out of Nature), which also played in the Berlinale's Panorama back in 2015.
The balcony in the title is a small terrace, a window onto the world at Giaever's Oslo apartment, where he and his family can observe children and dogs and the sunset and the night sky. "This is a spaceship of sorts," he says, gripping the rails of his perch, shifting into Astronomy 101. "I sit here, holding on, as we zoom through space." If an independent filmmaker can fly into space this way, the studios are overspending on their spacecraft.
Once the film begins with a wobbly shot of Giaever talking as he shaves in his bathroom, you sense that his medium is collage. Giaever follows his children around with a simple camera, capturing generic family footage. But in a lyrical scene of the same two children picking berries in a forest, the camera movement is wondrously graceful. An animated section that comes out of nowhere (as so much does here) imagines crocodiles as the world's dominant species. If this documentary is a scrapbook, it's a clever, inventive one.
Mulling Giaever's questions about how his children will develop their own personalities (as distinct from his) and how the sun will begin to lose its intensity in six billion years, you wonder whether From The Balcony really needs to be feature length. Giaever's theme-and-variation introspection is repetitive, as is his life. From the Balcony could ask the same questions and reach the same conclusions in thirty minutes as it might in four hours.
Giaever does reveal things about himself, about his everyday affection for his wife and children, and about the ageing process, albeit seen by a man of 38. We don't get wild secrets about sex or family scandals, although a once-happy uncle did commit suicide in style after a back injury left him in relentless pain. Also, it will be a relief for some that Giaever is a filmmaker whose self-examination ponders everything but cinema. If there were ever a film that could pass without being noticed, From The Balcony is it. While 38 is early for a memoir, this one is a rarity, a memoir without vanity. Those who stay with it will wonder how many filmmakers could do this, or have the courage to try.
Production company/international sales: Mer Film, maria@merfilm.no
Producer: Maria Ekerhovd
Executive producer: Axel Helgeland
Screenplay: Ole Giaever
Cinematography: Oystein Mamen
Editor: Frida Eggum Michaelsen
Music: Ola Flottum