Tensions derail a holiday with friends in Anna Kazejak's well-observed Danish drama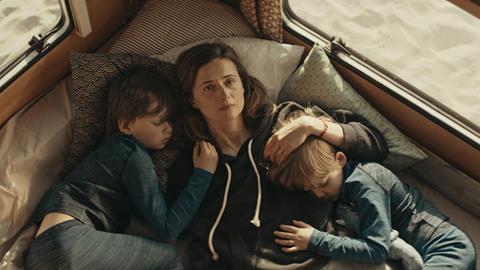 Dir: Anna Kazejak. Poland. 2022. 100 mins.
Despite a recent flurry of TV shows adapted from podcasts, it's still most unusual to find a big-screen fictional feature originating from such a source. But while the only truly unorthodox aspect of Anna Kajezak's competently-handled Polish relationships-drama Fucking Bornholm is its online origin as a five-part audioplay, the film has sufficient merit to qualify as more than merely a pioneering curio.
Manages to distinguish itself from predecessors in the particular, perennially popular relationships-on-the-rocks sub-genre via its confident stylistic approach
Tracing the faultlines that gradually develop within and between two sets of couples as they holiday together on the eponymous Danish island in the Baltic, this third feature from director/co-writer Kazejak bowed internationally in the main competition at Karlovy Vary six weeks after domestic release. While its returns have fallen short of Kazejak's two earlier directorial outings, hit comedy Flying Pigs (2010) and teen-oriented The Word (2014), box-office figures have still been solidly respectable — probably due in significant part to the presence of established local draws Maciej Stuhr and Agnieszka Grochowska in two of the leading roles.
Stuhr and Grochowska play Hubert and Maja, married thirtysomethings on vacation with their young sons Eryk (Oliwier Grzegorzewski) and Wiktor (Marceli Sikora). They are joined by Hubert's old college chum Dawid (Grzegorz Damiecki), his recently-acquired, much younger girlfriend Nina (Jasmina Polak) and his son Kaj (Borys Bartlomiejczyk). Following what was evidently quite an acrimonious divorce, Kaj now lives with Dawid's ex-wife, his father enjoying only fortnightly visiting rights.
Bubbling tensions reach the surface following a mysterious (and unseen) nocturnal incident that occurs when Kaj, Eryk and Wiktor sleep in a tent apart from the adults, and which leaves Eryk traumatised and uncommunicative. The resulting disagreements and arguments between the adults drive a wedge between the ill-matched Dawid and Nina, and even imperil the apparently more solid, matrimonial bond between Hubert and Maja.
Having collaborated on the scripts for the podcasts (which were released in 2020 and featured entirely different casts to the film) Kajezak and Filip Kasperaszek team up again for the screenplay here. Their dialogue provides plenty of meat for the performers to chew on, with Grochowska — five-time nominee for the Polish Film Awards — the main focus of the small ensemble pretty much throughout as the testy but sympathetic Maja.
Polak's smartphone-absorbed psychology student Nina is much more of a background figure — as subtly indicated by the fact that whereas the names of the other three adult characters and those of the three children constantly pepper the dialogue, hers is seldom mentioned at all. There are some rather less subtle details, unfortunately, including a clumsy bit of product-placement advertising Empik Go, the audiobook service where the podcast premiered and which was also involved in the film's production.
Then there are the over-familiar characterisations of Dawid and Hubert as flawed, even pathetic examples of insecure and emotionally immature manhood. There's certainly more than a whiff of Ruben Ostlund's Force Majeure here, as well as the Swede's earlier films dealing with social embarrassment and with inappropriate behaviour among children.
Fucking Bornholm does manage to distinguish itself from predecessors in the particular, perennially popular relationships-on-the-rocks sub-genre via its confident stylistic approach. Jakub Stolecki's widescreen cinematography enticingly captures the allure of idyllic, pale-sanded seasides (the Polish mainland convincingly doubling for Bornholm.) Right up to the quietly striking final image, Stolecki consistently finds some neat visual corollaries for the principals' increasing isolation from each other and manages seamless transitions between capriciously extreme weather and light conditions.
The real MVP here, however, is composer Jerzy Rogiewicz, a relative newcomer to the big screen whose orchestral score — socked over by an dozen instrumentalists — is deployed with audaciously conspicuous prominence. This could have easily become intrusive and heavy-handed but instead the gamble pays off, the music rousingly conveying the extreme emotional turmoil of the protagonists even as they seek to maintain controlled, grown-up exteriors.
Production companies: Friends with Benefits Studio
International sales: Film Republic, info@filmrepublic.biz
Producer: Marta Lewandowska
Screenplay: Filip Kasperaszek, Anna Kazejak
Cinematography: Jakub Stolecki
Production design: Katarzyna Sobanska, Marcel Slawinski
Editing: Maciej Pawlinski
Music: Jerzy Rogiewicz
Main cast: Agnieszka Grochowska, Maciej Stuhr, Grzegorz Damiecki, Jasmina Polak, Magnus Krepper