Moral quandries and political commentary intertwine in this impressive low-budget debut thriller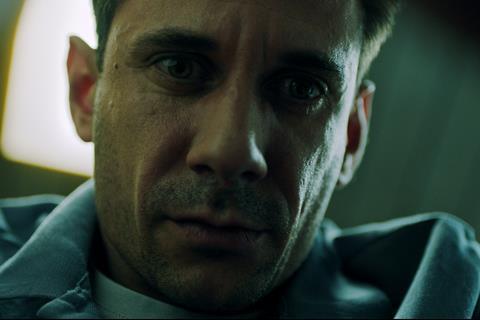 Dir: Nermin Hamzagic. Bosnia and Herzegovina. 2019. 78 mins
Fatherhood prompts a night of reckoning for a Bosnian police inspector in Full Moon. An impressive low-budget feature debut from director/co-writer Nermin Hamzagic, it has a rigour that recalls the early works of the Romanian New Wave. Intense and intriguing, it connects the dots between the personal and the political to become an angry cry from the heart about the state of the nation. The Sarajevo Film Festival screening is the latest on a festival journey that began with a world premiere at Cottbus and should continue far and wide. It could also reward committed theatrical handling or the attention of a streamer like MUBI.
A satisfyingly old-school human drama
Known for his shorts Dreamers (2009) and 2015's Damaged Goods, which competed at Sarajevo, Hamzagic makes a confident move into features with a film that invites comparisons with the meaty crime and punishment thrillers that were a Sidney Lumet hallmark. Policeman Hamza (Alban Ukaj) is driving his pregnant wife to hospital when he receives a call saying that there is nobody to cover his shift. Her waters have broken, the umbilical flow is slow and the hospital will induce labour. He leaves his wife to her fate (we never see her again) and reports for duty.
Over the course of a stressful night, Hamza deals with a workload that includes petty theft, assault, disorderly drunks and a minor involved in prostitution. The granite-like presence of Alban Ukaj adds to the sense of a decent man trying to do the best he can in impossible circumstances.
Cinematographer Amil Dakoli ensures that the police station looks like a form of hell. Gloomy, threatening basement corridors and shadowy cells are captured in sickly emerald greens and steel blues. It is also the night of a full moon that reputedly affects human behaviour. The cases seem like those of a regular evening but taken together they paint a picture of a broken society where povery is widespread, corruption is rife and personal connections can assist in making some individuals beyond the law. "I wish I had been killed in 1993 to avoid seeing what the country has become," laments balloon seller Muhamed (Izudin Bajrovic).
Hamza is all too aware how the system works. He left no little sweetener for the staff at the hospital and now they will not return his anxious calls. He knows that his colleagues are on the take and he himself has not been immune. Where did the money come to pay for his wife's IVF treatment? Over the film, we gain a sense of Hamza's compassion but also his complicity as he responds to the pleas of emotional prisoners and the intimidation of his fellow officers.
Full Moon becomes a journey through Hamza's conscience (shades of Dickens' 'A Christmas Carol') with each case motivating him to take a stand and bring about change. What kind of society does he want for his child? Further encouragement comes from random encounters with a young child who seems a symbol of a better future. Hamzagic successfully integrates that fantasy element into the bigger picture.
One notable aspect of Full Moon is the strength of the casting. Characters make the maxium impact thanks to a string of incisive performances, including a scene-stealing Jasna Diklic as lonely older woman Meliha who has become a regular visitor to the police station. Full Moon may be largely set within the police station but it never feels static or theatrical. Compact storytelling, fluid camerawork and dynamic performance maintain focus and emotional engagement as Hamzagic blends moral quandries and political commentary into a satisfyingly old-school human drama.
Production companies: SCCA/pro.ba, BHRT
International sales: SCCA/pro.ba office@pro.ba
Producers: Amra Baksic Camo, Adis Dapo
Screenplay: Nermin Hamzagic, Emina Omerovic
Editing: Redzinald Simek
Cinematography: Amel Dikoli
Production design: Igor Camo
Music: Enes Zlatar
Main cast: Alban Ukaj, Ermin Sijamija, Muhamed Hadzovic, Izudin Bjrovic, Jasna Diklic