The lives of several Hong Kong residents are linked via a mysterious severed head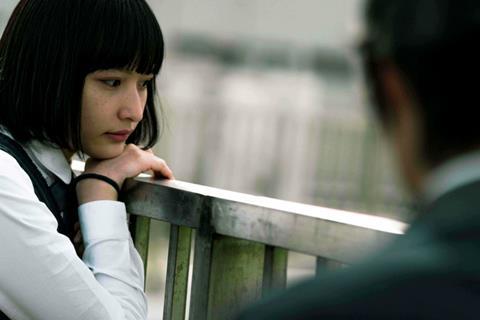 Dir. Lee Cheuk-pan. Hong Kong. 2018. 105mins
For his arresting, brooding debut, Hong Kong director Lee Cheuk-pan delivers an opening sequence par excellence. Birds fly across a projector screen as the camera pans to a young boy practicing Bach's Cello Suite No. 1 in G Major. It turns to witness a prostitute answering the door, only to be pulled back by the hair by a man who appears to be a policeman. Twists again to show them having sex on the sofa. At 360-degrees, a decapitated head bounces in from the balcony. The music stops.
There's wonderfully unusual camera-work around interesting, tight shot choices
There's a fairly simple plot behind G Affairs, although it is heavily de-constructed and re-constituted into a film which struggles to add up to the sum of its parts. This is a brutal and bleak yarn of corruption and depravity in a lawless city, but it's also hard to strip that story out of tricksy directorial flourishes such randomly linking all the film's many chapters to the letter 'G'. Tight editing, strong design and memorable performances from mainland actress Huang Lu and Hong Kong veteran Chapman To save the day, however, and G Affairs has already been nominated for several Hong Kong Film Awards.
Lee's debut is certainly is an encouraging one for the struggling Hong Kong film industry, and has benefitted from winning the territory's government-backed third First Film Initiative (a total of HK$5.5m) and the nous of veteran producer Herman Yau Lai, who exec'd. There's a strong social conscience at play under the genre elements, even though this may struggle to connect with audiences outside Hong Kong who aren't plugged into the HK Special Administrative Region's matrix. Fans of twisty 2017 thriller Trivisa may respond, however, and on this evidence, Lee could be a Fruit Chan in the making.
The story centres around five people: Tai (Lam Sem), the cellist whose fondness for speaking truth to power at school results in him being roundly bullied. The corrupt policeman is Lung (To), abusive father to another teenager, Yu Ting (a memorable Hanna Chan). Lung's world-worn prostitute girlfriend is called Xiaomei (Huang Lu) while, at her high-end school, Hanna is friends with the autistic Don (Kyle Li) and fellates uber-Christian teacher Markus (Alan Yuk). All their stories twist around and behind the severed head, coming to a conclusion which isn't entirely surprising, but satisfying nonetheless.
What is distractingly arch, however, is the decision to frame all these cuts around the letter 'G' – for Gustav the dog (named after Klimt), gonorrhoea, Gastric cancer, apartment 6G, G-cups (this doesn't translate), and a G that sounds like the word for prostitute in Mandarin (helpfully translated), etc. China-based writer Kurt Chiang, working from Lit Ka Wang's original story, ladles it on, and the film swims in a G-soup. Still, however, there's wonderfully unusual camera-work around interesting, tight shot choices; a palette that moves from industrial greys to warmer memories; and a simmering sense of immorality and desperation.
Although Lee's cast is working with some pronounced archetypes — notably the hooker/cop duo of Lu and To — their conviction shines through the choppy narrative to the film's downbeat conclusion.
Production companies: Scout Pictures, Insight Production, Midas Entertainment, G-Class Films, Really Happy Film Co.
Producers: Flora Goh, Titus Ho
Screenplay: Kurt Chiang Chung-yu, based on a story by Lit Ka Wang
Cinematography: Karl Tam
Editing: Barfuss Hui
Music: Joe Ng
Main cast: Hanna Chan, Chapman To, Huang Lu, Alan Luk, Kyle Li Yam San, Lam Sen