This hypnotic documentary observes Patagonian horsemen working on an American sheep ranch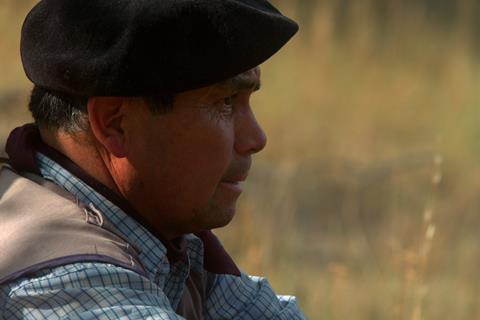 Dir: Nicolas Molina. Chile. 2021. 75 mins.
A short, stunningly-shot snapshot of rural life, Nicolas Molina's Gaucho Americano focuses on two Patagonian gauchos — traditionally skilled horsemen — who have been hired to work on a huge sheep ranch in the American West. While its languid observational style may make for passive, often hypnotic, viewing, it nevertheless has plenty to say about the immigrant experience.
Molina allows the situation to quietly speak for itself
Making its world premiere at Hot Docs, the film may well catch the attention of other festivals, particularly those focusing on themes such as immigration or on Latin American cinema. Strong word of mouth should support an on-demand release — particularly if it finds a home with a streamer that takes care over its curation and promotion.
Fifty-four year-old Joaquin is far from his Chilean home, living in a trailer on a vast Idaho ranch where he is charged with caring for — and keeping track of — the hundreds of sheep that roam the mountainous pastures. That's a task made more difficult by predators like mountain lions and coyotes, not to mention the fact that Joaquin speaks almost no English and seemingly has no desire to assimilate into American life. He's there to earn money to support his family, and that's as far as it goes.
By contrast, the first time we meet 28 year-old fellow gaucho Victor, employed to work alongside Joaquin, he is buying cowboy boots and a stetson from a local store. Later, he has a sharp haircut and chats with strangers at a diner. Victor is as skilled a gaucho as Joaquin — we see him confidently herding sheep on steep slopes, expertly taking out a mountain lion hiding in a tree — but, crucially, he also speaks more English and seems keen to integrate into local culture. That clearly goes a long way with his American colleagues, who appear more at ease with him than with the more taciturn Joaquin, who can only communicate with the one cowboy who does speak Spanish.
Gaucho Americano doesn't attempt to frame the exploits of these men in any wider context beyond this particular moment in time, or provide overt sociopolitical commentary on the circumstances that have led them to leave their families to work in the US. By simply watching these men and their interactions with both their American counterparts and the land on which they toil, Molina allows the situation to quietly speak for itself.
What emerges is not just a study of the challenges of the immigrant experience or the struggles of this rural lifestyle. There are also generational issues at play, a recognition of the gradual eroding of tradition. Some of the American ranchers are young men, but it is unclear as to whether the children watching from the hips of their mothers will have the same desire to work the land — or the same opportunities to do so. And while Joaquin is desperate to connect with his son, first via unanswered mobile calls and then, when he returns home, on gaucho duties, the young lad is far more interested in going out with his friends, forging a new path that is taking him further away from his father, and that lifestyle.
Acting as cinematographer, Molina employs a suitably Western sensibility; wide shots linger on the stunning vistas, and glorious sunsets bathe the land in a golden glow, while close-ups of Joaquin's grizzled hands speak to hard work and hardship. But it's a long shot that's held on Joaquin's weathered face, quietly eating alone as the Americans around him glibly discuss how glorious life must in the wilds of Chile, how much they want to visit for a holiday, that proves to be a keenly-observed shorthand for the entire gaucho americano experience.
Production company / international sales: Pequen Productions, info@pequenproducciones.cl
Producer: Josephine Schroeder
Screenplay: Paula Lopez Wood, Valentina Arango, Nicolas Molina
Cinematographer: Nicolas Molina
Editor: Camilla Mercadel
Music: Angel Parra