There may be Lynchian elements in this classic low-budget LA noir, but it's Lola Kirke who impresses the most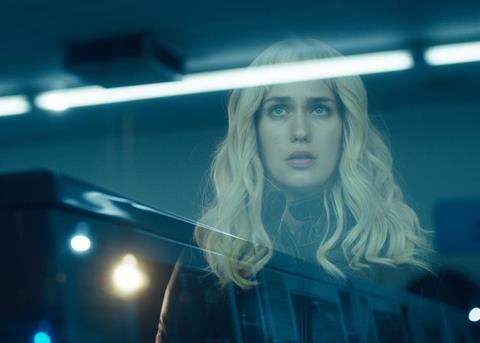 Dir. Aaron Katz. US, 2017, 93 minutes
Aaron Katz (Land Ho!, Dance Party USA) sets Gemini in cloudy alt-show-biz LA, and takes us into a bond between the self-involved star (Zoe Kravitz) and her loyal assistant (Lola Kirke), putting that subordinate in the leading role. Plenty of people feel like killing Kravitz's celebrity starlet in this low-budget LA noir, but the evidence implicates her personal factotum.
Katz's scenario plays with the audience's expectations, seeming to want the author's fingerprints on his version of a much-told tale
Aaron Katz's latest has its moments, thanks to Lola Kirke in that assistant role. Picked up by Sony for distribution outside the US, it may reach Kirke's fans with its twist on a shadowy murder story with a persuasive McGuffin and a persistent detective (John Cho) straight out of central casting. Zoe Kravitz will launch the film with the fashion crowd and Cho might give it a boost in East Asia, but otherwise, Gemini should fare best in North American release.
The delicate and irksome Heather (Zoe Kravitz) is cancelling photo shoots and feature films. Eventually producers and paparazzi mouth off, saying they'd like to see her dead. But it's Los Angeles, where everyone also says, "I would kill to have those shoes." Personal aide Jill (Kirke) loans Heather a gun, which goes off accidentally in Heather's house, leaving plenty of collateral damage. The next day, when a body that looks like Heather turns up, Jill is a suspect because her fingerprints are on the gun found near the corpse.
Katz's murder mystery takes off in two directions, investigating LA denizens and exploring their habitat. One plot is the search by Cho and others for possible killers. Another is a tour through LA locations, which form a variation on noir itineraries. Each strand gets us part of the way toward a fully realised noir-clone.
And if there's a parallel to the push/pull in the relationship between celeb and celeb server, it is the tension between Katz's homage to LA noir mythology and his efforts to reshape that template. The murder happens well into the film, not at the beginning. It takes even longer for the script to introduce doubt over who's really dead. Katz's scenario plays with the audience's expectations, seeming to want the author's fingerprints on his version of a much-told tale.
Yet what you're really watching here is Kirke, whose face conveys the ennui of a miserable job that demands endless work to make a vain capricious boss seem human. DoP Andrew Reed captures that dilemma in close-ups more than the dialogue, and Reed gets a new set of Hollywood symbols to scramble when Jill, a suspect, acquires a frumpy new wardrobe and dyes her hair blonde to avoid detection. If that seems like a David Lynch gambit, it is, albeit a twist that brings some laughs to Jill's vulnerability. Think of Patricia Arquette hair on a woman who wants to be invisible.
As Jill's boss, Kravitz has all the surface mannerisms of a pampered star, but she lacks the depth of emotion needed when the script demands it. Nelson Frank, who plays another victim of her whims, tosses out lines with a wit reminiscent of Chris Eigeman, and the film is fun when he's onscreen.
Cho's detective, stalking Jill in a Sam Spade cop's raincoat and speaking in a studied deadpan, gets the notes right but plays his nostalgic gumshoe so softly that he seems more of an outline than a character, more spectre than spirit.
There's plenty of Lynch-light in dark interiors and empty staircases as Katz's portrait of hipster La La Land winds through familiar territory. Gemini may not show too much that's novel about that noir world, but we see new strengths in its lead actress.
Production companies: Filmscience, Syncopated Films, PASTEL, Rough House Pictures
International sales: ICM Partners pvs@icmpartners.com
Producers: Mynette Louie, Sara Murphy, Adele Romanski
Screenplay: Aaron Katz
Cinematography: Andrew Reed
Production design: Tracy Dishman
Editor: Aaron Katz
Music: Keegan DeWitt
Main cast: Lola Kirke, Zoë Kravitz, John Cho, Ricki Lake, Greta Lee, Michelle Forbes, Nelson Franklin, Reeve Carney, Jessica Parker Kennedy, James Ransone