Dir. Michael Grandage. UK/US. 2016. 104 mins.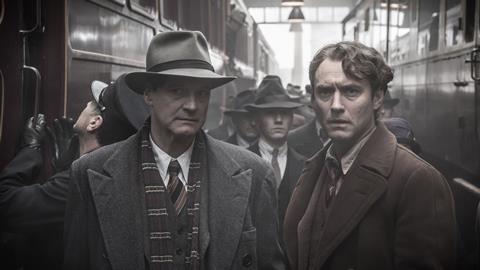 The first of several major challenges facing first-time director Michael Grandage in adapting the prize-winning novel Genius is the fact that, no matter how skilled and conceptually fascinating the job of a literary editor might be, put it on screen and it's just someone scoring lines through words with a red pencil. And that's a real problem in a film which focuses on Max Perkins (Colin Firth), the visionary 1920s editor who worked with Ernest Hemingway and F. Scott Fitzgerald, and the writer Thomas Wolfe (Jude Law).
It is in the scenes with Fitzgerald that we best get a sense of Perkins as a man rather than as an admiring audience for Wolfe's gale-force intensity.
Grandage, formerly the artistic director of London's Donmar Warehouse theatre, tries to shake it up a little. But mostly, Max works his subdued magic quietly, in a sober book-lined office. And despite the audience goodwill that comes with Firth's name and the attraction of a jazz age 1920s New York backdrop, theatrical prospects could be limited by the fact that large chunks of the film are dramatically inert, and those that aren't are dominated by a performance by Law which feels too big for the screen.
Capturing a distinctive literary voice has frequently posed difficulties for filmmakers, most recently Walter Salles, with his adaptation of Jack Kerouac's On The Road. But while Salles used all the tools in the director's kit to try explore Kerouac's riffing, freewheeling prose, Grandage leans heavily on Thomas Wolfe's words. They are delivered in gushing torrents by Law, in an accent which veers between North Carolina and North London. It's the kind of performance that might be electrifying on stage but on screen, it feels as though he is constantly bouncing off the edges of the frame. There's so much effusive arm windmilling, you long for someone to strap him into one of Zelda Fitzgerald's (Vanessa Kirby) spare straitjackets just to dial it down a little. Firth's gentle, muted performance is all but obscured by Law's enthusiasm.
The film, which is based on A Scott Berg's prize-winning novel, largely focuses on Perkin's close relationship with Wolfe, at the expense of Hemingway (Dominic West) and Fitzgerald (Guy Pearce). It's a pity, because it is in the scenes with Fitzgerald that we best get a sense of Perkins as a man rather than as an admiring audience for Wolfe's gale-force intensity.
Of the female characters, Laura Linney fares best as Perkins' wife. Her empathetic, subtle work in a somewhat underwritten role provides a much needed shot of emotional honesty. Nicole Kidman, playing Wolfe's much older lover Aline Bernstein is required to look elegantly ill-tempered for most of her scenes.
The period is evoked by a dusty, hazy quality to the photography, as though Manhattan is filtered through a fug of cigarette smoke, and by a score which is heavy on rag time jazz. Impressive work from production designer Mark Digby transforms the entirely British locations into persuasive proxies for Depression-era America.
Production company: Michael Grandage Company, Desert Wolf Productions
International sales: FilmNation Entertainment nyoffice@filmnation.com
Producers: James Bierman, Michael Grandage, John Logan
Screenplay: John LoganCinematography: Ben Davis
Editor: Chris Dickens
Production design: Mark Digby
Main cast: Colin Firth, Jude Law, Nicole Kidman, Laura Linney, Guy Pearce