An American businessman struggles to make his fortune in the East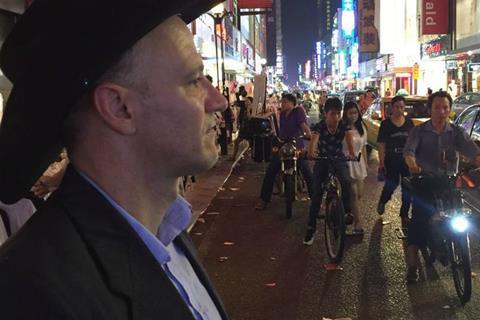 Dir/scr: John Maringouin. USA. 2018. 110mins
In Ghostbox Cowboy, writer/director John Maringouin turns a would-be businessman's journey to China into a surreal East/West collision. This culture clash plays more with delightful nuances than with big surprises, but David Zellner brings plenty of American innocence to the role of a fortune-seeker brought to his knees; as they say in Texas, he's all hat and no cattle.
The doc-styled misadventure of Ghostbox Cowboy also make for something of a trade war parable
Stylish, comic and shameless, with a gonzo, midnight movie tone, Ghostbox Cowboy should be a hit at festivals following its world premiere in Tribeca's US Narrative competition. Moments of visual grandeur that defy its small budget could help get it attention in Asia, where audiences might welcome a tale of the humbling of a brash American.
Cowboy-hatted Jimmy Van Horn (Zellner) shows up in China with a product that he's counting on for a windfall. Hoping to exploit the traditional Chinese belief in ghosts, Jimmy — a Woody Harrelson look-alike — is peddling a handheld black box called "Ghoster" that, he asserts, will contain and defang dangerous spirits. The fun starts when the scheme, inevitably, falls apart.
Maringouin, who also serves as a cinematographer and editor on the film, begins proceedings as if he's shadowing Jimmy with a cheap point-and shoot camera or cell phone, monitoring his man's misadventures as they happen. Maringouin is initially playing for laughs, and you don't need dazzling cinematography when a character is slipping on banana peels of his own creation.
Later, however, the visuals move more towards hallucinatory despair as things get more desperate for Jimmy, who battles with investors — or would-be investors — and loses his shirt in more than one currency. When he's dead broke, he ends up performing at events where he's featured as "the American", an exotic twist on a costumed wedding singer, to amuse a crowd that, as he's told, "doesn't see many white people."
Jimmy's plight comes packed with cinematic allusions, principally to the sad solitude of John Voight in John Schlesinger's Midnight Cowboy (1969) which begins, like Ghostbox Cowboy, with a smirking swagger. There's another key reference here, to Maringouin's own zany documentary travelogue Big River Man (2009), in which a beer-swilling Slovenian swims the length of the Amazon river and a voiceover warned of grave environmental threats to the Amazon basin. Here, the threat is gold fever and, almost a decade on, Maringouin hasn't lost his flair for revealing the secrets of a place, even as he's bringing his own circus there.
Visually, it's like Heart of Darkness meets The Man Who Fell to Earth as Maringouin's camera moves at a deliberate but kaleidoscopic pace, from the bare bones of skyscrapers under construction to vast expanses of sand. A delphic Brando-esque American whom Jimmy meets deep in the frontier is a rare (yet major) false note in a parade of surreal encounters.
The doc-styled misadventure of Ghostbox Cowboy also make for something of a trade war parable, in which would-be conquerors become casualties. Jimmy meets other hustlers from the USA, like the smiling sharpie Bob Grainger (Robert Longstreet), who stumbled into the landscape a few steps ahead of him. Among Chinese who speak English and have so much capital that they can invest for fun, Jimmy — like others before him — becomes a helpless migrant refugee, defined by his vulnerability.
Production companies: Lightshow Films, Scope Dog, 23rd Street Productions, Sino-American Trade Enterprise (S.A.R.T.R.E), Bighorn Global Swamp Donkey Films, Epic Match Media
International sales: George Rush georgemrush@gmr.com
Producers: Molly Lynch, John Maringouin, John Montague, George Rush, Sean Gillane
Editing: Sean Gillane, John Maringouin
Cinematography: John Maringouin, Justin Donais, Nathan Slevin
Mudoc: Casey Wayne McAllister
Main cast: David Zellner, Robert Longstreet, J.R. Cazet, Vincent Xie, Carrie Gege Zhang