Dir: Rosemary Myers. Australia. 2015. 77 mins.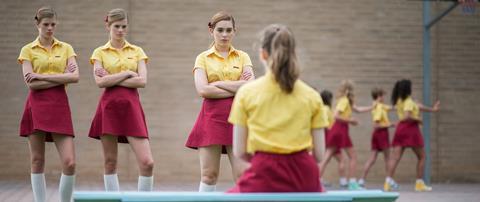 The teenage coming-of-age genre has become so steeped in supernatural romance, dystopian action and gross-out gags that — on film, at least — the period of blossoming maturity it depicts has almost been stripped of its wonder. Stage-to-screen adaptation Girl Asleep offers an antidote to the current trend, wholeheartedly embracing the magic and mystery of growing up. After an enthusiastic premiere at the 2015 Adelaide Film Festival, where it won the audience award for most popular movie, the energetic, amusing and pointedly eccentric Australian effort debuts outside its homeland in Berlinale's Generation 14plus program.
Myers crafts an effervescent yet astute splash of teen life that delights the eyes, warms the heart and tickles the funny bone in equal measure
Director Rosemary Myers and writer Matthew Whittet have transferred their 70s-set production from its stage origins at Adelaide's Windmill Theatre to make their film debuts. It's to their credit that the familiar remains fresh here, particularly when dealing with circumstances as routine and frequently seen as high school, a birthday party, the taunts of mean girls and the turmoil of chasing boys. Artscope, the specialty label of Memento Films, picked the film up prior to its Berlinale bow and it should find an audience in festival and specialised play.
With a mix of quirkiness, nostalgia, theatricality and antipodean humour, the duo bestows their feature with warmth and affection that speaks to their own fondness for the material.
Original cast members Eamon Farren, Amber McMahon, and Whittet himself star and the writer's attention-grabbing role as Driscoll family patriarch offers a goofy guiding hand through the adolescent awkwardness and anarchy on-screen and off. His greatest masterstroke is as a writer, though, ensuring Girl Asleep feels like an upbeat yet emotionally accurate reflection of its 15-year-old protagonist, Greta Driscoll (Bethany Whitmore).
The film starts out at her first day at a new high school, delving into her loving but chaotic home. She befriends the earnest Elliott (Harrison Feldman), a fellow outsider who clearly wants to be more than just pal; and tries to avoid the resident cool clique of Jade (Maiah Stewardson) and her flunkies Amber and Saph (twins Grace and Fiona Dawson), who prove committed to adding a hell-ish tinge to Greta's high school experience. At home, when she isn't in a state of near-constant embarrassment at her parents' latest antics, she's attempting to understand the lure of the older, cooler Adam (Farren), her rebellious sister's (Imogen Archer) boyfriend.
That Greta's various woes all flare up at her birthday bash is far from surprising for anyone familiar with the genre — but how she reacts exposes the feature's willingness to move beyond its purposeful appropriation of teen tropes and dive headfirst into the weird and wonderful side of growing up. Mid-gathering, she retreats into her bedroom, closes her eyes and awakens into a dream-like world. There, the movie earns its title, as Greta wanders through an alternate reality populated by the meek Abject Man (Whittet), hostile Frozen Woman (Amber McMahon) and the warrior-like Huldra (Tilda Cobham-Hervey), aka her inner fears and strengths personified.
While the comic pandemonium of the party and its preamble ultimately proves more engaging than the feature's surreal later stages, complete with choreographed dance numbers and the committed efforts of the all-round excellent cast, the confidence of the latter section can't be discounted. Here, the film leaps into fanciful territory and nods to fairytales to explore its theme of lost innocence in a fantastical yet thoughtful manner.
In wading through Greta's woes as stripped down to their most elemental forms, Girl Asleep provides one of the most visually striking manifestations of a girl's passage to maturity in recent years. Viewers may share Greta's desire to return to the fun and revelry that came before it, but they're unlikely to quickly forget the feature's psychologically perceptive and aesthetically vivid excursion into the teenager's mindset.
Indeed, Girl Asleep's overall look plays an enormous part in its success. The film is boxed into a 4:3 aspect ratio yet never feels constrained, its images mirroring the narrative in ranging beyond standard confines. Myers' penchant for vibrant colours and precise framing may recall the work of Wes Anderson, while the organic texture of the third act's imagery is reminiscent of Paul King's Bunny and the Bull; however the filmmaker's voice is her own. Combined with the stellar work of cinematographer Andrew Commis (The Daughter) and production designer Jonathon Oxlade (another veteran from the film's stage origins), Myers crafts an effervescent yet astute splash of teen life that delights the eyes, warms the heart and tickles the funny bone in equal measures.
Production companies: Soft Tread Enterprises, Windmill Theatre
International sales: Artscope, sales@memento-films.com
Producer: Jo Dyer
Executive producer: Teena Munn
Screenplay: Matthew Whittet
Cinematography: Andrew Commis
Editor: Karryn de Cinque
Production design: Jonathon Oxlade
Main cast: Bethany Whitmore, Harrison Feldman, Matthew Whittet, Amber McMahon, Eamon Farren, Tilda Cobham-Hervey, Imogen Archer, Maiah Stewardson.