A headstrong teen finds meaning in go-karting in this thrilling Aussie family drama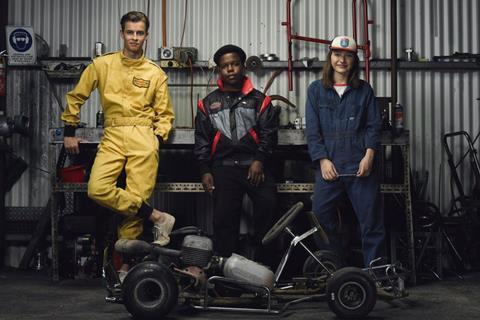 Dir. Owen Trevor. Australia. 2019. 102mins.
Warmly embracing a well-oiled formula, all-ages crowd-pleaser Go! treats the underdog sports drama genre like a racetrack — sticking to the course, taking the inside lane through the expected conventions, and doing so with dash and flair. Following a teenage newcomer finding the pedals in competitive go-karting, this is a predictable yet spirited film that knows the terrain it's driving, pitching itself as Australia's high-octane answer to The Karate Kid. That self-awareness goes a considerable way, as does an agreeable cast anchored by Richard Roxburgh and Frances O'Connor, lively racing action helmed by Top Gear veteran Owen Trevor, and a script by Paper Planes' Steve Worland that doesn't sacrifice its personality.
Go! proves determined to built its own zippy product out of well-worn parts.
Reaching Australian cinemas mid-January in the obligatory family-friendly start-of-year slot, Roadshow will be hoping to repeat Paper Planes' box office success. The timing is right, and so is Go!'s broad, universally relatable narrative. Poised to battle youth-centric heavy-hitters Jumanji: The Next Level and Spies in Disguise, the film's homegrown flavour and genuinely engaging feel should easily win over local audiences. That Ford v Ferrari so recently gave the racing genre a hefty boost could also help, including assisting the feature's fate internationally.
Go! plays like a kid-friendly against-the-odds sports movie sharing the road with a factory-issued car film; yet that streamlined description ignores the film's energy and charm. Even when they're checking off standard inclusions — grief to overcome, emotions to confront, bullies to face, hidden strength to muster, naysayers to thwart and a forbidden romance to pursue — Trevor and Worland steer into thoughtful and authentic territory. Little about the movie is particularly unique, including its 80s-esque score and purposeful stylistic and soundtrack nods to every decade from the 70s onwards, but Go! proves determined to built its own zippy product out of well-worn parts.
That's a feat that Jack (William Lodder), his best friend Colin (Darius Amarfio-Jefferson) and the mechanically minded Mandy (Anastasia Bampos) must tackle, too, after the former gets the go-karting bug on his first spin around Busselton's dusty facility. Moving to the town with his widowed mother Christie (O'Connor) and still mourning his car-loving father, he finds peace behind the wheel. But, despite his natural talent, he lacks the skills, experience and kart needed to challenge Mandy's arrogant hotshot brother Dean (Cooper van Grootel) in the upcoming national championships.
When Jack begs ex-racer turned gruff track owner Patrick (Roxburgh) for guidance, it inspires a shamelessly Mr Miyagi-style relationship (swapping waxing cars, sanding floors and painting fences for watering dirt, washing karts and painting a shed). And yet, their scenes rank among Go!'s best, all thanks to the actors' rapport. Debutant Lodder brings a natural spark to his headstrong, reckless but kindhearted character — a kid eager to help others, including setting up his mum with bumbling cop Barry (Dan Wyllie), but clueless about helping himself — and Roxburgh brims with comically lived-in weariness as the reluctantly wise mentor.
Other than sporting a much-welcome often-quirky vibe, Go! heads in its own direction via Mandy's story. Continually stuck in her brother's shadow and sidelined by their glory-seeking father (Damian de Montemas), she's smart, plucky, committed to chasing her auto-engineering dreams, and won't let anyone push her aside because of her gender. It's another of the film's touches that could've played simplistically, but fires on all cylinders thanks to first-timer Bampos; the movie's big find alongside Lodder.
Amid the inevitable tourist-baiting shots of the feature's Western Australian setting, Trevor and DoP Peter Eastgate convey the necessary speedy thrills on the track — and, in the film's most expressive visual sequences, aptly relay Jack's loss-driven inner turmoil whenever he nears the end of the race. Like each of Go!'s more personalised flourishes, this helps push the movie the extra mile. Its takeaway messages about self-belief, hard work, emotional openness and teamwork remain as typical as expected, but, for a by-the-numbers affair on paper, this highly likeable movie has ample fuel in its tank (and should kick-start many new obsessions with go-karting, too).
Production company: See Pictures
Contact: See Pictures, info@seepictures.net
Producers: Jamie Hilton, Sonia Borella
Screenwriter: Steve Worland
Cinematography: Peter Eastgate
Editors: Scott Gray
Production design: Herbert Pinter
Music: Brendan Woithe
Cast: William Lodder, Anastasia Bampos, Darius Amarfio-Jefferson, Dan Wyllie, Cooper Van Grootel, Damian De Montemas, Richard Roxburgh, Frances O'connor