Dir. Daniel Alfredson. US, Canada, Sweden. 2015. 90 mins.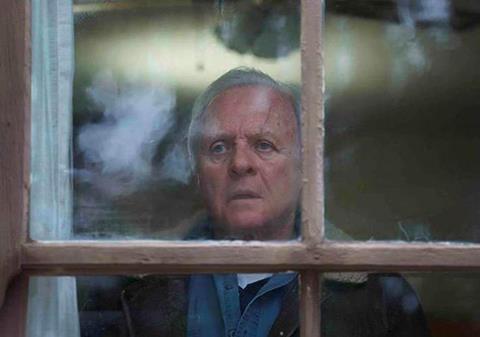 When, towards the end of this ramshackle, old-school backwoods drama-thriller, Julia Stiles' character actually says that she's been running all her life and she's not going to run any more, it just confirms what we've known all along: that Go With Me doesn't have an original bone in its body. In one sense, this makes Swedish director Daniel Alfredson's follow-up to the limp true-life crime caper Kidnapping Mr Heineken as reassuring as an old armchair that's losing its stuffing. Who knew that you could still make a story about three characters with cliché-riddled backstories tracking down a bad man doing bad things in a place where justice can only be done by taking the law into your own hands?
Anthony Hopkins's Welsh-tinged Anglo-American thespian accent is never explained, and nobody in the Canadian backwoods seems to find it weird
Whether Go With Me will find an audience indulgent enough to embrace a film in which Anthony Hopkins, here coasting in neutral (as he was in Mr Heineken), doesn't even bother to do a local accent, is another matter. Stiles, Hopkins and Liotta – who of course plays the villain – will look good on the poster, but all three give the impression that they're doing this under sufferance, as a between-movies movie. In other words, you're probably more likely to catch this on a long-haul flight – where it will settle in nicely – than on a big screen.
It's grim up in those logging settelments in the British Colombia back country – something self-contained single girl Lillian (Stiles), back in her hometown following her mother's death, discovers when she's threatened and stalked by Liotta's character, the sinister Blackway. Faced with the evidence of Blackway's badness – Lillian's headless cat – the local sheriff tells the young waitress and primary school assistant that there's nothing he can do, as the man's too powerful around these parts. But maybe she'd like to ask for help at a local sawmill? She does – people mostly go where they're told in this point-to-point film – and it's not long before old-timer Lester (Hopkins) and his awkward, stuttering younger workmate Nate (Ludwig) have agreed to help her end Blackway's black ways.
Of course, the shambling Lester has his own secret reason for wanting to nail the man who everyone in town is afraid of – one of several backstory props that are called on when needed. The worst offenders are a couple of flashbacks that explain, in capital letters, why the other men in this town are so reluctant to pursue Blackway. A chorus of even older old-timers in the sawmill provide yet more laborious exposition, so that by the time Lillian, Nate and Lester set off in the latter's pick-up truck to track the man down we're pretty sure he's not just your regulation bad guy but your regulation bad bad guy – the kind that runs a meth lab and forces nice girls into prostitution.
Go With Me is, thus, a contemporary revenge western done ploddingly by the book, but once we've taken this on board – together with Hopkins's Welsh-tinged Anglo-American thespian accent, which is never explained, and which nobody in the Canadian backwoods seems to think is weird – it all moves along briskly enough. Photography and sound design sustain the bleak, dank, threatening atmosphere of a coniferous wilderness and the shabby, poorly-built human settlements that fill the spaces between the trees; and the obtrusive orchestral soundtrack fits in perfectly with the film's old-fashioned desire to underline every emotional turning point and every suspenseful near-escape with a thick pencil.
Production companies: Enderby Entertainment, The Gotham Group
International sales: Electric Entertainment, soniam@electricentertainment.com
Producers: Rick Dugdale, Anthony Hopkins, Gregory Jacobs, Ellen Goldsmith-Vein, Lindsay Williams
Executive producers: Joe Gangemi, Daniel Petrie Jr, Jonathan Hendriksen, Tim Williams,Yoshi Kawamura, Don Monaco, Patricia Monaco, Sean Lydiard, Jim Steele
Screenplay: Joe Gangemi, Gregory Jacobs, based on the book by Castle Freeman Jr
Cinematography: Rasmus Videbaek
Editor: Hakan Karlsson
Production designer: James Hazell
Music: Klas Wahl, Anders Niska
Main cast: Anthony Hopkins, Julia Stiles, Ray Liotta, Alexander Ludwig, Lochlyn Munro, Hal Holbrook, Steve Bacic