Dir. Andrew Neel. US, 2015. 96 min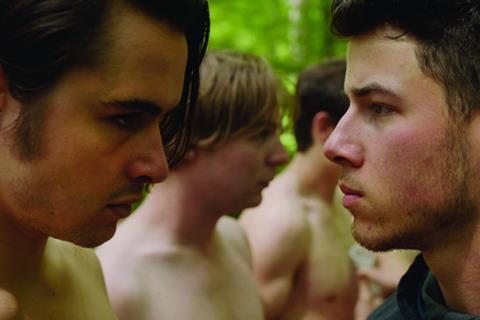 Based on a true story, Andrew Neel's powerful drama Goat opens on a striking image: a slow-motion medium shot of a group of bare-chested young men, bobbing up and down, mouths wide open in mid barbaric scream. Though surreal and lacking context, the disturbing shot is a brilliant encapsulation of Goat's harrowing exploration of masculinity, both its extremes and the fragility that lies beneath it.

Schnetzer offers a fiercely committed portrayal of the troubled Brad, a young man constantly wrestling between his psychological wounds and his need to be accepted.
Goat was originally to be directed by maverick David Gordon Green (Our Brand Is Crisis), who is still listed as a writer on the project. But Neel, an experienced non-fiction filmmaker (Alice Neel, Darkon) proves more than up the challenge of this dark, captivating film, bringing forth a searing emotional truth. With breakout performances by handsome newcomers Ben Schnetzer (The Book Thief) and Nick Jonas (of the Jonas Brothers fame), along with its controversial subject matter, Goat has the potential to do strong art-house business worldwide, buoyed by a robust U.S. launch by whatever distributor snaps it up out of Sundance.

Goat starts off strong. After leaving his older brother Brett Land (Jonas) at a party, 19-year-old Brad (Schnetzer) offers to give a ride home to two hooded strangers. Quickly it becomes apparent that Brad's "nice-guy" kindness will be rewarded with brutality. In an unnerving scene, the two thugs beat Brad to a bloody pulp, leaving him for dead in the woods. The traumatic incident leaves him physically and psychologically shaken, with his masculinity in tatters ("Do you think I'm a pussy?" he tearfully asks his brother.) But with college starting in the fall and Brett having already gotten into a top-notch fraternity, Brad perseveres, and prepares for his first year away from home.

Looking to fit in and get his life back on track, Brad sets out to join his brother's fraternity—a raging house filled with parties, sex and drinking. But when the annual ritual of testing young pledges enters "Hell Week," it tests the limits of Brad's psychology and his relationship with his brother.

Neatly divided into three acts—before, during and after "Hell Week"—Goat careens along like a speeding car that's headed for a violent crash. During the film's most upsetting mid-section, Neel presents an unflinching and unremitting picture of the shocking rituals of fraternity hazing. Brad and his cohorts are subject to an array of humiliations, involving binge-drinking, bodily fluids, and physical abuse, which might test the patience (and stomachs) of some viewers. As the recruits gather for a half-naked group picture, one frat boy jokingly and fittingly references it as "Guantanamo-style."

Schnetzer offers a fiercely committed portrayal of the troubled Brad, a young man constantly wrestling between his psychological wounds and his need to be accepted. The entire supporting cast is also strong, including Jonas's Brett, who is grappling with his fidelity to his frat brothers versus his real brother, and Gus Halper's Chance, a cocky rich kid whose self-professed "love" for the Land siblings appears to be only when it's convenient. And in a hilarious cameo, James Franco (also a producer on the film) shows up briefly on the eve of Hell Week as a gregarious frat alumnus right out of Animal House who primes the pledges with a rallying cry of fraternal comradeship, involving violent mutual slapping and, of course, excessive drinking.

The near complete absence of the brothers' parents in this story may strike some viewers as odd. And yet, there is a hermetic quality to their lives, perhaps reflecting the experiences of many young adults who feel the need to cultivate new families once they are of a certain age. Brad and Brett appear entirely on their own. This helps raise the stakes and explain Brad's need for acceptance by the college fraternity, a hierarchical and status-oriented system that might seem baffling to some viewers.

Produced by Killer Films, Goat recalls the company's powerful 1999 exploration of sexuality, Boys Don't Cry. While that film was groundbreaking at the time for its pioneering portrayal of transgender identity, Goat is a potent reminder that even traditional gender roles can be rife with angst, anxiety and devastating social pressures.

Production Companies: Killer Films, Rabbit Bandini

International Sales: Great Point Media, info@greatpointmedia.com

Producers: Christine Vachon, David Hinojosa, James Franco, and Vince Jolivette

Executive Producers: Robert Halmi, Jim Reeve, and John Wells

Screenwriters: Andrew Neel, Mike Roberts, David Gordon Green

Cinematographer: Ethan Palmer

Editor: Brad Turner

Main Cast: Ben Schnetzer, Nick Jonas, Gus Halper, Danny Flaherty, Virginia Gardner, and Jake Picking