Taiwan's Oscar submission explores the effects of a mass shooting in a Taiwanese market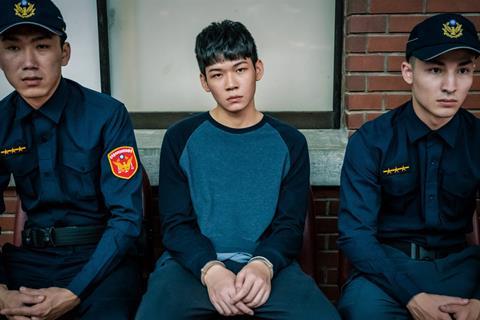 Dir: Lou Yi-an. 2021. Taiwan. 114mins

Loosely inspired by real events, Goddamned Asura views a mass shooting through the lives of those most closely affected by the incident. Lou Yi-an's ambitious ensemble drama is densely plotted and demanding but slowly develops into a mournful portrait of alienation, discontent, poverty and the way in which all actions have consequences. Selection as Taiwan's Oscar candidate should add fresh impetus to the international profile of a film that won Best Supporting Actress honours for Wang Yu-xuan at the 2021 Golden Horse Awards.
An absorbing, melancholy reflection on the fickleness of life and the ability to control your own destiny
Lou's third feature after A Place of One's Own (2009) and White Lies, Black Lies (2013), Goddamned Asura begins with mobile phone footage capturing the moment a teenager goes on a shooting rampage through a night market in Taipei. There is one fatality. As people panic they seem torn between running for their lives and stopping to record everything on their phones.
The film is then divided into three chapters. The first explores the unhappiness of shooter Jan Wen (Joseph Huang), who turned 18 on the day of the incident. His father has insisted that he study abroad as a chance to "reset his life". His mother believes that she can buy his affection, when all he really wants is to be noticed. His misery is reflected in a graphic webnovel 'Raging Zero' that he has created with attentive best friend Xu Axing (Devin Pan), who clearly has a crush on him. Jan Wen's feelings of claustrophobia are also reflected in his daily visits to a dog called Oreo who is kept locked up in a cage.
That first chapter also establishes all the significant characters who will be at the market on that fateful night: investigative journalist Mold (Mo Tzu-yi) who is writing a report on a social housing project; geeky civil servant Hu Sheng (Lai Hao-zhe) who has an on-line presence as star player Shine in the King's World gamer community; Hu Sheng's workaholic advertising executive fiancee Vita (Peija Huang); and schoolgirl Linlin (Wang Yu-xuan) who moonlights as gamer Zero and struggles with an alcoholic, near deaf mother and a life of limited possibilities.
The film takes its time exploring each of these characters, teasing out some of the things they have in common, including a sense of not living the lives they truly want to have. Vita would rather be the client than the worker at her advertising agency, Linlin would love to pursue higher education, Hu Sheng doesn't want to be a civil servant. There is a sense that all of these individuals are trapped; a fact emphasised by the settings of cramped apartments, cluttered rooms and housing that looks from a distance like a series of bird cages. On-line gaming seems to offer more human connection, however inauthentic, than their everyday lives and in-person encounters.
The second chapter follows what happens in the wake of the shooting ,with an unrepentant Jan Wen in prison hoping he will receive the death penalty. The other characters are left to ponder a series of what-if questions and confront secrets that have been revealed. A few seconds either way and Mold could have been the fatality. If Vita had responded differently to the tensions in her relationship, then tragedy may have been avoided.
Goddamned Asura constantly deals in the blurring between reality and alternative reality. The graphic novel created by Jan Wen and Xu Axing both anticipates and distorts the truth of their lives. The King's World game is more rewarding to the community of players than what happens outside their front doors. And the third chapter is the biggest "what if" of them all, with a complete Sliding Doors-style reset of the entire story in which everything takes a turn for the better and there are very different outcomes. Here, Jan Wen is, briefly, a force for good in the other lives, but there is still no escaping a tragic destiny for some.
Complex and multi-layered, Goddamned Asura is an absorbing, melancholy reflection on the fickleness of life and the ability to control your own destiny, persuasively played by a strong ensemble cast. Joseph Huang manages to elicit some sympathy for the sullen, dead-eyed Jan Wen, while Wang Yu-xuan is a stand-out as Linlin capturing the heartache beneath the sarcastic, rebellious persona she presents to the world.
Production companies: Digi Miracle, Seashore Image Productions, Content Digital Film Company
International sales: Hope Marketing Entertainment. ivyshencinema@gmail.com
Producers: Kao Chun-ting, Wang Shin-Hong, Derek Chaung
Screenplay: Lou Yi-an, Singing Chen
Cinematography: Yang Fong-ming
Production design: Tu Shuo-feng
Editing: Chen Xiao-dong, Lou Yi-an, Singing Chen
Music: Hsu Chia-wei, Tsai Chia Ying
Main cast: Joseph Huang, Devin Pan, Wang Yu-xuan, Mo Tzu-yi