A 19th century missionary is tested to his limits in Hlynur Pálmason's striking Icelandic drama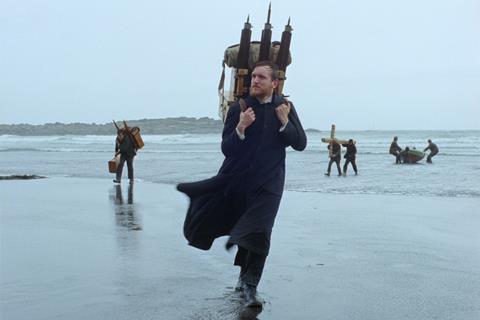 Dir/scr: Hlynur Pálmason. Denmark/Iceland/France/Sweden. 2022. 142 mins
A 19th century man of God is tested to his limits and ultimately broken by the cruel beauty of Iceland's interior in this striking, if slightly overlong saga by Hlynur Pálmason. Danish missionary Lucas (Elliott Crosset Hove), powered by religious fervour and moral certainties, travels from Denmark to the furthest reaches of Iceland to build a church for an isolated community, and to photograph the land and its people. He is warned by a senior church bigwig that the volcanic activity smells as though "the earth has shat its pants" and that the long nightless days of summer can trigger a kind of mental fragility. But Lucas, fiercely unwavering in his commitment to a God who will support him in his quest to enlighten the Icelanders, is unfazed by the threat of psychosis. Shot in a tight academy ratio which evokes the glass plates that Lucas uses for his collodion wet plate photographs, this is an engrossing account of a voyage to the dark side of permanent daylight.
The score adds to the sense of unease; uncanny abstract notes which sound like the wind trapped in volcanic craters
This is the third feature from Pálmason, following Winter Brothers, which premiered in Locarno, and A White, White Day, which first screened in Cannes Critics' Week and went on to win numerous prizes. It's an accomplished, ambitious work which has a Herzogian fascination with vast, unforgiving landscapes, hubris and madness. It's a strong contender for both a healthy festival run and a broader release, either theatrically or through a curated streaming platform. However, the slightly overstretched running time may prove to be an impediment to arthouse break-out status.
This latest picture reunites Pálmason with his Winter Brothers star Crosset Hove, whose fire and ice gaze is put to effective use as the young priest, and with Ingvar Sigurðsson, who starred in A White, White Day and here plays Ragnar, the grizzled Icelandic guide who clashes with the proud and uptight Lucas from the outset. The battle of wills between the two men is foregrounded, both stubbornly speaking their own language (the film's dual language original title, Vanskabte Land / Volaða Land, reflects this collision between Danish and Icelandic).
But another antagonist is the land itself, which is vast and eerie in its unsettling drama. It might have been Lucas' stubbornness that claims the life of his only friend on the strenuous cross-country trek, his interpreter (Hilmar Guðjónsson), but he blames the country, the incident tainting his relationship with his new home. The score adds to the sense of unease; uncanny abstract notes which sound like the wind trapped in volcanic craters, it feels as though the whole island is played like a musical instrument.
Delirious, his pallid aesthete's complexion flayed raw by the cold, Lucas is a broken man by the time he reaches the small community on the northern coast of the country where he is tasked with building a church. There, under the care of Carl (Jacob Hauberg Lohmann), and his two daughters Anna (Vic Carmen Sonne) and Ida (a sparky turn from Ída Mekkín Hlynsdóttir), Lucas starts to mend. But mindful of the way that his older daughter Anna eyes the newcomer, Carl keeps a close watch on him and is not impressed by what he sees. "We don't need men like him," he tells his younger daughter.
Like the unwieldy equipment (including a portable darkroom and a full size replica crucifix) that Lucas insists on hauling across the precipitous interior, he is an angular and incongruous presence. He will never quite fit in. He knows it, Ragnar knows it, and so does Ragnar's (superbly cast) dog, who has a key role in one of the film's pivotal final scenes.
Production Company: Snowglobe
International sales: New Europe Film Sales jan@neweuropefilmsales.com
Producers: Katrin Pors, Anton Máni Svansson, Eva Jakobsen, Mikkel Jersin
Cinematography: Maria von Hausswolff
Editing: Julius Krebs Damsbo
Production design: Frosti Friðriksson
Music: Alex Zhang Hungtai
Main cast: Elliott Crosset Hove, Ingvar Sigurðsson, Vic Carmen Sonne, Jacob Hauberg Lohmann, Ída Mekkín Hlynsdóttir, Waage Sandø, Hilmar Guðjónsson