Dir. Alex Proyas. US/Australia, 2016, 127 mins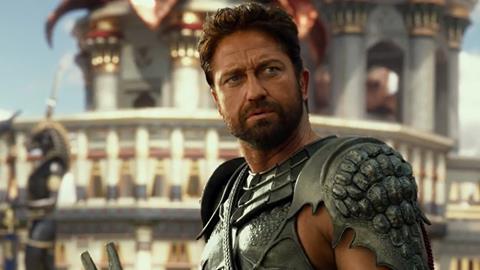 The struggles of deities trouble mortals in Alex Proyas' first film in seven years; however Gods of Egypt is unlikely to inflict much distress upon audiences for too long. Despite starting with a sense of grandeur — complete with rousing introductory music, knowing narration that speaks of romance, power and survival, and a computerised fly-over designed to showcase the mythological splendour of its titular setting — this fantasy-adventure film from the director of I, Robot and Knowing is unable back up its initial confidence with its content.
As audience-friendly as they may be, cast members are left wading through the middle ground between the unengaging narrative and over-emphasised aesthetics.
Set to rollout worldwide from February 25, Gods of Egypt could follow in the footsteps of another American-Australian co-production released at this tenuous time of year: 2015's Jupiter Ascending. The two movies share not only casts littered with marketable names — Gerard Butler, Geoffrey Rush and Game of Thrones' Nikolaj Coster-Waldau in the current case — but prominent visuals that aren't enough to divert focus from the flimsy romps that comprise their respective narratives.
The tactics of a contingent of soldiers in the feature's opening battle offer an omen of things to come, as they help their blood-thirsty leader, Set (Butler), stop his nephew, Horus (Coster-Waldau), from being crowned Egypt's new king. Though Horus' kindly father, Osiris (Bryan Brown), has already been dispensed with and the fight seemingly favours Set, they try to dazzle their ruler's opponent with the glare from their glistening shields. Rarely has a film's determination to distract viewers with the sleekness and shine of its imagery been mirrored so obviously in its story.
Set, Osiris and Horus may be three of the gods in this film's title, but as the former terrorises his fellow divinities and enslaves his subjects, and the latter scurries away sulking in the aftermath, they're hardly acting like higher beings. It is little wonder that mischievous common thief Bek (Brenton Thwaites, continuing to build on a resume that includes Maleficent and The Giver) refuses to worship them, even if they do literally tower over humanity.
Besotted with the attractive Zaya (Courtney Eaton), Bek prefers to place his faith in love, agreeing to carry out her plan to steal Horus' eyes from Set's booby-trapped vault — and therefore hopefully restore Horus to the throne — in an effort to resume his life with the object of his affection.
Cue a scheme that hits more than a few snags, including unlikely odd-couple pairing of Bek and Horus, and further quests traversing everything from heavenly plateaus to desert ruins to the afterlife. Horus tries to wreak revenge, the yearning Bek tags along after striking a bargain with his new pal, and Set sends his flunkies to chase them. More gods pop up, such as lord of the light Ra (Rush) and keeper of wisdom Thoth (Chadwick Boseman), yet Dracula Untold and The Last Witch Hunter screenwriters Matt Sazama and Burk Sharpless fail to do much past go through the motions. The light-hearted tone of their tale is the one saving grace of an offering that, drama-wise, always feels like a foregone conclusion.
Proyas' attempt to energise the film is scarcely surprising in such circumstances, though filling the screen with CGI isn't the most effective method of doing so. His images attract attention, but scream of superficial spectacle. The visual momentum that made the Australian helmer's The Crow stand out is dwarfed by a video game-like approach that looks better from afar than up close. In scenes featuring waterfalls, fire and giant serpents, Gods of Egypt verges on exaggeratedly theatrical, which — if nothing else — might help the movie's cult fortunes years from now.
As audience-friendly as they may be, the cast is left wading through the middle ground between the unengaging narrative and over-emphasised aesthetics. It could be that the whitewashing controversy surrounding the majority of the actors' inclusion is destined to remain the most remembered aspect of their involvement. Coster-Waldau hews close to his famous Game of Thrones television role, and while he conjures ample rapport with the likeable Thwaites and acrimony with the overplaying Butler, none are more than serviceable. Indeed, Rufus Sewell proves the film's most welcome — and underused — presence, as well as a reminder of better times for his director. Here, both are worlds away from the thrills and twists of their first collaboration, the unexpected sci-fi hit that was 1998's Dark City.
Production companies: Summit Entertainment, Thunder Road Pictures, Mystery Clock Cinema
International distribution: Lionsgate
Producers: Basil Iwanyk, Alex Proyas
Screenwriters: Matt Sazama, Burk Sharpless
Cinematography: Peter Menzies Jr.
Editor: Richard Learoyd
Production design: Owen Paterson
Music: Marco Beltrami
Main cast: Nikolaj Coster-Waldau, Brenton Thwaites, Chadwick Boseman, Elodie Yung, Courtney Eaton, Rufus Sewell, Gerard Butler, Geoffrey Rush.