Dir: Stephen Gaghan. US. 2016.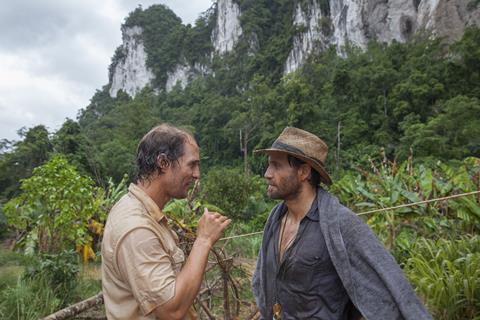 A bravura performance from Matthew McConaughey as a schlubby, roguish mineral prospector in desperate pursuit of the American Dream is the seam that gives Gold its value. Beyond that, this inspired-by-actual-events adventure drama is an entertaining yarn that's never less than watchable, even if it pales in comparison to more charged true(ish) stories like American Hustle and McConaughey's own Dallas Buyers Club.
The star turn will certainly be a selling point when TWC-Dimension gives Gold an awards-qualifying US opening on December 30 and independent distributors roll the film out elsewhere in the new year. The presence of co-star Edgar Ramirez could give the indie production an extra boost in Spanish-speaking territories.
Though the 'actual events' in question (Canada's Bre-X mining scandal) took place in the 90s, the film, written by Patrick Massett and John Zinman (known for their work on TV series including The Blacklist and Friday Night Lights), shifts the action to the more go-go 80s.
Sporting a bulging gut and receding hairline, McConaughey (most recently seen in box-office flops The Sea Of Trees and Free State Of Jones) plays Kenny Wells, a small-time mining executive raised in the business by his steadfast dad but now struggling to keep the family company afloat.
In a last-ditch attempt to save the firm, Kenny teams up with a maverick geologist (played by Edgar Ramirez, the Venezuelan star of The Liberator) and sets off to find gold in the jungles of Indonesia. Once they strike what looks like the biggest deposit ever discovered, however, Kenny has to battle corrupt politicians, Wall Street money men and the law to keep hold of the bounty, at the same time trying not to lose his long-suffering girlfriend (Bryce Dallas Howard).
Stephen Gaghan (who won an Oscar for his Traffic screenplay but hasn't directed for the big screen since 2005's Syriana) does a deft job behind the camera, using occasional voiceover inserts to help tell the story and waiting until late in the action to introduce the flash-forwards that add an extra layer of intrigue to the plot.
Cinematographer Robert Elswit (an Oscar winner for There Will Be Blood) makes the most of some eye-catching Thailand locations, and a soundtrack of lesser-known 80s indie rock bolsters the period feel.
Seen briefly as a handsome and ambitious young exec, McConaughey has to spend the rest of the film as the pudgy, sweaty, balding, older version of Kenny. He inhabits the role with total conviction and gives the character just enough underdog pluck to make him likable. But the script never quite fills out Kenny's character enough to match the physical presence established by McConaughey. Neither does it solve the problem of how to give the complex story sufficient narrative thrust to keep an audience hooked. And, in trying to keep the tone relatively light, the film seems to avoid venturing into some of the darker corners that might have given the tale, and its central character, more bite
Production companies: Black Bear Pictures, HWY 61, Living Films
US distribution: TWC-Dimension
Intl sales: Sierra/Affinity www.sierra-affinity.com
Producers: Teddy Schwarzman, Michael Nozik, Patrick Massett, John Zinman, Matthew McConaughey
Executive producers: Paul Haggis, Richard Middleton, Ben Stillman
Screenplay: Patrick Massett & John Zinman
Director of photography: Robert Elswit
Production designer: Maria Djurkovic
Editors: Douglas Crise, Rick Grayson
Music: Daniel Pemberton
Website: http://weinsteinco.com/filmsMain cast: Matthew McConaughey, Edgar Ramirez, Bryce Dallas Howard