Dir./scr.: Alex Ross Perry. US, 2016. 94 min.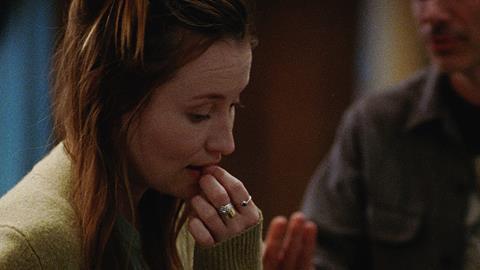 If Listen Up Philip, Alex Ross Perry's smart, darkly funny 2014 Sundance entry, was indebted to Philip Roth, Golden Exits, his latest more somber outing, was inspired by the films of Eric Rohmer. An intimate study of an interconnected group of New Yorkers, and the outsider who briefly upends their already troubled lives, Golden Exits is an idiosyncratic film about little moments of human pain and loneliness. There's jealousy, sadness, unfulfilled loves and lives, all of it relayed in quiet conversations and glances, rather than big dramatic scenes.
This shows a maturity, stillness and confidence of direction that offers further proof of Perry's abilities and seriousness as a filmmaker.
For this reason, Golden Exits can be tough-going—and will be a tough sell in the marketplace. Festival programmers and fans of the burgeoning auteur will be sure to seek out Perry's latest cinematic experiment, but Golden Exits is not likely to build much upon the modest success of Listen Up Philip. Still, the new film shows a maturity, stillness and confidence of direction that offers further proof of Perry's abilities and seriousness as a filmmaker.
Set in Brooklyn, Golden Exits revolves around Nick (Adam Horovitz), a 40-something mild-mannered family archivist, his solemn wife Alyssa (Chloe Sevigny) and Alyssa's cynical sister Gwen (Mary Louise Parker). When we first meet this unhappy trio, they are discussing Nick's latest job—to archive the materials of the sisters' recently deceased father. But Nick and Gwen are openly hostile towards each other; Nick going so far as to complain about the "torment and turmoil" within their family. But everyone goes silent with the entrance of Nick's new assistant, Naomi (Emily Browning), a beautiful young woman visiting from Australia.
While Nick works with Naomi in the confines of his small Brooklyn basement office, Alyssa fears that her husband may be unfaithful. Meanwhile, Naomi seeks out a family friend whom she last saw when as a teenager, Buddy (Jason Schwartzman), for companionship. We also meet Buddy's wife, Jess (Analeigh Tipton), and Jess' good friend, Sam (Lily Rabe), who is also Gwen's personal assistant. And none them appear to be remotely happy or satisfied. Naomi's arrival threatens to shake up their lives, but it's not long for before their sad equilibrium reestablishes itself.
Filmed largely with a fixed camera and lots of close-ups, Golden Exits is mostly a collection of character studies. Horowitz's Nick is a stilted and solitary man who appears to have neither the interest nor the wherewithal to change his staid routine. Mary Louise Parker's Gwen is deeply cynical and wickedly caustic, advising young Naomi to "fuck her way through the city" as she did at that age.
Sevigny, in her best performance in years, is severe and aggrieved. When she speaks about her and her husband's loss of interest in small talk, celebrations or weekend trips—because it's somehow more simple or easy that way—it's like something out of Bergman. Another revealing close-up shows Sevigny's character, a psychologist, listening to one of her clients, but she's completely isolated in the frame and the only voice we hear is hers, disconnected and alone.
While Golden Exits features gold-hued cinematography of Brooklyn at sunrise, there's little sunniness in Perry's script. Rather, the film is a bitter examination of both marriage (the loveless one between Nick and Alyssa, or the unsteady one between Buddy and Jess) as well as those who have chosen to live alone (like the nomadic Naomi and the acerbic Gwen). And neither option brings much comfort. In one of the many confessional scenes between the characters, Jess suggests to her friend, Sam, that the "grass is always greener." Sam's reply, in many ways, says a lot about the film as a whole: "The grass is dead."
Production company: Washington Square Films, Forager Films
International sales: (none), WME (domestic)
Producers: Christos V. Konstantakopoulos, Alex Ross Perry, Adam Piotrowicz, Katie Stern, Joshua Blum
Executive Producers: Joe Swanberg, Edwin Linker, Chris Webber, Peter Gilbert, Matthew Perniciaro, Michael Sherman
Cinematographer: Sean Price Williams
Editor: Robert Greene
Production design: Fletcher Chancey, Scott Kuzio
Music: Keegan DeWitt
Main cast: Emily Browning, Adam Horovitz, Mary-Louise Parker, Lily Rabe, Jason Schwartzman, Chloë Sevigny