A young man turns to steroids to improve his self-worth in Dominik Locher's second feature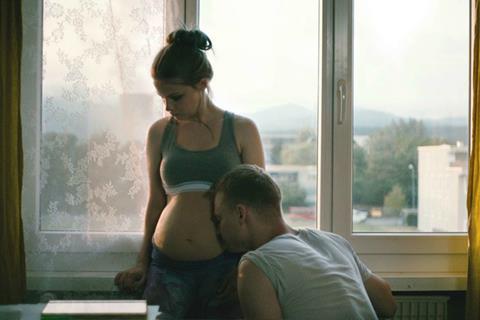 Dir: Dominik Locher. Switzerland. 2017. 85mins
If a man can neither provide nor protect, then what is his purpose? How does it affect his self-esteem? Those questions are central to Goliath, a second feature from Swiss writer/director Dominik Locher (Tempo Girl) that uses the story of one couple to paint a wider portrait of masculinity in crisis. There may be a predictable arc to the narrative, but the uncompromising performances and sensitive direction allow it to punch above its weight and should ensure continuing festival interest.
Dominik Locher is effective in balancing the use of both pithy dialogue and wordless sequences
There is something of an American indie vibe to the story of a young working-class couple who bring out the best and worst in each other. David (Sven Schelker) is the most caring and attentive of lovers, but seems horrified when his girlfriend Jessy (Jasna Fritzi Bauer) announces that she is pregnant. The decision to keep the baby is almost arrived at on a whim.
Later, minor aggravation on a train escalates into a showdown with some thugs, in which Jessy is punched in the stomach and David is hit in the face. He finds no comfort in her reassurance that he did nothing wrong in the situation.David's response is to start training in the gym and injecting steroids, provided by his work colleague Ludo (Jose Barros). As he bulks up and reinvents himself as a hyper masculine figure, David feels on top of the world. "I'm going to be the best dad ever," he vows.
Locher is effective in balancing the use of both pithy dialogue and wordless sequences to bring us into the emotional turmoil being experienced by the characters. Neither David nor Jessy are especially sympathetic, but they do seem real. The expressive actors are adept at conveying everything from rage to contempt without any need to spell it out; not least in a rooftop scene where a proud, excited David presents an engagement ring to a sullen, supremely underwhelmed Jessy.
There are elements of Blue Valentine in the couple's relationship and reckless actions that would seem to have inevitable consequences to the outside observer. David's steroid use makes him angry and volatile and reduces his sex drive to zero. Aspiring make-up artist Jessy continues to guzzle booze and play the party girl during her pregnancy, as if determined to prove that having a baby will change nothing.
The fact that their individual choices can be so infuriating is a mark of how much the viewer is involved in their fate but also reflect Locher's desire to reflect their personalities, warts and all. These are two young, foolish people, adrift in a world where they may only learn from bitter experience.
Probably best known for his role in Stefan Haupt's The Circle (Der Kreis, 2014), Sven Schelker seizes the chance to prove his versatility and range as the baby-faced David. His physical transformation is impressive, but it is his understanding of the man's frustration and feelings of inadequacy that makes the character feel authentic. Jasna Fritzi Bauer does nothing to soften the sharp edges of Jessy, a tough, resourceful character whose fierce manner provides one more challenge to the gender stereotypes that so bewilder and undermine David.
Production company: Cognito Films
International sales: Wide infos@widemanagement.com
Producers: Dario Schoch, Rajko Jazbec
Screenplay: Dominik Locher, Ken Zumstein
Cinematography: Gabriel Lobos
Editors: Rebecca Trösch, Aurora Vögeli
Production design: Marlen Grassinger, Frederik Kunkel
Music: Matteo Pagamici
Main Cast: Sven Schelker, Jasna Fritzi Bauer, Adrian Furrer