Three men in Kathmandu contemplate their futures against he tbackdrop of revolution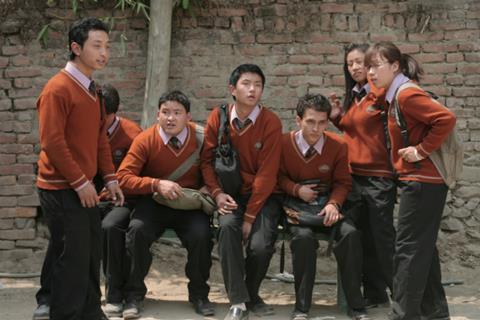 Dir. Nabin Subba. Nepal. 2017. 133 minutes
In the winter of 2004, as Nepal is shaken by a rebellion led by Maoist guerrillas, three young men in Kathmandu are deciding what to do with their lives. Goodbye Kathmandu is three family stories woven together with affection and some preachiness by Nabin Subba against the background of a place that's not simply the travel destination of pot-smoking backpackers. We see the city as these young men see it, as a place that youth tend to leave, because Nepal struggles to support its younger generations.
What's striking about Goodbye Kathmandu is not that it's exotic but that it's so familiar.
Subba is known in his country as a filmmaker who is committed to bringing the Nepal that Nepalese know to the screen. His latest could find a niche in festivals as a rarity, yet is likely to be of greatest interest to a Nepalese audience.
Among Subba's three protagonists, the oldest is handsome Amar (Subarna Thapa), who has returned from abroad to start a computer company targeting its expertise to the youth market. Bushy-headed Mangal (Karma), an aspiring rock musician in a band that probably won't go anywhere, watches his family struggle with debt. Rabin (Nikhil Gurung) is a student with girl problems and bad grades who seems destined to join the Gurkhas, the Nepalese units of the British army and other foreign forces.
Subba's modest urban epic is a clash between a generation of arranged marriages and a generation of dreams. As he follows his characters struggling and maturing day by day, neither side in this generation gap wins. For most of the film, the war in the background is more annoying than brutal. The country's king is uninspiring.
The film's topography is a visual metaphor for these stories. Kathmandu is ringed by soaring peaks, yet the city in the valley beneath them is packed with ordinary lives. The Kathmandu that we see is a warren of passageways and lanes decorated everywhere with Buddhist carvings and sculptures. Yet Mangal's father, who makes sculptures of Buddhas in brass to sell, can't earn enough to get out of debt.
Within that maze, cinematographer Thierry Taieb avoids monumental shots to keep the camera close to the young men and those around them. The revolution preached by striking militants who run through the streets with torches won't transform their lives, and the young men aren't facing conscription. Their crisis is a war of economic attrition, which tears families apart.
What's striking about Goodbye Kathmandu is not that it's exotic but that it's so familiar. Production values are adequate and intimate, rather than incandescent. The rock music from Mangal's band is as uninspiring as the lives we observe. Schoolboys flirt and misbehave, mothers cajole their sons, girlfriends expect disappointment from boys who might not be there next year, and politicians make empty promises.In that everyday mix, Nabin Subba has made his characters real.
Production companies: Menchhyayem Pictures, Kathmandu Films
International sales: Kathmandu Films sohamdhakal@gmail.com
Producers: Soham Dhakal, Padam Subba
Screenwriter: Rajesh Gongaju, Shova Chand
Cinematography: Thierry Taieb
Editor: Shova Chand
Music: Sangam Panta , Hubert Cesario
Main cast: Karma, Subarna Thapa, Nikhil Gurung, Malvika Subba, Mala Limbu