Dir. Jeremy Saulnier. US. 2015. 95mins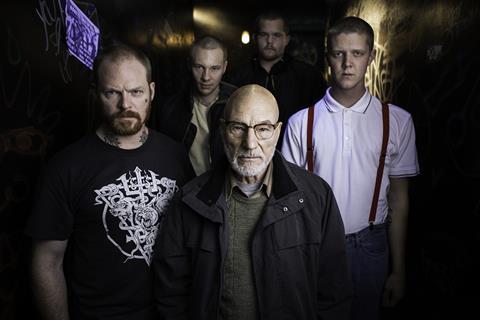 Green Room lacks the mournful poetry and thematic depth of writer-director Jeremy Saulnier's previous feature, Blue Ruin, but this nasty B-movie thriller delivers where it counts: in blood, body count and dark laughs. The grimly compelling tale of a punk band fighting for their lives after being trapped inside a club run by violent white supremacists, Green Room makes no apologies about its desire to cater to the midnight-movie crowd, and Saulnier certainly has the chops, flaunting a taut, cheeky assurance.
There's a certain expectation that an actor with the gravitas of Patrick Stewart will bring complexity and extra layers of malice to the role, but Darcy just isn't interesting enough, leaving Stewart with little to do.
Returning to Directors' Fortnight two years after Blue Ruin premiered there, Saulnier may not enjoy the same glowing reviews for this gruesome follow-up, but Green Room boasts a much starrier cast, including Anton Yelchin, Imogen Poots and a change-of-pace turn from Patrick Stewart. A film which would have easily played in the midnight programming of Sundance or Toronto, Green Room will probably be only a modest theatrical performer, although it could do robust VOD business.
The film concerns the misadventures of a punk band known as the Ain't Rights, including sensitive bassist Pat (Yelchin). During a last-minute gig at a roadhouse in the middle of the Oregon woods, Pat accidentally stumbles upon a murder committed by one of the patrons. The Ain't Rights were worried enough about playing for an audience of tough-looking Neo-Nazis: Now, they're trapped in the club's green room as the skinheads, led by the stoic Darcy (Stewart), decide how best to dispose of them.
Saulnier's revenge drama Blue Ruin was a crafty mixture of pulp suspense and meditative character study, but his new film returns him somewhat to the temperament of his little-seen 2007 horror-satire Murder Party, about an innocent man lured to a party where the hosts kill off the attendees. Like Murder Party, Green Room seeks only to unleash bloody, hardcore genre thrills, although thankfully Saulnier's technical prowess and storytelling skill have evolved greatly since that amateurish outing.
Green Room's characters aren't particularly well-drawn, but they're memorable enough to anchor the claustrophobic narrative. Mostly, the lead actors' job is to be scared and sympathetic, and Yelchin does fine work as the soft-spoken bassist who becomes the default leader once the showdown with the skinheads begins. Poots plays another witness to the murder, and she, too, brings urgency and humanity to her simplistic role.
The main disappointment among the ensemble is Stewart. He's convincing as a calmly lethal white supremacist who is coolly pragmatic about how best to kill these kids and keep it quiet. But there's a certain expectation that an actor with such gravitas will bring complexity and extra layers of malice to the role, and Darcy just isn't interesting enough, leaving Stewart with little to do.
Running about 87 minutes before the end credits start, Green Room drags in the middle as the Ain't Rights frantically debate how to escape the tiny room and Darcy's reinforcements arrive to up the stakes. But Saulnier is merely saving his best moments for a final act that's a satisfying collection of grisly set pieces as our heroes run through the club in a desperate bid for freedom.
And although Green Room doesn't leave viewers with as much to ponder as Blue Ruin did, Saulnier does sneak in some wry jokes about the so-called "authenticity" of punk rock and even lingers on a touching image of a ferocious dog gently resting its head on its dead master's body. There may not be a lot of depth to Green Room, but that doesn't mean there isn't sufficient thought and care.
Director: Jeremy Saulnier
Production companies: Broad Green Pictures, Filmscience
International sales: WestEnd Films, nadine@westendfilms.com
Producers: Neil Kopp, Anish Savjani, Victor Moyers
Screenplay: Jeremy Saulnier
Cinematography: Sean Porter
Editor: Julia Bloch
Production design: Ryan Warren Smith
Music: Brooke Blair, Will Blair
Main cast: Anton Yelchin, Imogen Poots, Alia Shawkat, Joe Cole, Callum Turner, Mark Webber, Eric Edelstein, Macon Blair, Kai Lennox, Patrick Stewart