Ranveer Singh leads this energetic 'Star Is Born' story set in the Mumbai rap scene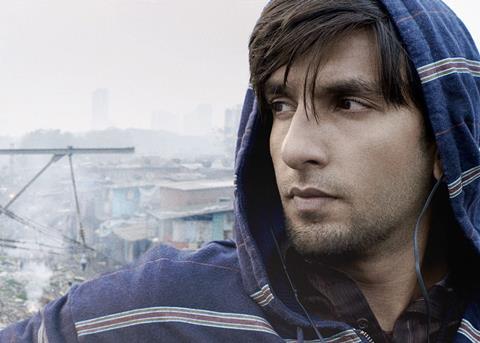 Dir: Zoya Akhtar. India. 2019. 153mins
The Mumbai rap scene gets the widescreen stamp of approval in Zoya Akhtar's romantic musical Gully Boy, a Star-Is-Born tale of a kid from the city slums who makes it as a rap star against the odds. Opening in Berlin ahead of its Indian release on February 14, it's proof that what passes as gritty by Mumbai film industry standards is liable to feel decidedly sanitised to audiences elsewhere – with Bollywood star Ranveer Singh required to do little to establish his street credentials other than throw a hoodie over his perfectly-coiffed hair every so often.
Singh busts rhymes with the best of them in this energetic, entertaining film
Mumbai rapper Divine, whose story the film is loosely based on, looks every inch the part of the hip-hop slum-dweller-turned-star, so it's difficult to put the casting of a dishy leading man to play him down to anything other than box office. Yet Singh busts rhymes with the best of them in this energetic, entertaining film that smuggles some urgent social themes in under the cover of a hoary old fable about a handsome pauper who gets the stardom and the girl. By Indian indie standards, Gully Boy has the panache to succeed on home territory and among the diaspora community abroad; elsewhere, its appeal is likely to be fairly niche.
Playing fast and loose with the facts, the script turns Christian boy Vivian Fernandes, aka Divine, into a Muslim kid living in Mumbai's notorious Dharavi slum. That's 'kid' in a manner of speaking, as little attempt is made to paint the 33-year-old Singh as anything other than a man called Murad who lives in cramped conditions with three generations of his family, soon made even more compact by his bullying chauffeur father's acquisition of a younger second wife.
Murad hangs out with his equally mature besties in a deprived 'hood that is painted with a certain indulgent community glow – it takes the archly observed visit of a group of Western tourists to bring home the fact that Murad and his family are slum-dwellers. His long-term girlfriend, Safeena (highly bankable star Alia Bhatt) is forced to play the good Muslim girl for her mother and doctor father, but reveals a fiery spirit of independence in her far from subordinate romantic rapport with Murad. An avid though somewhat tongue-tied rap fan, he stumbles on Mumbai's underground hip-hop scene and is soon hanging out with an already established rapper, Sher (Siddhant Chaturvedi), who acts as a mentor and encourages him to turn his life and experiences into urgent, angry material.
It's Bhatt's sharp performance that carries most successfully the mix of wry humour, romance and social comment that Gully Boy essays – she's not above a catfight with girls she sees muscling in on her man, but at the same time we feel all her boxed-in helplessness when her parents threaten to end the medical studies and marry her off.
Beneath the rags-to-riches ride that drives the story, a more interesting agenda bubbles to the surface occasionally - in the film's feminist subtext; its acute observation of the interface between the Mumbai of the Westernised rich and privileged and that of their servant underclass; in the masochistic way that same underclass passes on a mental state of servitude to their children.
Warmly shot in rich urban shades, Gully Boy stages its frequent rap and hip-hop interludes like rock videos, complete with slo-mo and jump-cut footage. But at least it has enough instinct and edge to root them in a real hip-hop scene – a scene the film leaves us hungry to know more about.
Production companies: Excel Entertainment, Tiger Baby
International sales: C International Sales, paul.hudson@cintsales.com
Producers: Ritesh Sidhwani, Zoya Akhtar, Farhan Akhtar
Screenplay: Reema Kagti, Zoya Akhtar
Production design: Suzanne Caplan Merwanji
Editing: Nitin Baid
Cinematography: Jay Oza
Music: Karsh Kale
Main cast: Ranveer Singh, Alia Bhatt, Siddhant Chaturvedi, Kalki Koechlin, Vijay Raaz