A can-do teenage heroine tries to fix her family's problems in this sparky Australian debut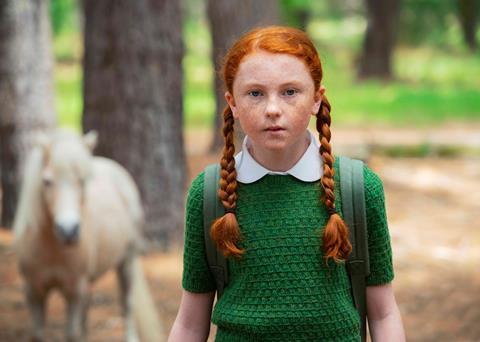 Dir. John Sheedy. Australia. 2019. 103 mins
The ups and downs of adolescence fuel the upbeat, heartfelt H Is For Happiness, the big-screen adaptation of Barry Jonsberg's popular young adult novel My Life as an Alphabet. Boasting an adult cast that includes Miriam Margolyes, Richard Roxburgh, Emma Booth and Deborah Mailman, this coming-of-age charmer follows a precocious 12-year-old who tries to fix her family's problems with unfettered optimism. Finding its genial, quirky groove early, John Sheedy's family film flirts with tweeness but ultimately bubbles with the same spark as its can-do protagonist.
Thanks to a healthy sense of humour and assisted by a climactic sing-along, Happiness never leans too far from bouncy fun
That spirit should endear Happiness to viewers, with LevelK selling internationally following its Melbourne International Film Festival premiere. Delving beneath its sunny patina to deal with loss, grief and depression, and featuring a subplot about inter-dimensional travel, Happiness has the potential to tap the same market that sought out A Wrinkle in Time's similar (albeit more whimsical and fanciful) blend of sweetness, earnestness and offbeat antics.
Virtual newcomer Daisy Axon (Judy and Punch) plays Candice Phee, the perennially cheerful, frequently bullied overachiever at her small high school. When her class is asked by their teacher (Margolyes) to recount their life stories via the alphabet — exploring a detail about themselves for each letter — she approaches the assignment with her usual determination. But, with her mother (Booth) still largely bedridden after the death of Candice's infant sister, and her father (Roxburgh) feuding with his wealthy brother (Joel Jackson) over a past business venture, it's just one more thing on her to-do list. Helped by her new friend Douglas Benson (Wesley Patten), who insists that he's from another dimension, she's equally committed to hatching a plan which will reunite her loved ones.
Marking the feature debut of Australian director Sheedy (a TIFF Kids award-winner for 2017 short Mrs McCutcheon), and written by writer/producer Lisa Hoppe, Happiness doesn't shy away from or simplify its weighty themes. That life is rarely as bright as Claire's attitude is as baked into the movie as its vibrant colours — which, along with the blossoming pre-teen romance with Douglas, plus cinematographer Bonnie Elliott's (Palm Beach) eye for symmetrical compositions, give the film a Wes Anderson-esque flavour.
Indeed, art designer Marita Mussett (Hotel Mumbai), production designer Nicki Gardiner (Lion) and costume designer Terri Lamera (Breath) cut to the heart of Happiness' wise core with their meticulous touches, creating a stylised world where greens, reds, yellows and blues beam from clothing, furniture and everyday items, but walls, houses and scenery have a naturalistic, almost washed-out hue. In the process, the film tasks its lead character with facing and accepting that life's vividness and ordinariness go hand-in-hand, making that point visually, emotionally and in the narrative.
That's just one of the lessons that Candice learns as she attempts to bring her nearest and dearest back together — subtly, not forcibly, with the script respecting rather than instructing its young viewers. Douglas' own quest, to jump off a tree and back to another universe, offers the counterpoint to Candice's path. As she confronts her problems head-on, he escapes into pretence and avoidance to cope with his own worries.
Thanks to a healthy sense of humour and assisted by a climactic sing-along, Happiness never leans too far from bouncy fun. And while Margolyes is amusingly eccentric in her small but memorable role, Roxburgh and Booth prove suitably affecting, and Mailman is tender as Douglas' mother, they're outshone by the animated but never cartoonish Axon and Patten. In a buoyant, thoughtful movie that muses on adolescents doing what adults around them don't, they lead the charge.
Production company: Cyan Films
International sales: LevelK, lauren@levelk.dk
Producers: Julie Ryan, Lisa Hoppe, Tenille Kennedy
Screenwriter: Lisa Hoppe
Cinematography: Bonnie Elliot
Editing: Johanna Scott
Production design: Nicki Gardiner
Music: Nerida Tyson-Chew
Msin cast: Daisy Axon, Deborah Mailman, Emma Booth, Joel Jackson, Miriam Margolyes, Richard Roxburgh, Wesley Patten