Dir. Mel Gibson. US/Australia, 2016. 131 mins.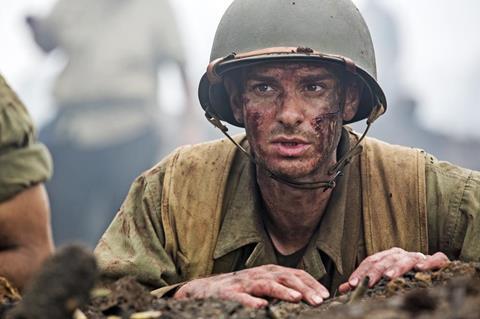 Mel Gibson's Hacksaw Ridge assaults the viewer by surprise, and it turns out to be a lethal blow. The religion-soaked, Australia-shot, true-life story of a decorated conscientious objector from Virginia groans under a first half which seems to deliver one war film cliché after the next: setting up its broad narrative beats for a payoff that appears to be waving a flag from the get-go. Somewhere around the mid-way mark, though, Gibson draws himself up to unleash hell, hurling the Battle of Okinawa at the viewer in all its bloody fury and delivering a film which turns out to be a potent reminder of sacrifice, heroism, and the power of faith.
This is a dirtier Saving Private Ryan
Set for release in the US through Lionsgate on November 4, Hacksaw Ridge recalls the power of Gibson's blunt-edged approach – it seeds the battlefields of Braveheart with the faith of The Passion of the Christ. This from-the-heart approach, coupled with a simple, forceful narrative, should see Hacksaw Ridge – the director's first film in a decade – play extremely well across the heartland of America four days before a bitterly-fought Presidential election, and its success there may move it into play in this year's awards race.
In troubled times for the United States, Hacksaw Ridge acts as a reminder of an era when being a patriot was easier to define. The Pacific theatre was a devastating arena - the Battle of Okinawa alone lasted for almost three months and resulted in 82,000 casualties – and no film has captured the campaign there with this much ferocity before (more recent attempts include John Woo's Windtalkers, about the invasion of Saipan, in 2002, and Terrence Malick's Guadalcanal-set The Thin Red Line in 1998).
Andrew Garfield shines in a very difficult role as the simple-hearted saint: his Desmond Doss was a naive, poorly-educated Seventh Day Adventist from a troubled family background in rural Virginia who enlisted for combat as a conscientious objector. Fighting prejudice and army abuse to go to the front and serve as a medic, he demonstrated extremes of bravery while never bearing a weapon.
In Hacksaw Ridge, Gibson and his screenwriters Robert Shenkkan and Andrew Knight opt to play it straight down the line. Thus in a not entirely convincing Blue Ridge Mountain setting (the film was entirely shot in New South Wales, Australia), Doss grows up having to deal with his drunken, abusive, battle-scarred father, a bitter veteran of the First World War (Hugo Weaving plays it broad, supported by Rachel Griffiths' caring mother). An early scrap in which he nearly kills his brother convinces the young boy of the values of pacifism, and he eventually falls cheesily in love with the fragrant nurse Dorothy (Teresa Palmer).
Prompted to enlist in the army by Pearl Harbour as a conscientious objector, Doss insists on his right to serve on the frontline while complying with his personal beliefs, ie, not to kill or bear arms. This will see him being abused by his comrades (Sam Worthington, a likeable Vince Vaughn) and taken to a melodramatic and quite superfluous court martial. We may suspect that members of his unit have all helpfully been given nicknames – Hollywood, etc – so we'll recognise them when they're blown to bits, but Gibson resoundingly banishes any such cynicism when the First Batallion climbs Hacksaw Ridge.
This is a dirtier Saving Private Ryan. The extended rhythm and sound of war here, the speed and adrenalised mayhem, could come from a Bosch painting of hell. There's a perfect pairing of experienced action DoP Simon Duggan, a native New Zealander like editor John Gilbert, and sound design from Robert Mackenzie, all working with Gibson, whose experience shows in staging the staggering wide-shot sequences.
Perhaps, ultimately, it isn't Gibson's filmic fury that distresses so much, but the fact that it's all true: from the battleground's height (400 metres), to the repeated attempts to take it, to the number of men who died and who Doss saved, and, ultimately, to a man's faith, tenacity and belief in God which resulted in him becoming the first conscientious objector to be awarded the Medal of Honor. Hacksaw Ridge returns to the themes which have professionally and personally motivated 60-year-old Gibson for his entire life; he's never been subtle, but he's certainly effective when it comes to delivering his heart-felt message.
Production companies: Pandemonium Films, Permut Presentations, Cross Creek Pictures
International sales: IM Global
Producers: Bill Mechanic, David Permut, Terry Benedict, Paul Currie, Bruce Davey, Brian Oliver, William D. Johnson
Executive producers: David Greathouse, Stuart Ford, Tyler Thompson, Eric Greenfeld, Len Blavatnik, Aviv Giladi, Lawrence Bender, Rick Nicita, Christopher Woodrow, Michael Bassick, James M. Vernon, Buddy Patrick, Suzanne Warren, Lenny Kornberg, Mark C. Manuel
Screenplay: Robert Shenkkan, Andrew Knight
Cinematograpahy: Simon Duggan
Production design: Barry Robison
Editor: John Gilbert
Music: Rupert Gregson-Williams
Main cast: Andrew Garfield, Sam Worthington, Luke Bracey, Teresa Palmer, Hugo Weaving, Rachel Griffiths, Vince Vaughn