Dirs/scrs: Joel Coen & Ethan Coen. US, 2016. 106mins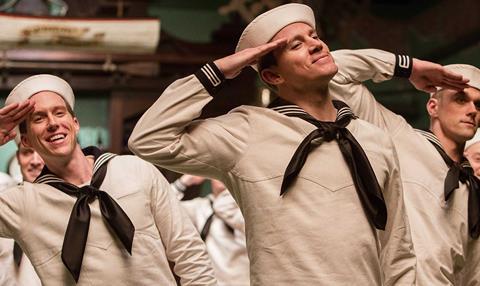 After focusing in recent years on sombre comedies such as A Serious Man and Inside Llewyn Davis which tackled existential themes — faith, destiny, the meaning of life — filmmakers Joel and Ethan Coen have turned their attention to a zany Hollywood-golden-age lark … which ends up being consumed by some of the same questions. Don't let the jolly exclamation mark in the title throw you: Hail, Caesar! may on its surface be one of the Coens' kooky-character pieces, complete with a kidnapping plot they've recycled many times before, but underneath there's a gentle but serious investigation into the ways that people try to find purpose in lives that are busy but unfulfilling.
More than 30 years after Blood Simple, the Coens continue to find fresh ways to use stories about kidnapping to explore themes that interest them
Unquestionably uneven and only occasionally inspired, Hail, Caesar! is nonetheless engrossing and funny thanks to its off-kilter energy and a lead performance from Coens regular Josh Brolin that's a model of quietly controlled chaos.
Releasing in the US on February 5 before opening the Berlin Film Festival on February 11, Hail, Caesar! boasts a formidable cast that includes, alongside Brolin, George Clooney, Channing Tatum and Scarlett Johansson. Fans of nuttier Coens fare such as O Brother, Where Art Thou? or Burn After Reading may respond warmest to this Universal picture, but the betting is that reviews will be mixed, which may translate to tempered word of mouth. Neither a guaranteed crowd-pleaser like The Big Lebowski nor a major work such as No Country For Old Men, Hail, Caesar! will probably be only a modest commercial performer.
Set in 1951, the film stars Brolin as Eddie Mannix, who has the title of Head of Physical Production at a big Hollywood studio when, in fact, he's more of a fixer, constantly putting out fires, soothing egos and making sure filming is running smoothly on the lot. Hail, Caesar! kicks into gear when Whitlock (Clooney), a dim-witted star of a cheesy Roman biblical epic, is held for ransom by a group of Communists who dub themselves The Future.
Mannix has to negotiate to get Whitlock back, but he also must deal with a pregnant ingénue (Johansson) and a fussy director (Ralph Fiennes) who's unhappy with the cowboy actor (Alden Ehrenreich) who has been assigned to his new cosmopolitan comedy.
Although the Clooney plot is the film's central focus — the name of Whitlock's Bible epic is, in fact, Hail, Caesar! — the Coens are more interested in studying Mannix, seeing how he stays calm amidst the rising budgets and myriad demands thrown at him. Brolin is winningly reserved in the role, only slowly revealing aspects of his personality that give us a more complete picture of the man. (He's a tortured Catholic who goes to confession every day, even though he doesn't really sin. He's trying to break a smoking habit. And he fervently believes in the transcendent powers of motion pictures.)
At first, Mannix might seem to have the potential to be a Coen caricature like the crazed studio executives of Barton Fink or the screwball-comedy journalists in The Hudsucker Proxy. But instead, the filmmakers and Brolin bring a sneaky humanity to the character, illustrating how Mannix's smooth talk and hyper-organised mind are ways of pushing back the doubts he has about his profession. Those nagging questions are dramatised deftly through a recurring motif: an impressive job offer to work for Lockheed Martin, which certainly seems more stable and respectable than the nonsense inherent in the frivolous movie business.
But is this what Mannix really wants for himself and the family that he never sees?
The different subplots, including one involving a musical-comedy star played by Tatum, allow the Coens to lovingly parody different studio-system genres, everything from two-bit Westerns to Busby Berkeley-style extravaganzas. Working with long-time cinematographer Roger Deakins, composer Carter Burwell and production designer Jess Gonchor, the Coen brothers adequately re-create these filmic styles, producing knowing chuckles without ever being particularly uproarious. Likewise, the Coens' observations about mid-century Hollywood minutiae — the gossip columnists and the gender inequality — are always clever, if never insightful or novel. Unlike their great Hollywood period piece, Barton Fink, Hail, Caesar! lacks a snotty rancour or surreal edge.
But perhaps that's because the filmmakers, now more than 25 years older than they were when they made Barton Fink, have a more compassionate (or, at least, bemused) outlook on the people entranced by the film industry. The phoniness of Hollywood is apparent from the film's first few moments, and so the question is how different characters reconcile the inner conflict between their integrity, personal ambitions and the pressures of the business. It's here where Hail, Caesar! is most effective, finding the telling small detail that explains, for instance, the sweetness of Ehrenreich's dopey cowboy or the real motives for Whitlock's capture.
Brolin's performance is the most layered, while Clooney just has a ball playing a big, dumb movie star. Tilda Swinton gets to portray not one but two columnists, essentially endowing them both with the exact same loopy air. Other stars, such as Fiennes and Tatum, barely have time to develop their characters, suggesting some of the missed opportunities in this film.
But more than 30 years after their first movie, the double-cross thriller Blood Simple, the Coens continue to find fresh ways to use stories about kidnapping to explore themes that interest them. With Hail, Caesar!, a pilfered movie star is just another way for Mannix and others to ask why they're living the lives they are. Hail, Caesar! isn't a new peak for the Coens, but it's an intriguing curio which argues that, while not even playing at full strength, they're compulsively fecund filmmakers.
Production companies: Working Title Films, Mike Zoss Productions
Worldwide distribution: Universal Pictures, www.universalpictures.com
Producers: Joel Coen, Ethan Coen, Tim Bevan, Eric Fellner
Executive producer: Robert Graf
Cinematography: Roger Deakins
Production design: Jess Gonchor
Editor: Roderick Jaynes
Music: Carter Burwell
Website: www.hailcaesarmovie.com
Main Cast: Josh Brolin, George Clooney, Alden Ehrenreich, Ralph Fiennes, Jonah Hill, Scarlett Johansson, Frances McDormand, Tilda Swinton, Channing Tatum