Dir/scr. Assad Fouladkar. Ger/Lebanon, 2015, 94 mins.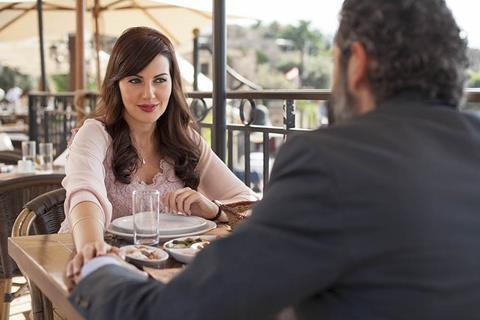 It's Beirut, Actually. Assad Fouladkar has made a light, joyful film about love and its many, messy forms in the romantic comedy Halal Love (And Sex). Three couples try to follow what they believe to be their hearts' desires within a sharia setting, and it proves as difficult – in as many different ways – as love outside Islamic strictures. But Fouladkar's (When Maryam Spoke Out) passion is clearly for the city of his birth and it's Beirut, in all its faded glory, which tugs on the heartstrings in this accessible heart-warmer, bound for Sundance and Rotterdam after a Dubai world premiere.
Women dominate this film, and despite rules which may be stacked up against them, they ultimately hold the cards.
Towards the end of the film, a character drinks coffee on his balcony overlooking what was once known as the Paris of the East before war split the city asunder; the central characters stroll on Beirut's legendary, reconstructed Corniche. They've fallen in and out of love and tied themselves in knots trying to find happiness through the eye of halal love. Look, says Fouladkar: this is our normality. His is an optimistic message in troubled times and, as Lebanon creaks under the weight of regional politics once again, a confection that should find resonance in art-house and festival play for Films Distribution.
What is 'halal love'? The film starts out with an amusing sex education lesson in which adorable schoolgirl Nasma (Christy Bared) discovers that 'worms' make babies; she and her little sister proceed to wear plastic bags to bed to avoid getting pregnant, not that their stressed mother Awatef ((Mirna Moukarzel) bothers to ask why. She's got an uxorious, randy husband in Salim (Ali Sammoury), and she decides to exploit Islam's allowance of four wives to try find herself a get-out from his nightly demands - and a personal slave - in second wife Bardot (Fadia Abi Chahine).
Women dominate this film, and despite rules which may be stacked up against them, they hold the cards. Loubna's beautiful neighbour Batoul (Zeinad Hind Khadra) is struggling in her new marriage to the insanely jealous Mokthar (Hussein Mokadem). Will he divorce her for the third time? – a deed that cannot be undone because, as the Iman says, "rules are made for idiots like you".
And while the divorced Loubna (Darine Hamzé), thinks she might finally have found her heart's desire in a (permitted) 'secret marriage' to grocery-seller and childhood sweetheart Abu Ahmed (Rodrigue Sleimane), she may not be able to overcome the shame of being divorced. ("You have a bad reputation anyway," he tells her, while Loubna's poisonous mother calls her a 'slut' and sneers at her hopes of joining her gay brother Ayman in Australia).
Love is tough no matter which way you approach it, says Assad Fouladkar, directing from his own screenplay. And halal love makes as much – and as little – sense as any other variety with all the petty hypocrisies and face-saving it entails.
His comfortable, working-class characters muddle through their lives outside any references to Middle Eastern politics or conflict as Beirut goes about its daily business. They have hard days at the office; they can't make their mortgage payment; their kids take sandwiches to school; fruit and veg is pulled up to top-floor apartments in baskets. Salim takes his family on a barbeque to the beautiful, verdant Mediterranean countryside where Lutz Reitemeier's camera gives us the Middle Eastern dream, halal-style.
Production companies: Razor Filmproduktion, Sabbah Media Group
International sales: Films Distribution, info@filmsdistribution.com
Producers: Roman Paul, Gerhard Meixner, Sadek Sabbah
Screenplay: Assad Fouladkar.
Cinematography: Lutz Reitemeier
Editor: Nadia Ben Rachid
Production design: Tanja Arlt, Maia El Khoury
Music: Amine Bouhafa
Cast: Darine Hamze, Rodrigue Sleimane, Mirna Moukarzel, Zeinab Hind Khadra, Hussein Mokaddem.