Surreal Moroccan farce about football, cranial trauma, and interminable waiting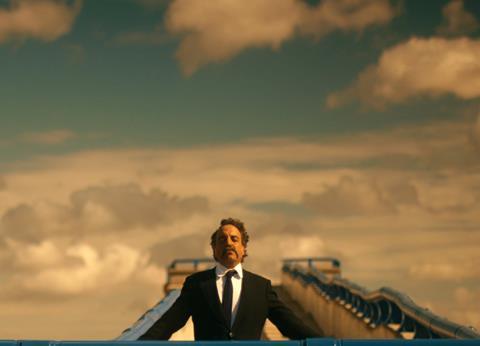 Dir. Hicham Lasri. Morocco, France, Qatar, Lebanon. 2017. 111 mins
Moroccan director Hicham Lasri looks at his country's recent history through the eyes of an emotionally crippled government official sent on a Kafka-esque mission to patrol a bridge. The King may or may not drive under it at some point, however all Daoud (Aziz Hattab) can do is stand and wait. This surreal farce about football, cranial trauma and interminable waiting may be too culturally specific for its message to connect with audiences outside its immediate community.
There's something here of the hysterical upheaval to normal life which provided much of the comedy in Uruguayan picture The Pope's Toilet
Headbang Lullaby is a visually striking piece – a palette of teal blue, tangerine and sulphurous yellow sears itself onto the retina – and there is a certain amount of deadpan, oddball humour to be found. But while it should make an offbeat addition to festival programmes, the lack of clear focus and opaque message might prove a challenge for wider audiences.
Daoud, shown first playing a symbolic game of tennis in front of a hedge of symbolic cacti, has not been quite the same since he was hit on the head by a bottle during the bread riots of 1981. Five years later, he has a metal plate in his skull which causes televisions and radios to malfunction if he stands next to them. And, somewhat problematically for the central character in a film, his face, since his head injury, is unable to register any emotions.
A somewhat garbled message from his boss sends Daoud to a far-flung bridge which marks the boundary between two warring villages. Daoud's status as 'Makhzen', a representative of the state, sends ripples through the community. They scurry around to appease him and the corpulent policeman also assigned to the job. A freak accident sees the policeman laid out with a fractured leg – in this backwoods town, no anaesthetic is available, so the obliging locals knock him unconscious with his own truncheon. Meanwhile, Daoud bonds with a football crazy five-year-old boy and meets the child's mother, a Berber woman whose husband was arrested during the bread riots and hasn't been seen since. A mysterious woman pulls of her burka to reveal fishnet gloves and day glo leggings. And the chiefs of the rival villages jostle for position to greet the king during what they assume will be an impromptu state visit.
There's something here of the hysterical upheaval to normal life which provided much of the comedy in Uruguayan picture The Pope's Toilet. But without the likeable characters and a focus for the absurdity, this film struggles to achieve the same poignancy and warmth. The fact that we are encouraged to speculate whether Daoud killed his wife before he set out for the day is another stumbling block when it comes to sympathising with this problematic central character.
The deliberately unbalanced framing, and a camera which pirouettes and somersaults with abandon, give a impression of a world slightly off-kilter. Circuitous rapid fire conversations add to the sense that this is as much a riddle as it is a movie.
Production companies: Pan Production, Les Filmes De L'Heure Bleue
International sales: Paul Thiltges Distributions info@ptd
Screenplay: Hicham Lasri
Cinematography: Charles-Hubert Morin
Editor: Mona-Lise Lanfant
Production design: Rachid Joundoul
Music: Wissam Hojeij
Main cast: Aziz Hattab, Latefa Ahrrare, Zoubir Abou el Fadl, El Jirari Benaissa, Salma Eddlimi, Adil Abatorab, Zoubida Akif