Co-writer/director: Katell Quillévéré. Fr. 2016. 104mins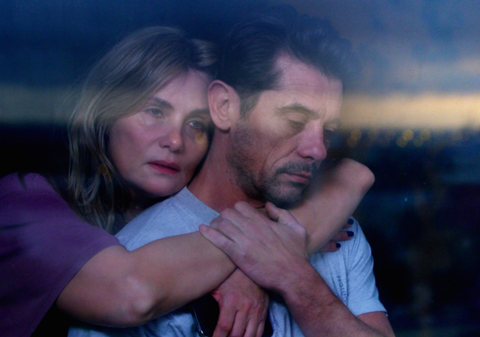 An emotionally satisfying, cinematically deft look at interwoven fates, Katell Quillévéré's third feature (after Love Like Poison and Suzanne) is an involving, tentacular tale that makes the nitty gritty of organ donation seem as natural a focus for a movie as a batch of crusading superheroes. In the space of roughly 24 hours a teenaged boy is reduced to life support after an accident, his grieving parents have to decide whether to authorise the removal of his strong young heart and we meet a middle-aged mother whose own ticker is about to give out.
Structured more like a relay race than a conventional ensemble drama, a soaring sense of movement knits together quietly luminous performances
Superbly cast, Heal the Living (Réparer les vivants) brings to life the many subtly interlocking characters in Maylis de Kerangal's popular 2014 novel. Side-stepping the pitfalls of what could have been a mere medical soap opera, this near-seamless and touching venture should find willing distributors beyond French-language territories.
Life affirming? Certainly. But not in a smarmy or New-Agey manner. Co-screenwriter/director Quillévéré imparts near-numinous forward motion to many scenes. Structured more like a relay race than a conventional ensemble drama, a soaring sense of movement knits together quietly luminous performances.
The first shot is of two young heads on their respective pillows. Lanky Simon (Gabin Verdet) beams at his sleeping girlfriend, gets dressed and leaps out the window, a bundle of sinewy energy in the still-sleeping city. In a nighttime swirl of skateboard, bicycle and van, he meets up with two buddies. Their destination is a cold deserted shore where they deploy their surfboards at dawn. Whether in the curl of a wave or among the bubbles beneath the roiling surface, it's a gorgeous, incredibly fluid (no pun intended) sequence complete with underwater photography that seems downright wet. Pure sensation is the order of the day.
Simon's mother, Marianne (Emmanuelle Seigner, excellent) is asleep when her daughter hands her the phone. It's the hospital — her son has been in a serious accident.
An efficient mix of compassion and pragmatism, the doctor (Bouli Lanners) breaks the news that Simon won't recover. Marianne's semi-estranged husband (rapper Kool Shen, radiating grief) and she listen, stunned, as male nurse Thomas (Tahar Rahim, outstanding) broaches the delicate subject of donating Simon's organs.
At first appalled by the enormity of the request, they decide Simon would have wanted to make the gesture and they give their consent. Simon was the physical embodiment of living each moment to the fullest, but there will be no more moments. (Except in an exquisite flashback that reveals how Simon first courted the girl he woke up beside that morning. The sweet intensity of their first meeting could reside in coma vestiges of his brain-dead brain or it could be solely for our benefit. Either way, it's the essence of young romance.)
What follows includes an introduction to music specialist Claire (a couldn't-be-better Anne Dorval who has one of the best sly smiles in the business) and her two doting young adult sons. Dominique Blanc as cardiologist Lucie Moret is as radiant as it's possible to be without levitating.
It takes a lot of manpower to harvest, transport and deliver vital organs from point A to recipient. It's a miracle made possible by a daisy chain of dedicated professionals being good at their jobs. And, as conveyed here — including a drone-eyed view of open heart extraction — it's thrilling to watch. Transplant recipients are anonymous in France. Who will receive Simon's private-plane-and-motorcyle-escorted heart and will the operation be a success?
In what is only fitting for a story literally and figuratively embroidered around hearts, the film's visual and emotional beats are perfectly in synch. They may be too perfect for some viewers, but the bedrock of the novel has been rendered in absolutely cinematographic terms. Alexandre Desplat's score is a plus.
Production companies: Les Films de Bélier, Les Films Pelléas
International sales: Films Distribution
Producers: David Thion, Justin Taurand, Philippe Martin
Screenplay: Katell Quillévéré, Gilles Taurand based on the book by Maylis de Kerangal
Cinematography: Tom Harari
Production designer: Dan Bevan
Editor: Thomas Marchand
Music: Alexandre Desplat
Main cast: Tahar Rahim, Emmanuelle Seigner, Anne Dorval, Dominique Blanc, Bouli Lanners, Kool Shen, Monia Chokri, Alice Taglioni, Karim Leklou, Alice De Lencquesaing, Finnegan Oldfield, Théo Cholbi, Gabin Verdet, Galatea Bellugi