Dir/scr: Philip Ridley. UK. 2009. 110mins.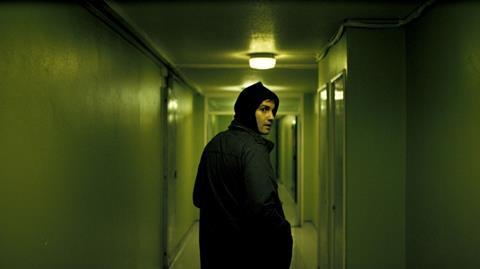 Feral teens with dinosaur faces, the Devil residing in a high-rise flatand a young photographer making a Faustian pact for love – it's not London's East End as you know it. Heartless, a horror/fantasy/crime hybrid with a large side order of metaphysics, is the first film in 15 years from British polymath Philip Ridley. It's decidedly rough and ready, overheated and often ludicrous - but if it's hokum, it's undeniably auteur hokum, and Ridley can't be accused of compromising his vision, which – notwithstanding affinities with David Cronenberg and Clive Barker – is very much his own.
Philip Ridley's over-emphatic direction feels both cut-price and dated yet there are a couple genuine shocks and occasionally the film catches fire
Ridley is respected in the UK as a playwright and author of children's books, but also director of the screen fantasies The Reflecting Skin and The Passion Of Darkly Noon and writer of 1990's The Krays. While theatrical life at home (where it will be released in May) and abroad could be limited, DVD cult appeal should be healthy. Heartless will also pique the interest of horror events and fests keen to explore current British cinema that's off the beaten track.
Heartless follows shy young photographer Jamie (Sturgess), whose life is marred by the large heart-shaped birthmark on his face. The film awkwardly makes a big deal of this blemish precluding true love for Jamie, although, as played by Sturgess, he's clearly more than presentable. Jamie keeps stumbling on weird goings-on in a London that, we're repeatedly told, is nothing less than hell on earth, one problem being a spate of violent attacks by hoodie-wearing youths with banshee cries and fanged lizard faces.
Lured to a burnt out tower-block apartment, Jamie makes a pact with bare-chested Lucifer figure Mr B (Mawle), who removes Jamie's birthmark in exchange for contribution to the world's chaos. This enables Jamie to romance aspiring model Tia (Poésy), but he soon finds he's signed up for more than he realised.
Capitalising unashamedly (like recent shockers Eden Lake and Harry Brown) on current British tabloid-culture fears of teenage hoodie gangs, Heartless is overwrought, over-stuffed with schematic Good vs. Evil symbolism and sometimes teeters close to incoherence. The over-emphatic direction feels both cut-price and somewhat dated, yet there are a couple genuine shocks and occasionally the film catches fire – quite literally in the scene of Jamie's encounter with Mr B. There's also an outrageously grisly comic sequence involving a tube of shrink wrap and a garrulous rent boy (a scene-stealing Jack Gordon).
The acting is mixed, with blandly personable Sturgess never convincing us that Jamie is the skulking bundle of agonies he's supposed to be. But Mawle's demon king is genuinely imposing, while Eddie Marsan contributes a blue-chip comic cameo as a business-like satanic envoy named 'Weapons Man'.
To sign up for Screen's weekly Reviews Newsletter with all the week's new releases, international openings and full festival reviews delivered free to your mailbox every Friday, please click HERE
Production companies
CinemaNX
Isle of Man Film
Framestore
Matador Pictures
CrossDay
May 13 Films
International sales
ContentFilm
(1) 310 576 1059
(44) 20 7851 6500
Producers
Pippa Cross
Richard Raymond
Cinematography
Matt Gray
Editors
Chris Gill
Paul Knight
Production design
Ricky Eyres
Music
David Julyan
Main cast
Jim Sturgess
Clémence Poésy
Noel Clarke
Joseph Mawle
Eddie Marsan
Timothy Spall