A photographer and a refugee grapple with the trauma of a shared war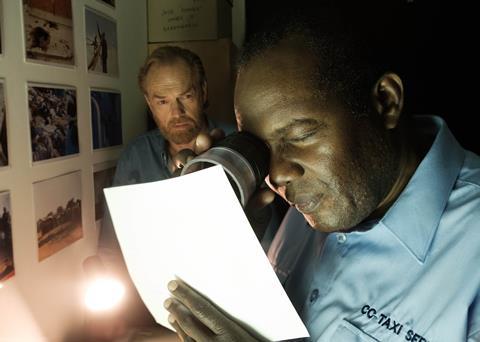 Dir/scr. Ben Lawrence. Australia. 2019. 107 mins.
Hugo Weaving brings an achingly vulnerable performance to Hearts and Bones, Australian filmmaker Ben Lawrence's fiction feature debut (he also made the documentary Ghosthunter). An intimate film tackling an expansive subject — the treatment of refugees around the globe, and the way the world processes the traumas that lead to such urgent, widespread immigration — this is a poignant and morally complex drama. As well as showcasing Weaving's talents, it also proves a calling card for its director, as well as a stirring debut for Sudanese-Australian truck driver-turned-actor Andrew Luri.
Ben Lawrence's feature debut probes thorny questions and avoids easy answers.
Lawrence's second release to bow at the Sydney Film Festival in as many years (this time in official competition), Hearts and Bones shares Ghosthunter's focus on men who are battling persistent demons from their past. New friends Daniel Fisher (Weaving) and Sebastian Ahmed (Luri) are haunted by a far-flung conflict that neither can forget. The narrative is never as straightforward as that broad description, however — and, with its potent examination of tragedy's shared ripples, should engage audiences on the Australian and international festival scenes, and upon local commercial release.
An intense pre-title sequence introduces war photographer Daniel in the field in Iraq, photographing bodies after a roadside attack. When he sees a young girl in the fallout, he is compelled to snap her picture, only to be reminded of the horrors he has spent his career documenting. Next seen back in Sydney, he frequently shakes from the continued toll; a shuddering, overflowing washing machine in his warehouse-style apartment provides an apt visual metaphor for the character's emotional and mental state. But Daniel soldiers on, despite growing health worries, and his pregnant partner's (Hayley McElhinney) increasing protests. In fact, he's less enthused about a high-profile exhibition of his work that might keep him at home, and more concerned about jetting off to Syria for his next gig.
Expert at exuding nuanced weariness, even when he's the clear-cut antagonist in big-budget fare, Weaving makes Daniel a engrossingly slippery figure; a man torn in so many directions that he literally can't stay still. Sebastian (Luri) is his opposite, with the South Sudanese taxi driver and community choir leader desperate to cling to his new life. When Sebastian contacts Daniel about 15 year-old images of the nightmarish massacre that tore his home village apart, he puts his hard-fought sense of safety at risk, as well as his modest existence with his also-pregnant wife (Bolude Watson).
In a revelatory early scene that unveils the extent of Daniel's inner turmoil, the frame pans back and forth as the conversation ebbs and flows — and, via the fluid, naturalistic work of cinematographer Hugh Miller (2040, Ghosthunter, Sherpa), Hearts And Bones delivers a constantly shifting and gliding visual sensation. While the film is a poised affair, it's also tellingly, evocatively restless; Lawrence has as much time for Western Sydney's streets and spaces as he does for his cast's expressive faces, painting a picture of conflicted people weathering weighty woes in a specific corner of the world.
As co-written with Beatrix Christian (screenwriter of 2006's Jindabyne, which was directed by Lawrence's director father Ray), neatness eventually threatens Hearts and Bones' script. To its credit, the film ultimately both embraces and subverts the expected course. Coming to a sensitive end to the sounds of Talking Heads' 'Road to Nowhere' — accompanying a lengthy montage of authentic refugee photographs — the feature does so with hard-earned feelings of sorrow and hope, and without sacrificing its determination to probe thorny questions and avoid easy answers.
Production company: Night Kitchen Productions
International sales: Visit Films
Producer: Matt Reeder
Cinematography: Hugh Miller
Editing: Philip Horn
Music: Rafael May
Production design: Carlo Crescini
Main cast: Hugo Weaving, Andrew Luri, Hayley McElhinney, Bolude Watson, Alan Dukes