An amiable, ambling odd-couple comedy from South Korean auteur Im Sang-Soo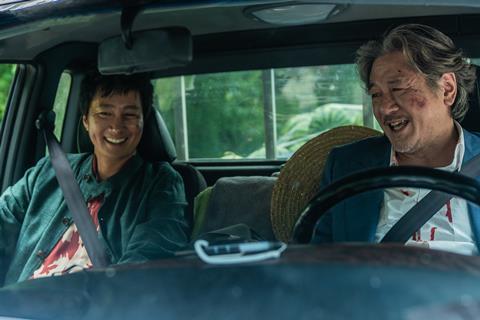 Dir/scr: Im Sang-Soo. South Korea. 2020. 101 mins.
Given just two weeks to live, Prisoner 203 (Old Boy star Choi Min-Sik) takes control of his own destiny. With reluctant assistance from hospital orderly Nam-sik (Park Hae-Il, The Host), who, one way or another, has his own heavy sentence hanging over him, 203 stages a break-out in a stolen hearse. But the coffin they steal, along with the vehicle, comes with baggage — a duo of gangsters working for an ailing, ageing crime boss (Minari Oscar-winner Youn Yuh-Jung) are very invested in reclaiming the contents. This amiable, ambling odd-couple comedy by Im Sang-Soo dutifully ticks off the boxes of the terminal-disease road movie: the pair bridge their differences to find a real friendship; in confronting death they rediscover the joy of life once more.
At its most enjoyable when it embraces the chaos of a chase picture
Heaven: To The Land Of Happiness was included in the 2020 Cannes section The Faithful — previously, Im has screened two films, The Housemaid (2010) and The Taste Of Money (2012), in the Cannes Official Competition, and one, The President's Last Bang (2005), in Directors' Fortnight. The pandemic precluded a screening, however, and the film receives its world premiere at Busan more than a year later.
Originally announced as a remake of the German film Knockin' On Heaven's Door, the picture has diverged markedly from its source material, which is now relegated to the status of an 'inspiration'. But whether or not the story is rooted in Europe originally, this is a film which, with its unabashed sentimentality and languid pacing, seems likely to be more in tune with the domestic market than with international audiences.
Prisoner 203 — we don't know his real name until the very end — has unfinished business and, with an inoperable brain tumour triggering regular seizures, is living on borrowed time. There are two things he would like to revisit — one is the daughter whom he feels that he failed, the other is the sea. Nam-sik, meanwhile, has his own terminal diagnosis — he has Fabry disease, and his survival depends on the medicine that he steals from the hospital's store. At $30,000 per month to buy, legitimate access to the drug is way beyond his means, and the hospital security is closing in on him.
Nam-sik's financial woes are solved, temporarily at least, when it becomes clear that the coffin in the hearse is filled with cash. The two men are pursued both by the police and by gangsters. Meanwhile, 203's daughter is also introduced as a character. It's a lot of plates to keep spinning, and Im is not entirely successful in doing so. Rather, he sidelines the gangsters entirely for a large chunk of the picture, and embarks on a bout of second-act soul-searching which strengthens the connection between the two central characters but slows the pace to a crawl.
Ultimately, Heaven is at its most enjoyable when it embraces the chaos of a chase picture — tasers are deployed, repeatedly, to comic effect; people chuck themselves off buildings; a moped chase that takes in pedestrian underpasses and railway tracks provides a much-needed shot of energy. There are not too many surprises in the plotting — any film which takes an invasive brain cancer as its ticking-clock device can only really end one way. But it's a big-hearted piece of storytelling which suggests that happiness can just as easily be found in fleeting human connections as in a coffin full of stolen cash.
Production company: Hive Media Corp
International sales: Finecut Co., Ltd., cineinfo@finecut.co.kr
Producer: Kim Won-Kuk
Cinematography: Kim Tae-Kyung
Editor: Jeong Ji-Eun, Kim Hyung-Joo
Music: Kim Hong-Jip
Main cast: Choi Min-Sik, Park Hae-Il, Jo Han-Chul, Im Sung-Jae, Youn Yuh-Jung, Lee El, Kim Yeo-Jin, Yoon Je-Moon, Jung Min-Sung, Noh Susanna, Lee Jae-In