Dir/prod/scr: Marie-Castille Mention-Scharr. France. 2016. 105 mins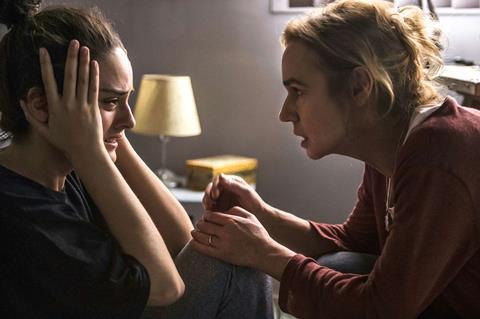 There couldn't be a more timely issue than how to prevent the radicalisation of a younger generation. Marie-Castille Mention-Scharr's Heaven Will Wait (Le Ciel Attendra) tackles the topic head-on, tracing the stories of two teenage girls and the impact of their newfound beliefs on families who no longer recognise a daughter whose love has curdled into hate and resentment. Lacking subtlety in places, it still successfully evokes the human heartbreak beneath the news headlines. The result is an emotive, worthwhile drama that should attract attention and audiences in France , where it opens on September 28, and may have a chance of venturing further.
In its less sophisticated moments, Heaven Will Wait has a hint of some of those reds under beds melodramas that Hollywood might have made in the Cold War
Initially, Heaven Will Wait has the feel of a Traffic-like ensemble, sweeping across the various aspects of radicalisation. A support group finds parents lamenting the loss of a child. "My daughter's a ghost," says one. We then see Catherine (Sandrine Bonnaire) and her husband Samir (Zinedine Soualem) as they are given custody of their seventeen year-old daughter Sonia (Noemie Merlant) and told to keep her under virtual house arrest. Sonia had previously attempted to leave France for Syria and is now suspected of planning a crime against the state.
Then there is Sylvie (Clotilde Courau), a mother anxious for news of her daughter and intending to raise the funds to personally track her down in Syria.
The broad range of the initial storytelling eventually narrows in focus to the contrasting story of two girls. As her parents try to entice Sonia back to their world and their values, she fights them with blazing hostility in her eyes and contempt in her every word. By becoming a martyr she could save 70 people for heaven, including her parents and sister, she says. " We love death more than you love life."
Her story is balanced by that of 16 year-old Melanie (Naomi Amarger), a diligent student who plays the cello, visits her ailing grandmother and is engaged in the world around her. Flattered by a growing Facebook friendship with "Freedom Fighter" she starts to challenge everything she once held dear, rejecting the values of her society and easily (perhaps too easily) succumbing to his demands that she embrace Allah. She starts wearing the jilbab and becomes devoted to her prayers.
One striking scene, finds her running home from school. The camera remains on her as she gulps for air, running until her lungs seem ready to burst and growing increasingly distressed at the very thought that she will be late for prayers. It is a potent indication of her commitment to the cause.
In its less sophisticated moments, Heaven Will Wait has a hint of some of those reds under beds melodramas that Hollywood might have made in the Cold War. It starts to feel as if Islamic militants are lurking on every type of social media waiting to pounce on every innocent, unsuspecting young soul. There is little balance as the film remains resolutely within the world of the parents and their indoctrinated offspring.
However, scenes with the support group that aims to inform and challenge the parents have the feel of something more authentic. The way in which director/writer Marie-Castille Mention-Scharr gradually makes us aware of unexpected connections and brings together the stories of the two girls has a satisfying pay-off.
There is also nothing wrong with the quality of a cast that also includes very brief appearances from Yvan Attal and Ariane Ascaride. The ferocity of Noemie Merlant's anger lights up within her Sonia whilst there is a more brittle, vulnerable core to Naomi Amarger's Melanie. The politics of Heaven Will Wait may be simplistic but there is no denying the emotional charge of the story itself.
Production Company: Willow Films
International sales: Gaumont classic@gaumont.fr
Cinematography Myriam Vinocour
Editor Benoit Quinon
Production Design Valerie Faynot
Main cast Noemie Merlant, Naomi Amarger, Sandrine Bonnaire, Clotilde Courau