An Irish single mother determines to build a house for herself after she escapes an abusive marriage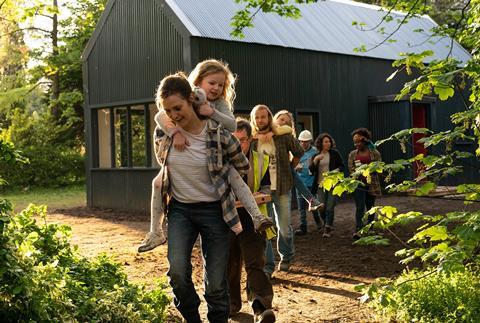 Dir. Phyllida Lloyd. Ireland/UK. 2019. 97 mins.
Herself starts out where 2018's Rosie more or less finished up: Dublin, and a family that is hopelessly homeless. Instead of the parents sticking together in the hard face of a city in crisis, however, Sandra (Clare Dunne) is homeless because her husband has used her as a punching bag – and the film finds its story when she decides to take matters into her own wounded hands. A stunning, taut performance from actor and co-writer Dunne cuts through a flurry of clumsy good intentions to convince. The film is at its most powerful when it rests on her traumatised face.
Whenever Herself settles into predictability, the strength of Dunne's performance pulls that comfortable rug away
Herself is a prestige Irish production, backed by names including Element's Ed Guiney and Sharon Horgan in producer roles. Director Phyllida Lloyd (Mamma Mia!) has brought her 'Julius Cesar' star Harriet Walter on board to play a good – and conveniently rich – Samaritan in Dublin's affluent suburbs who spontaneously offers Sandra, her cleaner, a plot of land on which to build her own house, by herself. The inhabitants of a City Centre squat also come together to help Sandra and her reluctant builder (and his disabled son) every weekend; contrivances which can sit uneasily with Dunne's all too real depiction of a battered wife suffering from PTSD while trying to hold down two jobs, live in a hostel and bring her daughters to school every day. It's a lot to take on board for her, let alone the audience.
Gerard Barret's too-raw-to-release 2017 feature Limbo introduced viewers to the reality of life without a roof in Ireland's capital city – the single mother told never to use the lobby or lifts of the temporary B&B accommodation, and the struggle to feed, clothe and present a child for school out of a single room with no cooking facilities before being moved on every day with your life's belongings in plastic bags. Rosie, by Paddy Breathnach, was equally wrenching, but was more of a conventional film than Barratt's angry assault on the senses. Even though it tackles both domestic assault and homelessness, Herself is the most commercially viable of the three films to deal with the subject thus far. While the fantastical/symbolic element of the housebuild may jar with the reality of the domestic abuse, it does give Lloyd's film a narrative hook and a prospect for redemption.
With 10,000 people a month in "emergency accommodation", 100-odd rough sleepers every night, and an undetermined army of "hidden homeless" (couch-surfers, etc), Ireland's capital city is palpably undergoing a crisis even as the country's economy itself is buoyant. Three years, three films, and a tripling of numbers in that time. It's a few short steps out of the door and into crisis for anyone in rented accommodation who loses a job, or a loved one or, like the hardworking Sandra, is forced to move after a decade of isolation and abuse. Dunne gives the kind of internalised performance reminiscent of Brie Larson in Room; she's on guard day and night, nerves jangling from the moment she gets up in her hotel room to drive to another part of the city to deliver her daughters to school and race to her two jobs. She has no friends. She also has permanent nerve damage in her arm from a beating, and suffers stress-related flashbacks.
This is where Lloyd's film is at its finest, in its Cathy Come Home depiction of a spirit which has been cruelly beaten yet rejoices in the love of her two daughters. But where does a film go from here? The screenplay opts for an uneasy marriage of fact and fantasy which lurches between Loach-ian social realism and determined escapism with jarring abruptness. This happens when Sandra stumbles across a Youtube video and decides to build herself a Rentakit home, despite having no land or money. Her employer Peggy (Walter) who barely knows Sandra but was very fond of Sandra's late mother, donates a patch of her garden for the build. Oh, and the money to build it with.
Lloyd, Dunne and Walter worked together on the successful, all-female stage productions of 'Julius Cesar' and 'Henry IV', which explains why Lloyd and Walter found themselves dealing with a very Irish crisis. Yet ultimately the struggle of the main character is internal and the home is symbolic: can Sandra build a new life for herself, by herself, within herself, or will she forever live under the threatening shadow of her estranged, bullying husband Gary (a convincing Ian Lloyd Anderson)? As a motley crew comes together in Peggy's back garden to put Sandra/the house back together, Lloyd just about swerves a musical montage – although she does raise the stakes with the late-stage reappearance of Gary, balancing the film on the verge of melodrama.
Yet whenever Herself settles into predictability, the strength of Dunne's performance pulls that comfortable rug away. And if her screenplay and her acting helps audiences understand what it is to be homeless, to be vulnerable in this way, Herself will have been a A-grade build by an A-list team.
Production companies: Element/Merman
International sales: Cornerstone Films, office@cornerstonefilm.com
Producers: Rory Gilmartin, Sharon Horgan, Ed Guiney
Screenplay: Clare Dunne, Malcolm Campbell
Cinematography: Tom Comerford
Production design: Tamara Conboy
Editing: Rebecca Lloyd
Music: Natalie Holt
Main cast: Clare Dunne, Harriet Walter, Conleth Hill, Ian Lloyd Anderson, Ruby Rose O'Hara, Molly McCann