Dir: Theodore Melfi. US. 2016. 126mins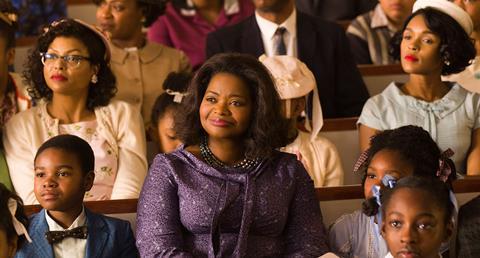 Some sparkling performances and an inviting milieu can't completely overcome the trappings of a feel-good message movie in Hidden Figures, which celebrates the unheralded female African-American mathematicians who were essential to US space exploration of the 1960s. Taraji P. Henson, Octavia Spencer and Janelle Monáe have immense chemistry and warmth, but St. Vincent director Theodore Melfi executes this true story with a bland nobility which can drain the pleasure and vitality out of watching these fiercely determined women knock aside sexism and racism in pursuit of their dreams.
Henson's rapport with Spencer and Monáe is the film's consistent highlight
Opening on December 25 in the US in limited release, this Fox drama has star power and a crowd-pleasing tone, offering an attractive alternative for adult viewers seeking an uplifting movie during the holidays. With a supporting cast that includes Kevin Costner and Kirsten Dunst — not to mention a storyline that builds to a somewhat nail-biting finale involving America's harrowing first manned space flight — the movie is destined to become a solid speciality performer.
Hidden Figures takes place in the early 1960s as Katherine G. Johnson (Henson), Dorothy Vaughan (Spencer) and Mary Jackson (Monáe), members of NASA's "human computer" program, are trying to help the government agency compete with the Soviet Union for supremacy in the space race. Women aren't taken seriously in the agency — and black people are shown even less respect — but Katherine's mathematical genius attracts the attention of Space Task Group Leader Al Harrison (Costner), who brings her onto his elite team to plot the launch of an astronaut into orbit.
Like Katherine, Dorothy and Mary were real people working at NASA at the time — other characters are fictional composites — and while Hidden Figures also examines the bigotry they faced while trying to get ahead professionally, the movie focuses on Katherine, who will become increasingly crucial to Harrison and his team as they try to figure out the codes that will support their risky mission.
The Oscar-nominated Henson is now perhaps best known for her role as the devious, cutthroat Cookie on the television series Empire, but here she plays a brilliant widow and mother of three who is, deep down, a lovable geek. Often pushing her glasses up her nose and awkwardly accepting the romantic advances of a handsome military man (Mahershala Ali), Katherine might seem like an unlikely equal-rights champion, but Henson slowly reveals the woman's inner fire after she grows tired of being treated as inferior to her white, male colleagues.
Henson's rapport with Spencer and Monáe is the film's consistent highlight, the actresses effortlessly conveying the bond between these long-time friends who offer each other support. For Dorothy, it's the constant humiliation of not being promoted to supervisor, even though she already handles all the responsibilities of the job. In Mary's case, the struggle is to become the first black woman to take engineering classes at a prestigious whites-only programme.
These three performers are so vivacious and light on their feet that it's irritating how simplistically Melfi, who co-wrote the screenplay based on Margot Lee Shetterly's non-fiction book, tells their story. The filmmaker elicits understated turns from most of his cast — Costner does commendable work playing the tough-but-fair boss who won't tolerate prejudice among his ranks — but Hidden Figures is almost patronisingly earnest in its depiction of sexism and racism. An air of do-gooder self-satisfaction hovers over the proceedings, reducing the complexity of widespread societal bigotry to a few bogeyman characters who start the movie intolerant but change their ways by the end.
Such superficial resolution of a knotty, systemic problem may provoke a few audience cheers, but it feels woefully insufficient when honouring these real-life heroes.
That said, Melfi's breezy approach moves the film along at an agreeable pace. The story concludes with the third-act suspense of astronaut John Glenn (Glen Powell) being launched into orbit and then facing a harrowing return entry, which requires Katherine to supply some last-minute, number-crunching smarts to ensure his safe landing. Those familiar with the real story will know Glenn makes it home, and the outcome is indicative of the film's overall tone. Everything in Hidden Figures is smoothly efficient but also a little anticlimactic and frictionless — the story's happy ending a little too easily achieved.
Production companies: Fox 2000 Pictures, Chernin Entertainment, Levantine Films
Worldwide distribution: 20th Century Fox, www.foxmovies.com
Producers: Donna Gigliotti, Peter Chernin, Jenno Topping, Pharrell Williams, Theodore Melfi
Executive producers: Jamal Daniel, Renee Witt, Ivana Lombardi, Mimi Valdés, Kevin Halloran, Margot Lee Shetterly
Screenplay: Allison Schroeder and Theodore Melfi, based on the book by Margot Lee Shetterly
Cinematography: Mandy Walker
Production design: Wynn Thomas
Editor: Peter Teschner
Music: Hans Zimmer, Pharrell Williams & Benjamin Wallfisch
Website: www.foxmovies.com/movies/hidden-figures
Main Cast: Taraji P. Henson, Octavia Spencer, Janelle Monáe, Kevin Costner, Kirsten Dunst, Jim Parsons, Mahershala Ali