Mathieu Amalric adapts and directs this demanding arthouse film about loss and abandonment starring Vicky Krieps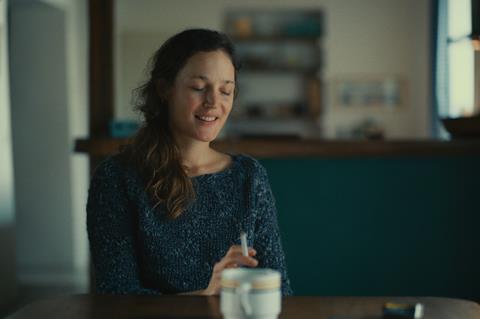 Dir/scr: Mathieu Amalric. France. 2021. 97 mins.
French multi-hyphenate Mathieu Amalric makes a solid addition to what has been an eclectic career as director with this adaptation of a 2003 stage play by Claudine Galea. Starring Vicky Krieps as a mother who may or may not have abandoned her family, it's a tragedy of sorts, one that at times is almost too dark to bear. But there are moments too when Hold Me Tight achieves something quite remarkable, blurring the line between reality and imaginings to burrow into the heart of grief and loss in ways that are also life-affirming. Writing solo for the first time in eight full-length films, Amalric proves that he can deliver a rivetting screenplay.
There's no denying that this is a demanding film - but those with an appetite for challenging arthouse fare should respond
There's no denying that this is a demanding film, the kind audiences begin to process after they've taken a lungful of clear, cold air in the street outside. But those with an appetite for challenging arthouse fare should respond. There's even a touch of the supernatural in Hold Me Tight – not enough to market it as a genre title, but just sufficient to stir echoes of The Others or After Life. Music lovers will also be drawn in by a piano-led classical score consisting of works by Rameau, Bach, Chopin, Ravel, Schoenberg and other composers.
It takes a while to work out what exactly is going on in Hold Me Tight – and when the reveal finally comes, it says something quite profound about how humans process loss. All that can fairly divulged without ruining the effect is that the film appears to be about Camille (Krieps), a young mother who one day simply walks out on her family – consisting of husband Marc (played by Belgian actor Arieh Worthalter, the father in Lukas Dhont's Girl), older daughter Lucie and younger son Paul. She takes the family's second car – a vintage AMC Pacer, known in the States as 'The Flying Fishbowl' due to its remarkable 37% glass surface area – and stops briefly at a gas station, where she tells a friend that she's heading to the seaside for a while.
Right from the start of Camille's road trip, we realise she's not in a good place. She drinks, plunges her face into the ice of a market fish stall, and at one point unbuttons the shirt of a flautist she has just met to caress his chest rug. Intercut with her meanderings are scenes of the family coping at home in a town in the Pyrenean foothills. Marc invents stories to explain mum's absence to the kids, while Lucie throws herself into her piano practice. As the years pass – and they do, with no sign from Camille – she blossoms into a talented classical pianist who, around age 15, decides to model her look on that of living piano legend Martha Argerich (subject of the 2013 documentary Bloody Daughter), dyeing her hair silver grey.
Shot with handheld intimacy and deftly edited so as to respond to the characters' overlapping points of view, Hold Me Tight is a dazzling exercise that demands a certain resilience – especially in the final twenty minutes, when mournful, elegiac notes predominate over the fervid imaginative verve of the film's long mid-section. It plays out, in the end, not unlike one of the spikier and more challenging pieces of music played by Lucie in the course of the film: a twelve-bar blues delivered using Schoenberg's twelve-tone technique.
Production companies: Les Films du Poisson, Arte France Cinéma, Gaumont Cinema, Lupa Film
International sales: Gaumont, communication@gaumont.com
Producers: Yael Fogiel, Laetitia Gonzalez, Olivier Pere
Screenplay: Mathieu Amalric, from the play J'e reviens de loin' by Claudine Galea
Production design: Laurent Baude
Editing: Francois Gedigier
Cinematography: Christophe Beaucarne
Main cast: Arieh Worthalter, Vicky Krieps, Anne-Sophie Bowen Chatet, Juliette Benveniste, Sacha Ardilly, Aurele Grzesik