Dir: Neil Armfield. Australia. 2015. 128 mins.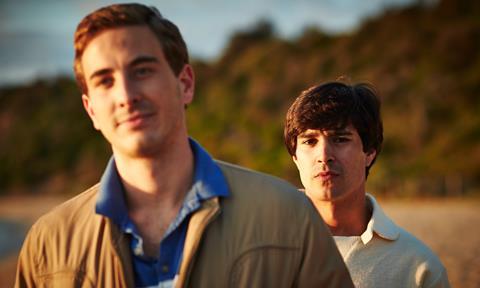 Making his return to filmmaking after 2006's Candy, Neil Armfield shows delicacy and depth in adapting Timothy Conigrave's best-selling, award-winning memoir for the screen. Premiering at the Sydney Film Festival, and featuring Guy Pearce, Anthony LaPaglia, Kerry Fox and Geoffrey Rush alongside Australian up-and-comers Ryan Corr and Craig Stott, Holding the Man chronicles a 15-year romance blighted by the AIDS epidemic. Traction with festival audiences is likely.
Holding the Man owes much to the stage rather than the page, as the majority of its interactions and exchanges make clear
Although it might be heavy-handed in its sense of foreboding, it feels fitting that one of the film's earliest scenes involves Conigrave (Corr) re-enacting Romeo and Juliet as a high school student. Holding The Man follows a similar path of forbidden passion and fateful consequences, based on the heartbreaking reality that played out in the gay community between the 1970s and the 1990s.
In 1976, Conigrave is attending a private all-boys school in Melbourne when he spies John Caleo (Stott) on the football field. The aspiring actor and the emerging Australian Rules star may appear to have little in common, but their attraction is overwhelming. Soon, they're making waves among their classmates, arousing their teachers' concern, and disappointing their traditional families. Nothing can separate them, until the 1980s, when they are both diagnosed with HIV.
Favouring emotional beats over a linear chronology, Armfield flits between Conigrave and Caleo's teen and adult years, the feverish first flourishes of courtship intertwined with lust-driven sexual experimentation and contrasted with ailing later days. Armed with the bittersweet knowledge of the inevitable outcome, he eschews the structure of the memoirs and their stage adaption, first mounted in 2006. The play's author Tommy Murphy, returns to do the honours again – and to succeed where others, including Conigrave's close friend and Walking on Water director Tony Ayres, have stumbled in previous attempts to adapt the text for film.
Indeed, Holding the Man owes much to the stage rather than the page, as the majority of its interactions and exchanges make clear. Whether uttered by Corr and Caleo as expressions of tenderness, by Pearce, Fox and LaPaglia in their supporting roles as uncertain parents, or by Rush in a brief appearance as Conigrave's drama teacher, the film's dialogue resounds with theatricality. Making his fourth film (with Twelfth Night and The Castanet Club also on his resume), Armfield's low-key direction reinforces the emphasis on conversation, offering little in the way of big-screen flair. Cinematographer Germain McMicking gives the movie a warm glow, and editor Dany Cooper imparts a sense of rhythm, but what shines is the story rather than its telling.
Armfeld and Murphy show strength in their cultivation of intimacy, honesty and authenticity. The affection they depict is never less than moving, as conveyed through dexterous lead performances. Corr, best known internationally for his role in the Russell Crowe-directed The Water Diviner, may look too old for Conigrave's younger years, but he sells the character's energy as well as his eventual growth. In contrast, Stott is as disarmingly understated as his on-screen partner is passionate, their chemistry not just evident, but immersive.
Together, they impart a striking, stirring account of a real-life romance cut short. More than a personal expression of one man's love, however, Holding the Man also evokes another classic, the Pulitzer Prize-winning Angels in America. That Conigrave's book, finished in 1994 and published in 1995, won the United Nations Human Rights Award for Non-Fiction is telling – and that it comes to the cinema in the midst of Australia's current debate over marriage equality.
Conigrave's story presents a devastating portrait of the plight of gay men and of coping with AIDS, and while the film may be a clear period piece with the rock soundtrack to prove it, the timeless tale it relates remains rousing, relatable and relevant.
Production company: Goalpost Pictures.
International sales: Goalpost Film, tristan@goalpostfilm.com
Producer: Kylie Du Fresne
Executive Producers: Rosemary Blight, Ben Grant, Cameron Huang, Andrew Mackie, Richard Payten, Tristan Whalley.
Screenplay: Tommy Murphy
Cinematography: Germain McMicking
Editor: Dany Cooper
Production designer: Josephine Ford
Main cast: Ryan Corr, Craig Stott, Sarah Snook, Guy Pearce, Kerry Fox, Anthony LaPaglia.