A Nazareth local schemes to sell bottled holy air to visiting pilgrims in this Israeli comedy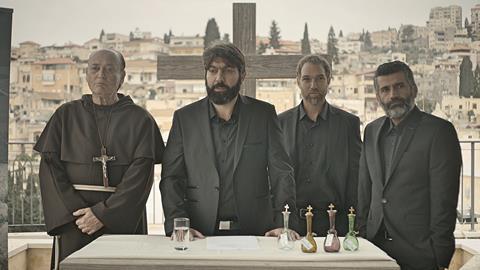 Dir/scr: Shady Srour. Israel. 2017. 81mins
This Israeli comedy sees two imminent events - a Papal visit to his hometown of Nazareth and the birth of his first child - prompt Adam (played with shambling charm by writer/director Shady Srour) to devise an ingenious money-making scheme. He will sell 'holy air', harvested from the peak of Mount Precipice, to the devout pilgrims who visit the city.
The focus on an Israeli community in which Christians, Jews and Muslims co-exist gives the film a distinctive flavour
Developed through the Cannes L'Atelier program and at Sarajevo Film Festival's Cinelink work in progress strand, Holy Air provides a vivid snapshot of modern life in an ancient city. While, much like its pot-smoking protagonist, it struggles to maintain energy and focus, a combination of wry humour and strong sense of place should recommend it to festival programmers.
The focus on an Israeli community in which Christians, Jews and Muslims co-exist gives the film a distinctive flavour which sets it apart from much of the other cinema from the region; with its Nazareth backdrop and deadpan approach, the film most closely resembles Elia Suleiman's Divine Intervention. Theatrical prospects are less certain, although not out of the question.
The film opens (and closes) in a cacophonous, near-static traffic jam. In the opening sequence, Adam, an Arab Christian, looks on in consternation as his wife Lamia (Laëtitia Eïdo) brandishes a home pregnancy kit and proceeds to use it, there and then, in the front seat of the car. The positive result is confirmed by a second test, taken at home while Adam glumly reclines in the bath.
His happiness at the result is tempered by the fact that he realises that he needs to raise his game as a provider and a businessman. Hawking novelty toilet paper printed with motivational messages isn't going to cut it any more. The stress is compounded by his father's cancer diagnosis, and the fact that the pregnancy is only given a 50 per cent chance of being viable.
Despite the terminal disease and the imperilled foetus plotlines, Srour keeps the film tonally light. A jaunty waltz is a recurring motif on the score. There's an enjoyable scene in which an altercation in a traffic jam (a recurring theme) gets out of hand. While Adam wrestles with an irate driver who stabbed the roof of his car with a sword, an opportunist passerby steals his car radio. Later, a protection racket shakedown is given an absurdist twist when a marching band of bagpipe players passes, oblivious, through the foreground of the shot.
The story unfolds from Adam's point of view, at the expense of his wife. And that's a pity; Lamia is a deliciously forthright character who deserves more screen time. A sequence in which she terrifies a male television crew with a discussion of Arab women's sexual politics is one of the high points of the film.
Despite a few too many underpowered scenes which drive the story forward, Holy Air ultimately makes its point. Making any kind of life - even one based on a glorified tourist scam - is a constant struggle in a city defined by uncertainty and instability.
Production company: Tree M Productions, Cinema Virgin
International sales: Jan Naszewski, New Europe Film Sales jan@neweuropefilmsales.com
Producers: Ilan Moskovitch, Shady Srour
Cinematography: Daniel Miller
Editor: Naaman Bishara
Music: Habib Shehadeh Hanna
Production design: Miguel Merkin
Main cast: Shady Srour, Laëtitia Eïdo, Shmulik Calderon, Tareq Copti, Dalia Okal, Bian Anteer