Franka Potente makes her directorial debut on solid American ground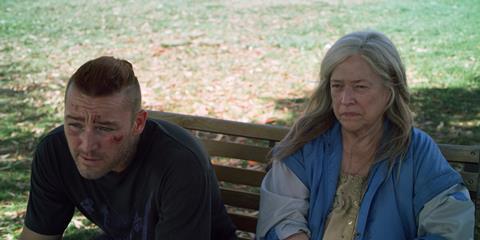 Dir/scr Franka Potente. Germany/France/Netherlands. 2020. 100 mins
The assured feature-film directing debut from actor Franka Potente navigates the grudges and tensions of the kind of American small-town where everyone knows everyone, and nothing is ever forgotten. It's not a particularly inviting place for Marvin (Jake Mclaughlin), a convicted felon returning after serving close to twenty years in prison for murder. But it's the only home he has. And it's where his terminally mother Bernadette (Kathy Bates) lives. Marvin doesn't expect forgiveness – he hasn't forgiven himself. But he does find acceptance from an unlikely quarter: Delta (Aisling Franciosi) is the granddaughter of the woman he killed. Despite the shadow of their shared history, the pair are drawn together.
This is a story told quietly, calmly and with dignity
This milieu, in the kind of blighted blue-collar community in which prescription opiates fill the gaps that dreams and hope used to occupy, is an unexpected choice of backdrop for the German-born Potente to choose for her first feature. But it's a world with which she is clearly fascinated – her debut novel, 'Allmählich Wird Es Tag', was also set in small-town America. And, backed up by the contribution of a well-chosen cast, she captures the fractious personality of the place. The lack of soapy histrionics serves the film well – this is a story told quietly, calmly and with dignity, and as such it should prove attractive to arthouse distributors looking for solid content which could work either in cinemas or on streaming platforms.
We are introduced to Marvin, a man nearly forty, as he heads home, wearing prison tattoos and the same Adidas tracksuit he had on when he was arrested. His means of transport is a skateboard, another link to the half grown boy that he was when he committed the crime. Brisk jumpcuts carve out a sense of this reserved, measured character – the polite disinterest with which he turns down the offer of sex from a bored waitress; his resignation over the hostility with which his request for a convenience store coffee is met. He momentarily loses his cool when he arrives home to find a man bent over his mother's bed. But the man is Jayden (Lil Rel Howery), a nurse rather than an attacker, and the only person in Marvin's home town who accepts him without judgement.
His mother, with a cigarette permanently in one hand and oxygen tank close by, is not so welcoming. The family home is defined by absences rather than what is still there. Family photos remind Marvin of the brother who committed suicide; a crater punched into a wall long ago is surrounded by tape. His father is also long gone, leaving only bitterness behind. And soon, new holes are added – a rock is thrown through the kitchen window, the first of many messages from the community intended to remind Marvin that he is not welcome. Bernadette, however, is not the kind of woman who lets the town tell her what to think. Stage four lung cancer has weakened everything except her will. Gradually, she bonds with her son over cards and beer; sends him out to buy Twinkies ("Let's have a celebration").
Delta was just a child when Marvin killed her grandmother. She has grown up with the legacy of his crime, in a family which has experienced its own share of violence. Now she's a single mother who uses her job as a hospital orderly to steal medication to hawk to the junkies down by the freeway overpass. Her first encounter with Marvin is hostile, but when she discovers him one night, taped to a lamppost and bleeding after a beating orchestrated by her brother, Delta takes pity and cuts him down.
The film, like the town itself, is ultimately rooted in religion – redemption and forgiveness provide the framework around which the story is built. Fittingly, the film's most potent scene, the moment at which Marvin's stony stoicism crumbles and he asks for the mercy of his community, takes place in the local church.
Production company: augenschein Filmproduktion
International sales: BAC Films contact@bacfilms.fr
Producers: Jonas Katzenstein, Maximilian Leo
Cinematographer: Frank Griebe
Editing: Antje Zynga
Production Design: Cora Pratz
Music: Volker Bertelmann
Main cast: Jake Mclaughlin, Kathy Bates, Aisling Franciosi, Derek Richardson, James Jordan