A young football prodidgy finds success is far from guaranteed in modern day Uruguay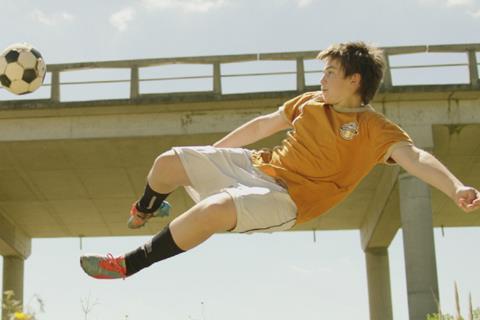 Dir: Carlos Andres Morelli. Uruguay, Argentina, Brazil, 2017. 102mins.
A teenage football prodigy discovers that the beautiful game can be a cruel master in Home Team. The screen adaptation of Latin-American bestseller Mi Mundial offers a simplistic cautionary tale, extolling the virtues of a good education and loyal friends over the glittering rewards of life in the big leagues.
There is nothing very remarkable in either Home Team's unfolding story or its execution
The popularity of the novel by former footballer Alfredo Baldi should give the film a home advantage in Uruguay, but elsewhere it could be restricted to youth focused festivals seeking films with a positive message.
In rural Nogales, Tito (Facundo Campelo) has been identified as someone with the potential to be the next Neumayr or Pele. His dad Reuben (Nestor Guzzini) longs for him to devote as much time to his homework as he does to his football training. When agent Rolando (Roney Villela) offers Tito a shot at the big time, however, it is an opportunity that his humble family cannot afford to refuse.
The whole clan move to Montevideo as Tito begins his apprenticeship but the more he focuses on football the more he seems to lose sight of what is truly important in life. Hometown sweetheart Florencia (Candelaria Rienzi) is cast aside and school work is abandoned. Everything conspires to mould Tito into a more selfish player and a materialistic individual; dead-eyed and unresponsive as he plays the latest expensive video games or pesters his father for a scooter that all his teammates have.
There is nothing very remarkable in either Home Team's unfolding story or its execution. Director Carlos Andres Morelli showcases Tito's footballing flair in several slow-motion sequences where he betters a collection of other players and scores a spectacular goal. There are the gruelling training sequences pushing youngsters to the limit that seem an essential ingredient of any sporting film.
The film works in very black and white terms, with Svengali-like agent Rolando as the villain of the piece when he tempts Tito from the straight and narrow. Plodding, worrywart father Reuben is cast as the voice of reason whose hand-wringing concerns will be justified in the end. There are predictable illustrations of the world about to welcome the diffident Tito with open arms as he is invited to make a lucrative commercial or showered with gifts at a celebratory event where the 14-year-old is encouraged to down a half-dozen shots.
A mixture of unsophisticated morality tale and sentimental tearjerker, Home Team could prove too preachy for its target teenaged audience and Campelo's fleet-footed novice seems quite a diffident figure to build an entire film around.
Production companies: La Gota Cine, Panda Films, Pensa & Rocca Productions
International sales: Habanero Film Sales acalvino@habanerofilmsales.com
Producer: Lucia Gaviglio Salkind
Screenplay: Carlos Andres Morelli, Martin Salinas based on the novel Mi Mundial by Daniel Baldi
Cinematography: Sebastian Gallo
Editor: Santiago Bednarik, Carlos Andres Morelli
Prod des: Cristina Nigro
Music: Hernan Gonzalez, Sergio Rojes
Main cast: Facundo Campelo, Nestor Guzzini, Candelaria Rienzi