Dir: Ives Rosenfeld. Brazil 2015. 75 mins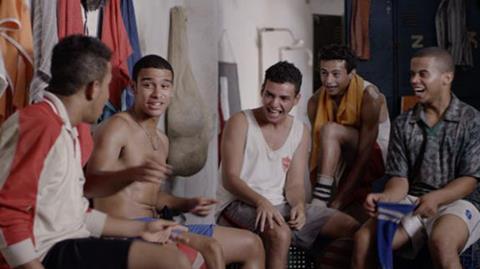 Hopefuls (Aspirantes) is an intriguing social realist film from Brazil which focuses on the way in which football gives many young Brazilians the possibility of a better life while also preparing them for an existence that is rife with disappointment. This debut feature from Ives Rosenfeld is accomplished and energetic, foregrounding emotion and mood over narrative, and can look forward to festival exposure with a limited shot at arthouse.
Rosenfeld's film crackles with a raw power and energy that echoes the youthfulness of its protagonists.
Opening the Forum of Independents at 2015's Karlovy Vary International Film Festival, Hopefuls centres on Junior (Ariclenes Barroso), a young player for Bacaxá A.C., an amateur football team based in a small town on the coast of Rio De Janeiro state. Away from the football field, Junior's life is a complex one. Living at home with his alcoholic uncle and dealing with the fact that his girlfriend is now expecting their first child, Junior knows that his life is going to be one of hard work and sacrifice. But he also hopes that perhaps his beloved football can turn things around. When his best friend Bento signs a professional contract, Junior feels the pangs of jealousy which will soon lead to tragic consequences for all involved.
Rosenfeld's film crackles with a raw power and energy that echoes the youthfulness of its protagonists. With its realistic football sequences (Rosenfeld has spoken about how important it was to make them authentic, and both he and his cinematographer Pedro Faerstein deserve credit for their execution) the film presents a world in which physicality and skill can transcend the mundane obligations of day-to-day life.
The film is also careful not to present the reality of the everyday beyond football as totally without hope. For example, Junior's relationship with his girlfriend is subtle and nuanced and her pregnancy is not an immediate cause of melodrama and despair. Instead they quietly dream about working together to raise their child and move towards a brighter future. Later on the film heads towards the darker tropes often associated with social realism (and some of the concluding scenes tip the balance in favour of melodrama) with its energy being created more by anger and jealousy than by hope.
The three leads give compelling performances and the young protagonists are the centre of the piece, often foregrounded with adults blurred in the background with shallow focus. By highlighting their importance, Hopefuls is showing us a world which belongs to the young and is rife with possibility and hope. But it also shows us that there is always a chance that this will never be fulfilled.
Production companies: Bubbles Project, bubblesproject.com
International sales: FIGA, Sandro Fiorin, contact@figafilms.com
Producers: Luiz Alberto Gentile, Tatiana Leite
Screenplay: Ives Rosenfeld, Pedro Freire
Cinematography: Pedro Faerstein
Production design: Ana Paula Cardoso
Editor: Karen Akerman
Music: Lucas Vasconcelos
Main Cast: Ariclenes Barroso, Sérgio Malheiros, Julia Bernat, Karien Teles, Julio Adrião, Gutti Fraga