Zhang Ming takes a hard look at happiness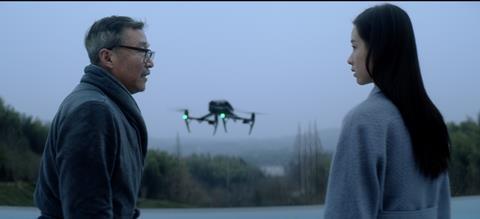 Dir: Zhang Ming. China. 2020. 102 mins
In the United Nations World Happiness Report of 2021, where selected citizens of 149 nations were asked how happy they consider themselves to be, China ranked a middling 84th. Focusing on four women of different ages, Zhang Ming's latest feature Hot Soup considers why the country has a happiness deficit despite enjoying exponential growth and social stability. Ostensibly set in contemporary Shanghai, this intricate quadrilogy has a quasi-science fiction feel, with its stories playing out in distinctly designed bubbles. There is also a preoccupation with the use of big data in personal fulfilment which prompts consideration of whether there is room for chance and fate in the algorithm age.
Hot Soup is an especially tasty conversation starter
Hot Soup is seasoned with enough enticing ingredients to attract fair art-house attendance when it opens domestically in March 2022 after a premiere in the Hainan Film Festival. Overseas prospects are similarly promising. Zhang's realist drama Rain Clouds Over Wushan (1996) is regarded as a key Sixth Generation work, but subsequently his balancing of filmmaking with a teaching career has resulted in a low-key directorial profile. His spellbinding seventh feature The Pluto Moment (2018) was selected for Cannes and Hot Soup will appeal to event programmers given its puzzle box structure. A streaming deal could materialize, granting Zhang his widest audience to date.
Firstly, we encounter executive Tangtang (Liu Wenyi) who is in a long-term relationship with artificial intelligence entrepreneur Qi Youcang (Thomas Price). Tangtang yearns for motherhood, while Qi is resistant to starting a family. Meanwhile, a doctoral candidate (Chen Duling) studying the dynamic between economic development and happiness, is commuting to a remote spa where her professor (Zhao Yanguozhangis) is being treated for chronic arthritis. The student is anxious to complete her dissertation, but the renowned academic insists that her research lacks the requisite substance.
The youngest participant in the film is an upbeat teenager (Song Fangyuan) whose wheelchair-bound, underworld-affiliated father Lao Tu (Chen Shengli) runs a nightclub. Her fiancée keeps failing to show up to meet his future father-in-law, which infuriates the old school Lao Tu. Finally, an aloof Uber user (Li Meng) becomes the regular client of carefree driver Chen Huo (Zuo Yi). He falls for her despite their seemingly incompatible personalities, but she is set emigrating to the United States to pursue her own notion of happiness.
Although the synopsis suggests that Hot Soup is an example of the intersection narrative, the four stories are presented as separate, alternating episodes. If the anticipated convergence is denied for most of the running time, telling motifs are sprinkled throughout – a citrus fruit, credit cards, an engagement ring, a bright pink swimsuit and, of course, happiness surveys. In tandem with a gradually building score by Han Han and smooth editing by Li Jin which ensues an overlapping rhythm, recurrent elements imply a grand design at work. Are we shuffling through the travails of one woman at different junctures in her life? Or could these be scenarios in a simulation running on data from one of those ubiquitous questionnaires?
With regards to both possibilities, the performances are suitably complementary as each of the principals adeptly conveys a fixation on life-hacking their way to happiness. The standouts are a tightly wound Chen and an enigmatic Li, who are allocated contrasting levels of dialogue. Still best known for the popular romance The Left Ear (2015), the former proves her dramatic mettle with some terse exchanges as her impatient student bristles with the professor across a pronounced generation gap. Conversely, the latter projects a distant air that hints at a run of disappointing experiences and makes her arc the most bittersweet.
Each story occurs in a limited space, with sharp differentiation by cinematographer Wang Meng and production designer Ding Jiancheng creating subtly uncanny, pod-like situations. Three are confined within isolated glass boxes: Tangtang's upscale apartment with Shanghai's futurist skyline in view; the nightclub office with partying visible through a two-way mirror; and the cramped interior of the Uber vehicle. The exception is the lush spa resort, but a sweeping aerial shot establishes a sense of rarified seclusion, while the professor has his favorite delicacy delivered by a drone. Hearty foods which trigger nostalgic memories provide warmth in this accelerated world, but also emphasise its pervading sterility (Tangtang is secretly plying her husband with fertility medication via traditional recipes).
Just as happiness apparently remains out of reach for Chinese citizens, Hot Soup is constructed so that multiple interpretations almost click with none proving definitive. If this risks leaving some viewers unsatisfied, the cryptic manner in which Zhang and his co-writers raise timely questions about the future of China's goal-oriented society ensures that Hot Soup is an especially tasty conversation starter.
Production companies: ManCao Studios, Beautifulpal Co., Yidi Film and TV Culture
International sales: Fortissimo Films, info@fortissimofilms.com
Producers: Zhang Ming, Lyu Xinyu
Screenplay: Gong Yuxi, Liu Qinyu, Wu Ming, Zhang Ming
Editing: Li Jin
Cinematography: Wang Meng
Music: Han Han
Main cast: Liu Wenyi, Song Fangyuan, Li Meng, Chen Duling, Zuo Yi, Zhao Yanguozhang, Thomas Price