There's no shortage of fashion drama to feed this documentary about couture's former enfant terrible Zac Posen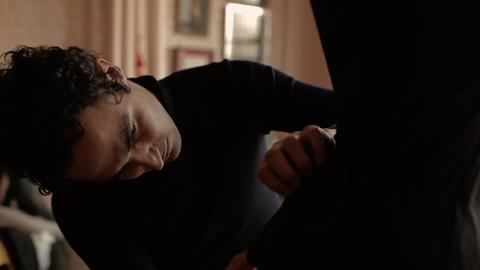 Dir. Sandy Chronopoulos. USA. 2017. 87 mins.
The key to a successful fashion documentary is balancing the theatre on the catwalk with that behind the scenes. And when the subject is Zac Posen, a former enfant terrible who started an atelier in his parents' front room; was celebrated as a genius; who soared, plummeted and rose again from the scorched ashes of his family business, there is no shortage of drama to feed House Of Z. But even so, there is a sense that first-time feature director Sandy Chronopoulos engineers a certain amount frock-based jeopardy to raise the stakes in the final act.
Posen's talent as a designer was matched by his gift for knowing all the right people
Posen's celebrity status – he was as much a fixture in the gossip pages as in the glossy magazines, even before his stint as a judge on Project Runway – should generate interest in this polished but guarded portrait. While there should be no shortage of festival interest, this whirring rolodex of starry connections and immaculately groomed talking heads might be best suited for on demand distribution.
In common with pretty much every fashion documentary from Unzipped to Valentino: The Last Emperor; from The September Issue to First Monday In May, Chronopoulos uses the ticking timebomb of a pivotal collection or event as a device around which to structure the story. But while all the flurrying and fluster over the engineering of a particularly extravagant gown – and there are skyscrapers which have a less complicated internal infrastructure – gives the third act of the film a sense of peril, the substance comes earlier.
Dyslexic, and afflicted with ADD, the young Posen was a precociously creative child. And the nurturing embrace of his family life – he grew up in a bohemian loft in Manhattan, the son of a photorealist painter and a lawyer – meant that his creative impulses were fed by constant exposure to art. But perhaps more important to Posen's profile and early career, and a key factor in the backlash which later came, was the galaxy of socialites and starlets which orbited around him. Before he had even completed his studies, at Parsons New School of Design, and then Central St Martins College of Art and Design, Posen was crafting one-off fripperies for his chums: Paz de la Huerta, Stella Schnabel and later Claire Danes and Naomi Campbell. His close friends included the son of Anna Wintour. His talent as a designer was matched by his gift for knowing all the right people.
To capitalise on the momentum of his stellar profile, Posen's sister Alexandra and his mother Susan put their own professional lives on hold to support him. For a while, this close-knit family business thrived. But the pressures of the industry took their toll, and a dramatic fall from grace saw Posen ejected from his throne as American fashion's heir apparent. His family relationships were the collateral damage. It's clearly still raw for all involved and unfortunately, this means that Posen and his sister both clam up just when the interviews are getting into the details of what happened.
There is a cautious self-awareness in Posen now, even as he candidly admits that his own glitzy persona was as much a creation as one of his frocks. He recalls being trailed by photographers from the New York Post, terrified they would discover that he slept on the couch in his studio. And while it doesn't reveal much about the fashion industry that we haven't seen already in other documentaries, the sheer savagery of the press when it turned on Posen explains his reserve as interview subject in this film.
Production company: Rogers Media; Clear Eye; iDeal Partners
International sales: iDeal Partners idealpartnersr@mac.com
Producers: Jana Edelbaum, Rachel Cohen
Screenplay: Sandy Chronopoulos
Cinematography: Konrad Czystowski, Nadia Hallgren, Mark Klassen
Editor: Holle Singer, Madeleine Gavin
Music: Eric Stamile
Main cast: Zac Posen, Naomi Campbell, Sean Diddy Combs, André Leon Talley, Paz de la Huerta