Dir: Christian Ditter. US. 2016. 110mins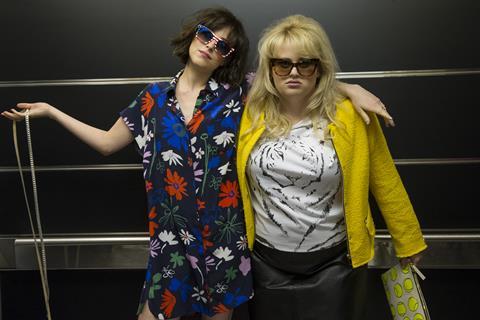 Very loosely based on a novel by Sex And The City writer Liz Tucillo, How To Be Single is a perky, New York-set dating comedy with a mid-level ensemble cast – Rebel Wilson being the standout talent – and a smattering of raunch added to the familiar romantic formula. Seemingly designed to be acceptable to both sides of the dating equation, it might work as Valentine's Day fodder but it's likely to wilt as quickly as a bunch of cheap roses.
Rebel Wilson dominates – and providing the mostly verbal raunch – in her now familiar party animal persona
The New Line/MGM production opens through Warner on Feb 12 in the US (where it will also catch the Presidents' Day holiday weekend) and some international markets, with other territories following through February and March. The slot has previously worked for Warner's Valentine's Day (which took $110m domestically and $106m internationally in 2010) and He's Just Not That Into You ($94m at home and $85m elsewhere in 2009), though Single might be limited, in the US at least, by its R rating.
The 2008 novel of the same name – Tucillo's follow-up to the self-help book, co-written with Greg Behrendt, on which He's Just Not… was based – was adapted by Dana Fox (Couples Retreat) and He's Just Not… screenwriters Abby Kohn and Marc Silverstein.
In the extensively re-jigged screen version, the heroine is Alice (played by Fifty Shades of Grey's Dakota Johnson), a nice-girl college grad who arrives in New York and makes friends with extreme party girl Robin (Wilson, last seen in Pitch Perfect 2). Meg (Leslie Mann) is Alice's obstetrician sister, who is all career and no personal life, and Lucy (Alison Brie, from Get Hard) frequents the same bar as Alice and Robin while searching methodically for a partner.
The men in the story include bachelor bartender Tom (Anders Holm), nice guy Ken (Jake Lacy, from TV's Girls), single dad David (Damon Wayans Jr) and Alice's college boyfriend Josh (Nicholas Braun, from The Perks of Being a Wallflower).
Aside from a coda that fleetingly deals with actually being single, most of the story follows the female characters' romantic ups and downs, along with a subplot about Meg's decision to get pregnant through in vitro fertilisation.
German director Christian Ditter (who made his English-language debut with 2014 romcom Love, Rosie) handles the story's individual episodes well enough but doesn't find a way to give the script an involving through line.
While the book had a kernel of believability and seriousness, on screen the drama is pretty insipid. The comedy, which produces only a handful of real laughs, comes from each character in turn, with Wilson dominating – and providing the mostly verbal raunch – in her now familiar party animal persona.
The tone is bolstered by a bouncy soundtrack of pop, rock and hip hop from acts including Taylor Swift, Guns 'N Roses, Run-DMC and Kendrick Lamar.
Production companies: New Line Cinema, Metro-Goldwyn-Mayer Pictures, Flower Films, Wrigley Pictures
Worldwide distribution: Warner Bros Pictures
Producers: John Rickard, Dana Fox
Executive producers: Marcus Viscidi, Richard Brener, Michael Disco, Dave Neustadter, Michele Weiss, Drew Barrymore, Nancy Juvonen
Screenplay: Abby Kohn & Marc Silverstein, Dana Fox
Director of photography: Christian Rein
Production designer: Steve Saklad
Editor: Tia Nolan
Costume designer: Leah Katznelson
Music: Fil Eisler
Website: www.howtobesinglemovie.com/
Main cast: Dakota Johnson, Rebel Wilson, Damon Wayans Jr, Anders Holm, Alison Brie, Nicholas Braun, Jake Lacy, Jason Mantzoukas, Leslie Mann