Beanie Feldstein stars in the big-screen adaptation of Caitlin Moran's book.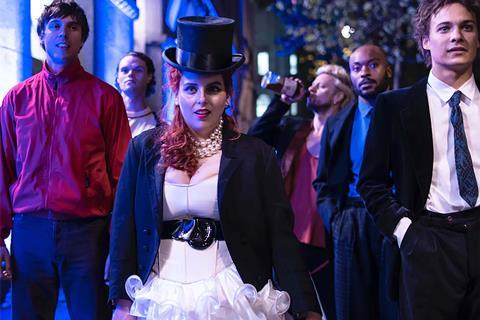 Dir. Coky Giedroyc. UK. 2019. 102 mins.
Booksmart's Beanie Feldstein has never been so endearing – and that's saying something – as in the big-screen adaptation of Caitlin Moran's feminist-tinged memoir How To Build A Girl, adapted by the author herself. Playing a literary-minded lass from a Wolverhampton council estate (one that looks eerily similar to that in Blinded By The Light), Feldstein's soft good cheer mirrors the film's overall tone – soft, cheerful, perhaps lacking the edge that might send it into more compelling Diary Of A Teenage Girl territory despite mildly racy content which may still attract a 12 rating. A chronological narrative of a poor teenage-girl-turned-rock-critic fits comfortably into the Brit comedy/drama space previously occupied by Nick Hornby; this film's main obstacle will be in persuading audiences that they haven't seen it all before.
Coky Giedroyc directs with a safe, steady and sometimes uninspired hand
Moran, a widely-respected and talented columnist and author, has already turned her impoverished and quirky childhood into a TV series, 'Raised By Wolves', and she's a household name in the UK, beloved by the women and their teenage daughters who will provide the film with its main audience. Press coverage will be extensive there as a result. In other markets, Feldstein should be the draw. Fans of feelgood British romcom will respond - although they may be feeling a little tapped-up at the moment - and a life-affirming feisty female is always welcome, especially one whose transition to adulthood is this rocky.
Directing with a safe, steady and often uninspired hand, Coky Giedroyc sets the film in deprived early-90s Wolverhampton - the UK's midlands – although there's very little real sense of urgency to the financially challenging situation the central family finds itself in. This is a film where pictures of Jane Austen, Sylvia Plath and the Bronte Sisters talk to young Johanna (Feldstein, good, with ADR work on the challenging accent) from the wall, like a council estate version of Hogwarts. Johanna dreams of being a poet and puppyishly writes reams of her 'memoirs' for her put-upon English teacher (Joanna Scanlon), but she mainly wants to leave this town behind and find her future self – fast.
How To Build A Girl is studded with cameos. Paddy Considine plays Johanna's father as a well-meaning but essentially feckless charmer (with remarkably good teeth) who is coping with a depressed wife after the late-in-life arrival of twins. A charming Laurie Kynaston is Johanna's gay brother, one who champions his ugly-duckling sister through the trials and tribulations of senior school – including an awful televised poetry competition hosted by Chris O'Dowd. Set on escape from her small-town life, Johanna will heartlessly dump them all when her rock critic career takes off and she finds herself a new persona in the buxom shape of Dolly Wilde, pop music's Queen of Mean. A burgeoning romance with an older singer (played by Game Of Thrones' Alfie Allen) will also become grist to her career mill.
The trouble with a high-stakes "small" British project like this is that everyone involved tends to want to play it safe. The more enjoyable sequences all arrive in the first act, where the humour is smart and the going is relaxed. When the mood changes, our heroine never seems in any real danger, apart from bad hair dye and a too-tight bustier. The character's inherent buoyancy is always well-established and never in any doubt. The essential elements of a Perils of Pauline film, after all, are a Pauline and a peril; this darling is too nice for Moran to convincingly risk killing her off.
Moments such as Johanna losing herself in live music for the first time resonate, however, as does the idea of going too far, too quickly, for a young girl determined to live life in the fast lane only to find out the hard way how much adulthood can hurt the one you should love the most - yourself.
Production company: Monumental Pictures
International sales: Protagonist Pictures (US sales: Endeavor Content)
Producers: Alison Owen, Debra Hayward
Screenplay: Caitlin Moran
Cinematography: Hubert Taczanowski
Production design: Amanda McArthur
Editing: Gary Dollner, Gareth C. Scales
Main cast: Beanie Feldstein, Alfie Allen, Paddy Considine, Chris O'Dowd, Emma Thompson