Hany Abu-Assad sets the stage for his political thriller in a Bethelem beauty parlour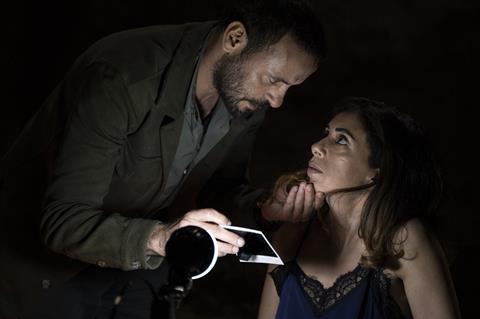 Dir/scr. Hany Abu-Assad. Palestine/Egypt/Netherlands/Qatar. 2021. 91 mins
Wife and new mother Reem (Maisa Abd Elhadi) visits Huda's hair salon in occupied Bethlehem for the usual treatment: a trim and blow dry, a little gentle gossip, a heart-to-heart. She leaves weighted with the kind of predicament which threatens her very survival and that of her family: Huda (Manal Awad) has drugged her and posed her in a compromising position with a man in order to blackmail her into collaborating with the Israeli Secret Service. Hany Abu-Assad's latest is a brisk and efficient thriller which cuts deftly between Reem's spiralling desperation and Huda's interrogation by Hassan, a member of the Palestinian resistance.
A bracing, if occasionally didactic, political drama
This is a return to form and to more familiar territory for Abu-Assad, whose last film was the coolly-received wilderness hiking drama The Mountain Between Us, which starred Kate Winslet and Idris Elba as plane crash survivors. This is closer in tone and in theme to Omar, which earned Abu-Assad one of his two Oscar nominations. While it might not achieve the same degree of awards buzz, further festival screenings seem likely and arthouse distributors and streaming platforms looking for politically-charged female-led storytelling will find much of interest.
There's a cosy familiarity to Huda's slightly down-at-heel salon, with its ancient hairdrying hood and jaunty decorating scheme. Business is down, grumbles Huda, because her clients have had their heads turned by YouTube tutorials and have taken the DIY route for hair care. The conversation takes in a local shop owner, whose "shoes are ugly, like her face" and then touches on the state of Reem's unhappy marriage to a controlling and jealous husband.
And then, quite suddenly, Reem slumps forward in her chair. Huda eyes her dispassionately and, with the help of the man she has concealed in the back room, hauls Reem onto a grubby mattress and removes her clothes. That this is not the first time this particular scenario has played out is evident in the bickering over his payment, and the casual efficiency with which Huda arranges the scene and fires off a series of polaroid shots.
From this point onwards, the film effectively splits into two parallel strands, one following Reem as she grapples with the implications of her predicament – Huda has given her the name and a number for a contact in the Israeli Secret Service, and a strong suggestion that she should call him – and one following Huda, who is apprehended by the Palestinian resistance.
There's a stark tonal contrast between the two strands – Huda's interrogation scenes are talky, perhaps a little too theatrical in approach, while Reem's scenes are more nervy and propulsive. It's a contrast which should be jarring but in fact, for the most part, the two strands complement each other. The verbal jousting of Huda's scenes brings analysis and a commentary on the plight of Palestine. "It's easier to occupy a society that is already repressing itself," observes Huda, sharp witted and remarkably cool in the face of her interrogator's threats. Meanwhile Reem's desperation – conveyed with evocatively oppressive use of sound and an urgent questioning camera – raises the energy level once again. This combination of moral quandary and ticking clock peril makes for a bracing, if occasionally didactic, political drama.
Production companies: H&A Productions, Film Clinic, MAD Solutions, Lagoonie Film Production, Key Film, Cocoon FIlms
International Sales: Memento Films International, sales@mementofilms.com
Producers: Amira Diab, Mohamed Hefzy, Hany Abu-Assad
Cinematography: Ehab Assal, Peter Flinckenberg
Editor: Eyas Salman
Production design: Nael Kanj
Music: Jeffrey Van Rossum
Main cast: Ali Suliman, Maisa Abd Elhadi, Manal Awad, Jalal Masarwa, Samer Bishara