Kim Ki-duk's latest isn't helped by some overt similarities to 'mother!'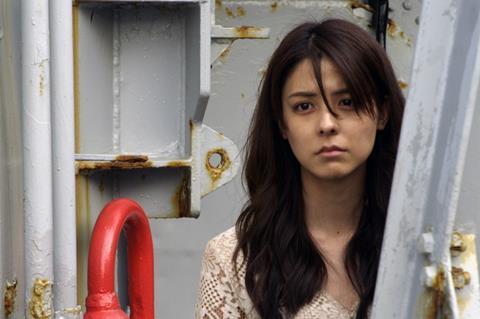 Dir/scr. Kim Ki-duk. South Korea, 2018, 122 mins.
Part survival-of-the-fittest horror film, part allegory, part twisted take on humanity's origins, devouring urges and the consumption-driven cycle of life — literally — Human, Space, Time And Human is ravenous in its quest to make a statement and relentless in its chaos. That makes it largely business as usual for Korea's Kim Ki-duk, but his latest film proves all too obvious, spitting its chunks of misanthropic insights and religious symbolism into viewers' faces.
There's no doubting the film has bite, but some overt chomping means audiences can spot exactly what's coming.
It doesn't help that, although the film's production pre-dates Darren Aronofsky's take on mankind's savagery, Human, Space, Time and Human stands firmly in mother!'s shadow. They could have used the same title, and the commonalities don't end there. Post its Berlinale Panorama premiere, audiences are likely have similarly mixed responses, even if Kim's film is less divisive than mother! — or the filmmaker's own Pieta and Moebius. Regardless, sales in Japan, Norway, Greece and Cyprus have already been secured, and the movie's genre leanings will also possibly spark interest elsewhere.
A group of nameless strangers on a former military vessel set a course for infernal waters. That the film waits 20 minutes before rape and murder kick in is perhaps its greatest act of restraint, a word that doesn't apply to many of its characters as the voyage's scenic sights contrast tellingly against the hellish mayhem unfurling onboard. The passengers — including a new bride (Mina Fujii) and her husband (Joe Odagiri), a corrupt senator (Lee Sung-jae) and his adult son (Jang Keun-suk), plus a leering gangster (Ryoo Seung-bum), righteous captain (Sung Ki-youn) and mysterious old man (Ahn Sung-ki) — are already aggressive and agitated about sex, money and power before they wake up in the heavens, and their unexpected new surroundings don't alter their behaviour.
Hierarchies by force, desperate fights over food, coups upon coups, an every-person-for-themselves mindset and eventually cannibalism are all predictable developments, and play out as such. So too, is the role of Fujii's white-clad victim turned beacon of hope, named Eve in the film's supporting material and embracing all of the accompanying biblical connotations. Initially less foreseeable are the old man's machinations, which start with The Martian-style potato farming; however, more courtesy of his transparent dialogue than by narrative design, Kim ensures viewers can easily join the dots.
Such blatancy is gravely distancing, no matter how Lee Jeong-in's effectively claustrophobic cinematography or Kim's own pacy editing attempt to draw viewers into the film's horror thrills. As it charts the ship's occupants across its four chapters, there's no doubting Human, Space, Time and Human has bite, but some overt chomping means audiences can spot exactly what's coming. The film's purportedly tense atmosphere dissipates quickly in the process, and its performances fail to inspire the requisite emotional investment, though Fujii acquits herself well in her pivotal role.
Production company: Kim Ki-duk Film
International sales: Finecut, cineinfo@finecut.co.kr
Producer: Kim Dong-hoo
Executive producer: Kim Ki-duk
Cinematographer: Lee Jeong-in
Editor: Kim Ki-duk
Production design: Kim Young-tak
Music: Park In-young
Main cast: Mina Fujii, Jang Keun-suk, Ahn Sung-ki, Lee Sung-jae, Ryoo Seung-bum, Sung Ki-youn, Joe Odagiri